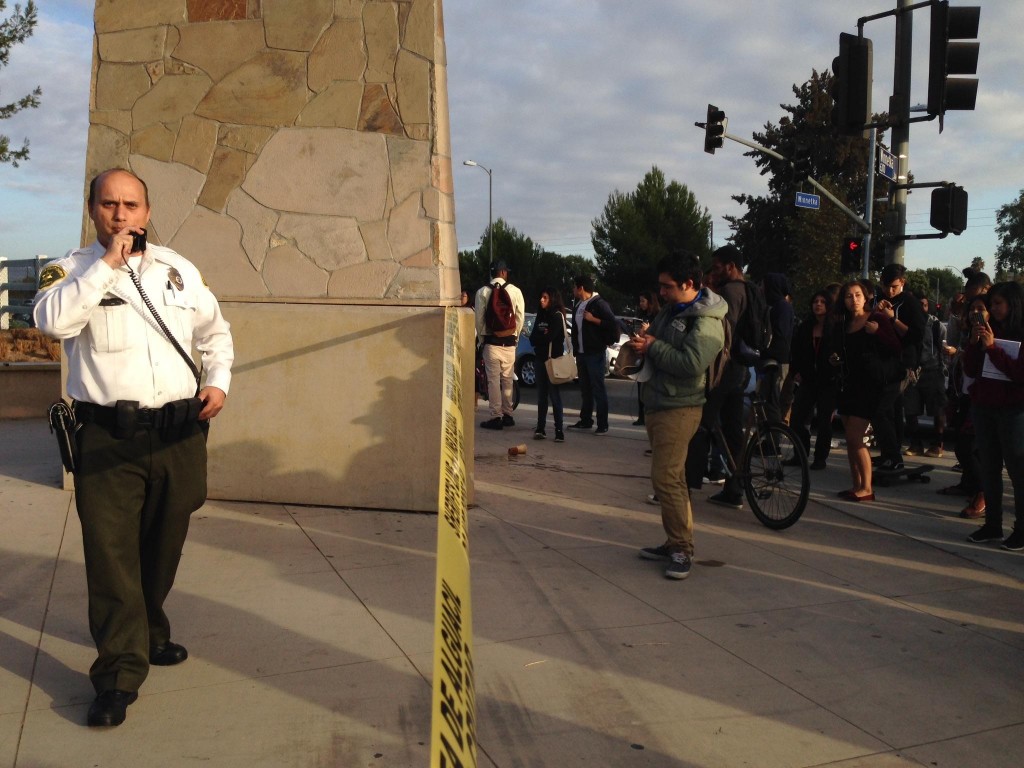 Reporting by: Tracy Wright, Kristen Aslanian, Diego Barajas, Calvin Alagot, Ethan Hanson
Update: 2:15 p.m.
Authorities arrested the 26-year-old, male suspect and former Pierce College student in connection to the threats made on social media. The Sheriff's Department has not yet released the identity of the suspect.
The man was arrested at work and has firearms registered in his name, including an automatic rifle, according to Cpt. Cheryl Newman-Tarwater.
Campus has been re-opened and all classes 3:30 p.m. and after will resume as usual, according to Pierce College President Kathleen Burke.
Updated: 11:36 a.m.
Report from L.J. Williamson at sister publication KPCRadio.com
Update: 10:31 a.m.
Deputies with the Los Angeles Sheriffs Department (LASD) issued a mandatory evacuation and school lockdown around 8 a.m. Thursday morning at Pierce College due to an "undisclosed issue."
Sheriffs warned students on campus via loudspeaker patrol that classes were canceled and to leave campus immediately under orders of evacuation.
A text message sent to students enrolled at the college at 8:36 a.m. stated "Pierce College is closed due to an undisclosed issue everyone on campus should vacate the campus until further notice."
"Campus locked down for precautionary measure due to possible threat," Cpt. Cheryl Newman-Tarwater with the County of Los Angeles Sheriff's Department said.
According to the Sheriff's they have the identity and his car's make, model, but are unsure if he is on campus.
Sheriff's will be conducting room-by-room search throughout Pierce.
Updated: 8:55 a.m.
Students, faculty and staff were evacuated from Pierce College because of a threat made on Social Media, according to Sheriff officials.
"Campus locked down for precautionary measure due to possible threat," Cpt. Newman-Tarwater @PierceCollegeCA @roundupnews

— Tracy Wright (@TracyL_Wright) October 16, 2014