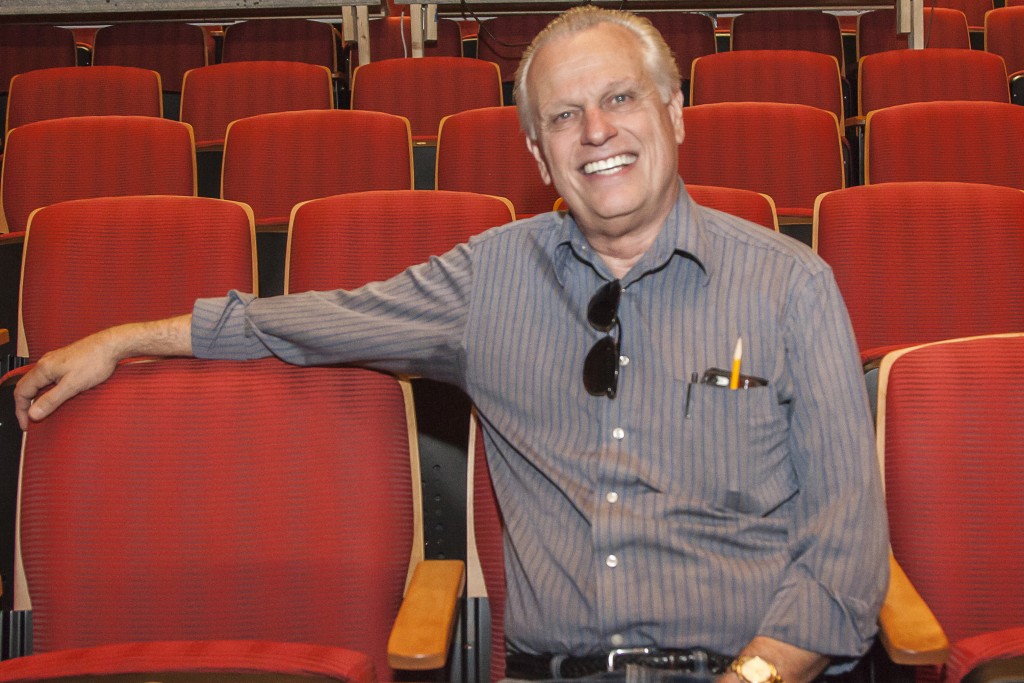 Blue eyed and white haired, Gene Putnam, with a pair of sunglasses hanging from his buttoned shirt, sits at his desk working before an afternoon Theater Department meeting with his fellow faculty members. Instead of fully being retired, Putnam spends his days teaching and directing productions with interested students sharing years of experience in the field.
In his youth, Putnam, who now teaches stagecraft and scenic design at Pierce College, dabbled in the theater arts while attending high school and college. He never would have imagined himself on the stage or creating a production.
Putnam had a young family and with his Masters of Education he spent four years teaching elementary students supporting for his loved ones. It was his desire to introduce to new ideas to his students that began his theatrical journey.
"During that time, I tried to expose students to a lot of extra things, like dancing, singing, photography, science (over and above the regular science doing little science demonstrations)," Putnam said. "But also, exposing them to all kinds of music and literature."
One of those times, Putnam brought out one of his personal favorites 'Our Town' written by Thornton Wildbur to his students, who fell in love with the story. His students enthusiastically wondered if they would be able to put on a production.
"Not remembering a whole lot about plays, I leaped into it and several weeks before school started every day the students would arrive," Putnam said. "I did some reading and I directed them in the production. The parents went nuts. They loved it."
After his elementary students moved to middle school, he also went with them where he taught a variety of classes from literature, woodshop, music appreciation, and returning to theater.
Between 1979 and 1980, Putnam decided to pursue a Masters of Fine Arts. While he was attending California State University Fullerton (CSUF), he taught theater at a Catholic high school for five years.
The school located in Santa Fe Springs, California, was connected with Rio Hondo College because he was part-timer there. This allowed Putnam to provide a real stage for their high school productions instead of having them in a cafeteria or gym.
Putnam took six trips to Edinburgh, Scotland with the California Repertory theater as their stage manager as part of his job with Rio Hondo. He designed for them and his duties included lines, lights, getting the crews together and primarily technical aspects.
"That was a great experience because we took students abroad for six weeks at a time," Putnam said. "From 1978 to 1989 we went on tours."
He's designed for United States Organizations (USO), as part opportunities of Rio Hondo College.
Once he obtained his MFA he began searching for a full time college job.
"I started doing what is called 'freeway flying,'" Putnam said. "I was at Rancho Santiago College for a year then I was at Pasadena City College for a couple of years filling in positions."
Eventually, while teaching at Pasadena a gentleman, in that time was teaching at Pierce College, had decided to leave his position and encouraged Putnam to apply. In the fall of 1989 he joined the faculty as a technical director.
At one point the Theater Department was producing three shows per semester but had to drop one because of budget cuts and lack of staff.
Putnam has history in the Theater Department and has worked with numerous people throughout his career. Students he's worked with in the classroom return on the stage or in the classroom setting as an instructor like Depart Chair of Performing Arts Michael Gend.
"Gene's always kind of been my personal barometer for working with people because he was one of the first people I ever worked with," Gend said. "I used to be a student at Pierce and I took Gene's class. I've been working with him since 1997."
During his 27 years at Pierce, Putnam has been the department chair for 13 years. As the head of the performing arts department, Putnam alongside former and current faculty members, emphasized musicals producing a number of them.
Putnam has directed numerous plays on campus throughout the years. His most recent ones were 'Sherlock Holmes: The Final Adventure' and the musical 'Cabaret' in Dec. 2014.
"He has the ideas, but as the stage manager I had the organization skills to keep him on track," technical arts major Laurien Allmon said. "If you know Gene Putnam on a personal level, he has great ideas. He's a great person but sometimes he can be difficult because when he has those ideas he wants to see them come to life."
Allmon, who was the stage manager for 'Sherlock Holmes: The Final Adventure,' remembers taking Putnam's scenic design class in 2014.
"The class was a Thursday that was three to four hours which drained my soul, but you get a lot of experience from the class because he's done what he's teaching," Allmon said. "He's made sets, he's built them and so he's teaching from a perspective of 'this is what I've done' and I can give it to you."
The classes students participate in with Putnam bring information for them to use and to think about when it is their time to show.
"He tells us stories about when he worked with people, those are usually his tangents, or he'll bust out this giant ass portfolio, set it down and he's like 'yeah, so I've done this design and these are all my handcraft designs,'" Allmon said. "Well, alright I see why you got the arrogance now. Gotcha, gotcha."
An alchemist putting the efforts of students and faculty alike into his vision and brewing it with his vast knowledge from past experiences as a director, scenic designer and instructor until the final seconds before a production begins.
"Anytime you direct a play you have to dig into it with so much information to assimilate and then you need to transfer that to the students," Putnam said. "Then you need to create a concept or vision of what you want in the show and it's really neat to be able to see the students participate in making it possible. Without them you don't have a production, you don't have a theater experience for the audience."