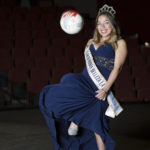 There are many people who are quick to reduce pageant girls to looks and a crown, but for Jennifer Godoy Lopez, competing as Miss Teen California for the Belleza Latina Beauty Pageant created opportunities for her to expand on her dream of helping children in need.
Fresh out of high school, Lopez started taking college classes this year, but also participated as a spring semester cheerleader at Pierce before enrolling.
She plans to join the team again this coming spring semester after taking a break from cheering this fall to focus on the creation of her charity.
Her foundation, which does not yet have a name, focuses on providing necessities to impoverished children in Jutiapa, Guatemala.
After visiting Guatemala with her family, Lopez was shocked upon seeing the lower standard of living experienced by locals, especially the school children who would often have to attend class without food or shoes.
There is a school in Jutiapa, called El Grandillo, located deep in the mountains that is very difficult for anybody to access. Visitors must use a car part of the way and walk the rest. It is a very poor area and the kids don't like to go to school because of the distance.
Lopez started visiting the school because her cousin was a teacher there.
"I took shirts to them and gave them snacks just so that they would enjoy coming to school," Lopez said.
After having such a positive experience her first time visiting, Lopez started talking to her cousin about continuing to help the students of El Grandillo, even while back in her home state of California. Together they partnered up to collect, ship and deliver necessities to the children.
There were originally 30 kids in the class but the amount of students has dropped to 15, a number Lopez hopes to raise again through her work.
While visiting El Grandillo, Lopez mostly speaks Spanish with the children but also helps them learn English. Lopez comes from a bilingual home. Her father is from Guatemala and her mother is from El Salvador.
Lopez's father, Nery Godoy, who does not speak English, had some comments about his daughter's participation in pageants that she helped to translate for him.
"I think that her competing is good because it's not only helping her to help others, it's also helping Jenny, not just physically, but mentally, and creating a better future for her," Godoy said.
Miss Teen International Belleza Latina 2015 was held in August in Orlando, Florida at the Caribe Royale Hotel and is where Lopez competed for the international title. She plans to return to compete next August but as Miss Teen Guatemala.  
Participants traveling from places such as Rhode Island and Puerto Rico, prepare for an entire week by attending rehearsals, a party, dinner with the judges, and orientation where the contestants get a chance to mingle and meet one another.
"We all want to get to know each other before the pageant so that we walk out as sisters not as competitors," Lopez said.
Six teens competed in front of five female judges at nationals in 2015. One of the girls who Lopez became close with that summer, was Miss Teen Texas Belleza Latina, Jasmine Correa. Correa is proud to see the international humanitarian work that Lopez is doing.  
"To see that she's doing work in Guatemala and lives in California is amazing. If she has a platform that she really wants to push and help people with, she can really do more now to spread the word," Correa said.
Glitz and glamour aside, pageantry is one way for young adults to gain recognition and help to promote their cause whatever it may be. Correa has also used her pageant title to help others, and is a motivational speaker at elementary schools.
"I think any girl in pageantry that you ask will tell you the same thing, it's not just a sash and beads. It's not just rhinestones and a title. It means more than that to us. We worked hard for it. It's dedication, time and effort. The sash and crown do help us though if we want to volunteer, it helps us get our name out there more, it helps us to help others," Correa said.
It is currently Lopez's family who has been helping her while she starts her foundation. They help to pay for the supplies that the children need and fully support her passion for volunteer work.
"We're happy to see that she likes going there and she likes to help others. They need support and she's happy to provide that. I think that it was a beautiful experience for her," Godoy said.   
The graduating class at El Grandillo was so grateful for all of the assistance Lopez provided, that they named her the "godmother of graduation" and gave her a group photo of them with her image photoshopped in.
"It's hard to describe the way I feel when I see the joy on the faces of the kids when they have all the things they need. They don't have anything. I've seen kids with ripped shoes that still have to go to school like that. I've seen kids go to school barefoot and they have to go up mountains just to get to class. To help them is an amazing experience," Lopez said.
Currently a nursing major at Pierce, She hopes to transfer to CSUN in two years and train to become a certified nurse.
"The goal is to get some experience [in the US] and then go to Guatemala to help the kids," Lopez said.
With no plans of slowing down, Lopez aspires to have everything set up and ready for her foundation by next summer and plans to return to Guatemala for an entire month over winter break to continue her volunteer work.