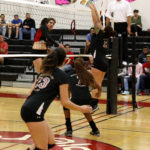 Some teams rebuild while others reload. Pierce volleyball is back to business as usual as they head back to the playoffs ranked second in the state.
The team won its last regular season home game against the Victor Valley Rams before they prepare to head off to postseason.
In three sets the Brahmas ended the game, 25-7, 25-10, 25-18.
This victory guaranteed the team's 14 conference championship in the last 16 seasons.
Pierce played a strong first two sets, making few errors and held a 2-0 lead over the Rams.
The third set was noticeably weaker for the Brahmas. They fell behind after several short hits, as the Rams picked up its level of playing intensity.
Pierce middle blocker Megan Weaver was aware of the big difference between the first two sets and the game match.
"The first two games were a lot better because we put the ball away. The last game we got a little too comfortable," Weaver said. "When our energy is up, and we are playing as a unit, we do a lot better as opposed to playing as individuals. We really connected those first two games."
Victor Valley kept up with each point Pierce made until both teams tied at 13-13 in the third set.
Stepping up its game in response, the Brahmas were able to close out the set, 25-18, winning the overall match 3-0.
Pierce setter Peyton Moyles played a strong offense and defense, scoring and blocking multiple shots throughout the match, in addition to providing multiple assists.
She credits Pierce's win to the group's high energy and good teamwork. She is optimistic about the playoffs.
"Honestly, if we play the way we did tonight, we are going to be really hard to stop. I firmly believe that we are one of the best teams in the state and that we can win—and we will win," Moyles said.
Moyles was one of nine departing sophomores on the team who was recognized on the court before the match began.
Securing his 161 win in the Western State Conference, Coach Nabil Mardini said that the team's strengths were serving and passing, which they work on everyday.
Mardini thinks that the most important part of preparing for playoffs is for the team to feel the pressure, especially during practice.
"The key is, you want to make sure they are being challenged. You don't want it to be easy because playoffs are not going to be easy," Mardini said.
The last regular season away game is at Glendale College on Wednesday, Nov. 16, at 6 p.m. The first round of regionals schedule is yet to be announced, but check in at the cccaasports.org website to find out when the Brahmas play.
The playoffs are set to begin on Nov. 26, but the bracket is still being built because there is one final game for most schools on Wednesday, Nov. 16.