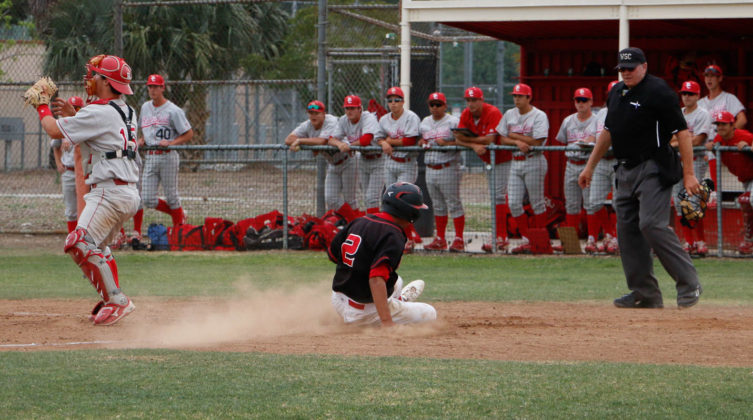 Powered by a complete game shutout from starting pitcher Tommy Wilson, the Brahmas (10-4) defeated Bakersfield College (9-5) 3-0, snapping the Renegades five-game win streak, and giving Pierce sole control of first place in the Western State Conference-South Division.
Wilson (4-3, 2.56 ERA) struck out 10 in the game, allowing only three hits and three walks.
"Today was his best outing since he's been here," head coach Bill Picketts said. "It was so efficient. I think he ended up throwing maybe 110 pitches. He was at 96 going into the ninth."
Despite the strong outing, the Renegades had Wilson on the ropes in the first inning with a man on third and two outs.
"Usually in the first inning I'm just seeing what pitches are working for me," Wilson said. "I could tell my breaking ball wasn't working, so I had to go from there, adjust and just get out of that inning."
Wilson chose to rely on his changeup, which he considers to be his best pitch.
"I'm usually using it to get a ground ball," Wilson said. "I'm not getting swing-and-misses like today, which is definitely nice. The scouting report on them was low changeups high fastballs, so having that changeup today, and it felt as good as ever, that was definitely a positive."
The Brahmas got on the board in the second inning when Brandon Lewis took an inside fastball over the left field wall, his fifth home run in seven games.
"I knew they were going to come fastball at some point in the count because they went three straight sliders to me," Lewis said. "They knew I was looking for it, but I was ready for the fastball and just jumped on one and got a hold of it."
Pierce would struggle to add to the lead, as Bakersfield starting pitcher Luke Andrews (4-2, 2.24 ERA) nearly matched Wilson on the mound.
"We left a few runs out there," Picketts said. "First and third nobody out we didn't punch that run across. A few other little things here and there, but we came up with some good two-out hits, and things work for you when that happens."
The Brahmas managed to plate another run against Andrews in the sixth inning. Andrews finished the day giving up two runs on five hits and one walk with seven strikeouts over six innings.
There's a quick turnaround for Pierce, with the next game tomorrow at 1 p.m. at Bakersfield, as the Brahmas try to hold on to first place.
"It's kind of fun," Picketts said. "I told the kids the other day that as much as you love to boat race the conference, this is what it's all about. Playing meaningful games all the way through the season."
Pierce will play three non-conference games following tomorrow's game at Bakersfield.
"This one definitely gives us confidence going into tomorrow," Wilson said. "Then we have a couple non-conference games, but it will give us some time to think about where we're at and go from there. Try to finish the season off on a strong note."