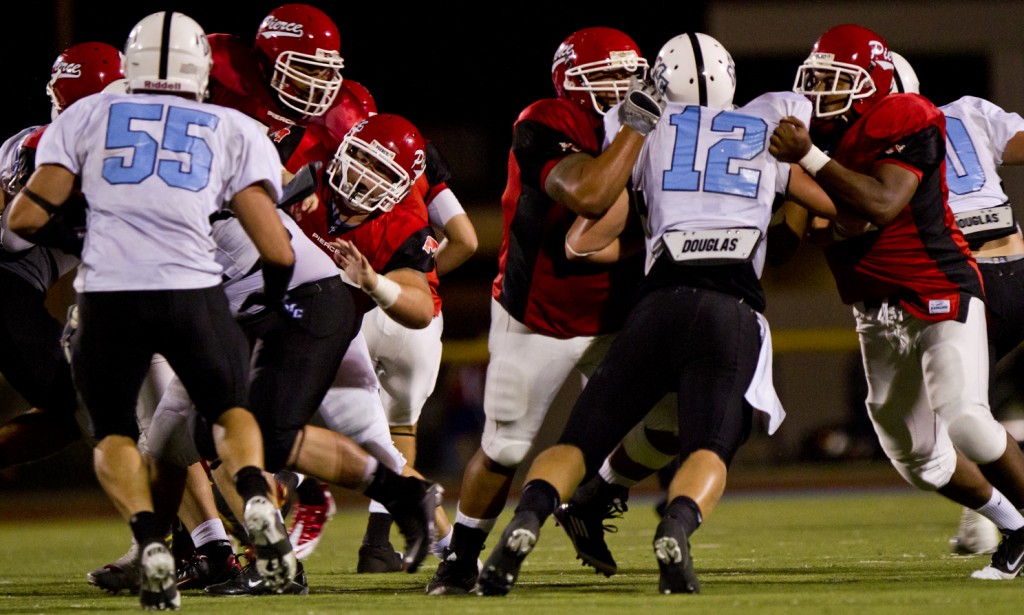 Turnovers and faulty line play hindered the Brahmas chances of competing Saturday night as they fell to their neighbors up the 101, Moorpark College.The Moorpark Raiders (0-1) and the Pierce Brahmas (0-1) went head-to-head searching for their first victory in this non-league match up but it was the Brahmas who took the loss with a score of 54-7.
Freshman starting quarterback Jake Basmajian was constantly hurried, and never had time to make throws down the field.Offense is showing their inexperience on the offense by allowing 9 sacks, having 7 turnovers, and only rushing for 30 yards as a team."The team was missing discipline and work ethic," said linebacker Jake Minster.  "The frustrating thing is that we have all the talent, but we just haven't learned to play like a team yet."

Turning over the ball, making penalties, and not playing physical is not how Pierce wants to play.

Pierce head coach Efrain Martinez said the Brahmas "self-destructed."

The Brahmas first and only touchdown of the game came with just a little more than 2 minutes left in the second quarter, when Jake Basmajian threw a 21 yard touchdown to Jayson Washington.

Pierce was down 19-7 at half time.

The key play of the game that gave Moorpark the momentum and seemingly giving them the victory was a 35 yard interception for a touchdown by Marquise Mouton, giving Moorpark a 26-7 lead.

Basmajian was benched after throwing the interception by backup quarterback Matt Rasmussen.

The spark play by the Raiders was a fumble recovery for a touchdown that went for about 40 yards. After a 20-yard penalty was given to Pierce for a false start, two more touchdowns for Moorpark followed.

At the beginning of the third quarter, the ball was intercepted by Moorpark resulting in their third touchdown of the game.

After throwing an interception, QB Basmajian was replaced by Matt Rasmussen and within the last 10 minutes of the game, two touchdowns as well as a two 2-pt conversions were made by Moorpark.

"With the young inexperience team that we have, it's hard to learn everything in such a quick period of time," said assistant coach Jason Sabolic. We just got to make some adjustments and we'll be just fine and have a better ball game next week."

Pierce College will face one of their toughest competitors in their third game of the season at Fullerton (2-0) on Saturday, Sept. 17 at 7 p.m.