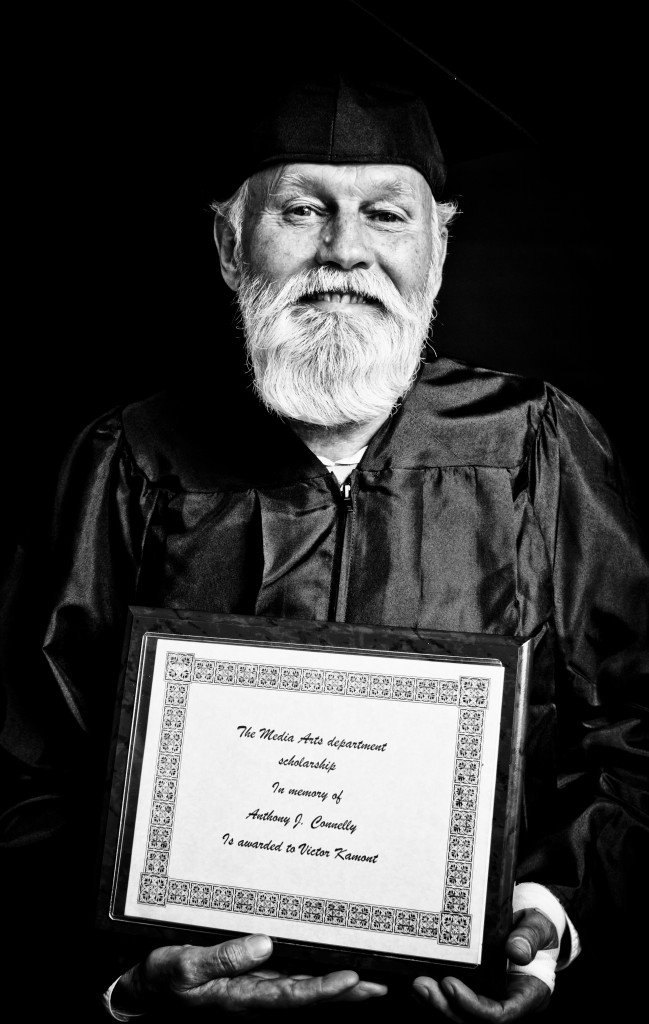 His white shirt says "Peace is Possible" and his matching more-salt-than-pepper beard shows this former Pierce College student has been around the block more than once.
Victor Stephen Kamont will soon be a Matador at California State University, Northridge (CSUN), but the past three years at Pierce have greatly impacted his life.
As a member of the Media Arts Department, Kamont has left his mark at Pierce sitting in a room no bigger than the average bedroom.
With its padded walls and signature microphones, KPCRadio.com is where the Pierce College Inner Peace Club founder spent a lot of his time when he was not actively searching for universal enlightenment.
He was the host and creator of "Happy Hour," a one hour long talk show from 11:00 A.M. to noon on Wednesdays.
"Happy Hour" started it's fifth season in the spring of 2012, and at the time was the longest running radio show for Pierce, according to KPCRadio.com.
The show gave listeners an inside look at the minds of people across the campus, such as James Hermon, former program director of KPCRadio.com at the time.
During the in-depth interview Hermon talked with Kamont about what it really took to keep KPCRadio up and running.
Kamont also shined a light on other members of the Pierce family such as the women's volleyball team, and got the scoop as how they will prepare to defend their state title.
While Kamont was used to asking questions, he was never afraid to answer them.
Kevin Reynolds, host of "Beyond the Print" had Kamont as his guest and still remembers the experience.
"He was very professional," Reynolds said.
His final hours as a Pierce student were spent where it all began, in The Roundup newsroom.
Kamont was a reporter for The Roundup and made a smooth transition between the newsroom and radio station, as they are conveniently located right next to each other in the Pierce College Village.
As editor-in-chief of The Roundup in the Spring of 2012, Reynolds spent time with Kamont in the newsroom.
"He was a breath of fresh air," Reynolds said.
It was in the newsroom that a very excited Kamont tried on the cap and gown he would wear during the 64th Pierce College Commencement Ceremony.
There he received his Associate Degree in journalism, photojournalism, and social and behavioral sciences.
These three degrees, as well as California State University (CSU) and Intersegmental General Education Transfer Curriculum (IGETC) certifications were all accomplished in Kamont's three years as at Pierce.
Kamont credits many people in his success, but remembers one person in particular.
"Jill Connelly," Kamont said, smiling. "She is tough, strong, understanding and encouraging."
Connelly is the Chairperson of the Media Arts Department, and remembers Kamont for his dedication to his education.
"One semester his car broke down so he hitchhiked to Pierce from his home in Malibu to make sure he could attend his classes," Connelly said.
She has also seen Kamont grow over the years as he adapted to life of a journalist.
"When Victor first came to our department he didn't know how to use a computer," Connelly said.
"Since then he has really grown in all areas of multimedia production; now he produces videos, and he also makes slideshows of his photography."
The fall will bring new adventures for the 60-year-old, who will be double majoring in journalism and broadcasting at CSUN.
"I got into San Diego State (University) for journalism, and San Francisco State as a senior for Photojournalism, but decided on (CSU) Northridge because the people are nice and it is closer to home," Kamont said.
While Kamont is unsure of what will become of "Happy Hour" in the fall anyone who would like to listen to previous episodes of "Happy Hour" can do so at KPCRadio.com.