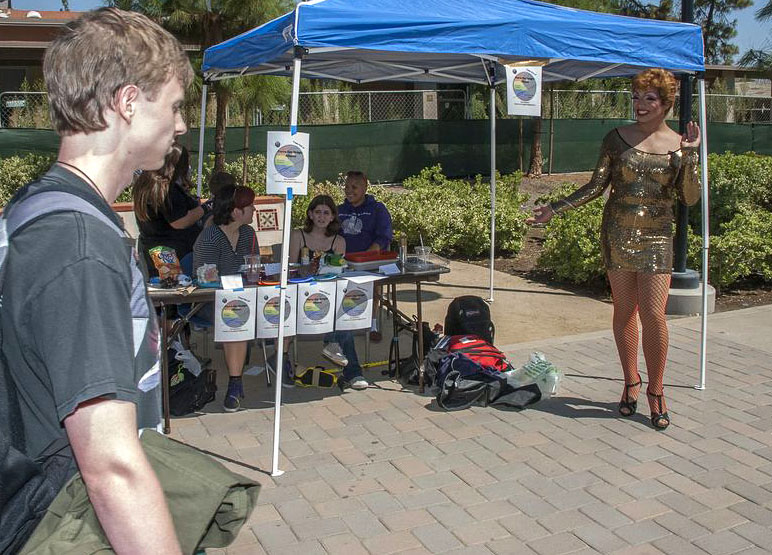 Gold sequins, red fishnets, cookies and cake-that's what the Pierce Gay Straight Alliance (GSA) club used to draw in students to their booth on Wednesday during Club Rush week.
With a welcoming demeanor, GSA members had a bake sale as part of their efforts to attract students into approaching their booth and getting them to sign up to be a member.
The biggest attraction, however, was Edward Murillo III, the club's public affairs officer, dressed as a drag queen. Murillo was clad in a gold sequined dress, red fishnet stockings, and black patent heels.
"I try to do my best to make sure that people know we're here," Murillo said. "I decided to wear something really big and obvious so people would definitely notice us, and I think it's working."
GSA president Jennifer Oya proudly stood next Murillo promoting the organization.
"Obviously, this beautiful person right here is helping getting attention," Oya said. "We've got a lot people signing our email list, which is great."
Even under scorching hot sunshine, the members enthusiastically explained to interested students what the club is all about.
"We are a club that definitely promotes originality and individuality," Oya said. "We want to be very supportive for everyone who joins our club."
GSA, founded in 1995, raises awareness and educates members about the Lesbian/Gay/Bisexual/Transsexual/Queer (LGBTQ) community, according to the Associated Students Organization website.
"We do talk about activism for our community, and we're going to do AIDS Walk this year," Oya said.
GSA member Shaina Barnett was also present at the booth, encouraging students to join.
"Us being part of the community could also give a safe-space environment to students that feel alone, and also get them to feel good," Barnett said.
GSA meets on Wednesdays at 3 p.m. in building 3204.
Students are welcome to drop by one of these meeting and learn more about the organization, even if they have not signed up, according to Oya.
"When I first started here, I didn't know many people," Oya said. "The majority of my friends that I have now are from this club."
Students are encouraged to check out the Pierce GSA, regardless of their sexual orientation.
For more on Pierce College clubs, check out the "Club 411" section of The Roundup.