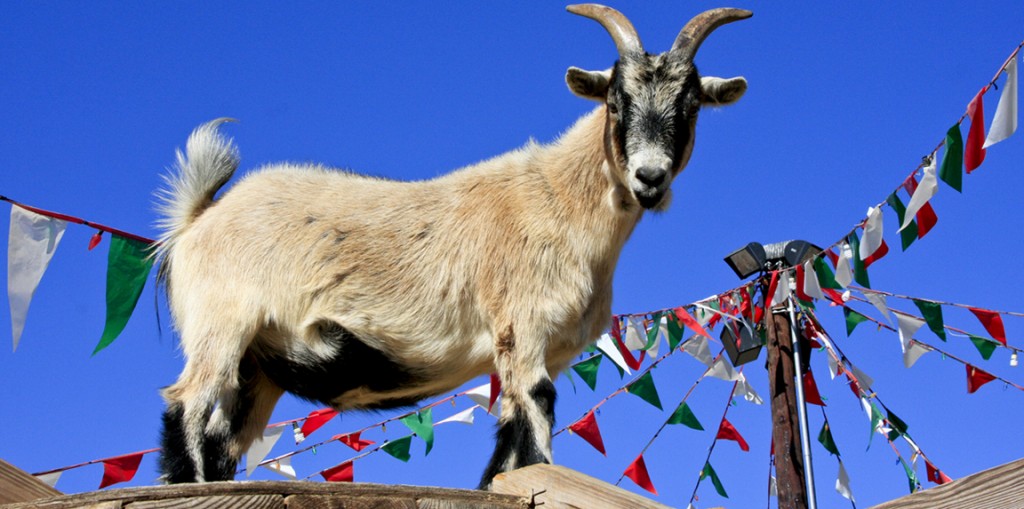 While driving by the Pierce College Farm Center, many students cannot believe their eyes when they see a goat walking on top of the farm houses.
Dr. Leland S. Shapiro, director of the Pre-Veterinary Science Program, explained how it is normal for goats to engage in such behavior.
"If you look at goats in nature, they climb on rocks," Shapiro said. "They live on hills and they like to be up high so they can see things and play 'king of the hill."
He also explained that this helps the goats interact with other animals and that it naturally enriches their life.
"Playing king of the hill is a form a behavioral enrichment for the goats," Shapiro said.
Another reason the goats climb up the telephone poles and rooftops is to stay away from the coyotes occasionally seen on campus by the Farm Center, according to Shapiro.
"Coyotes are on campus," Shapiro said. "But they will not go up there to get them."

Farm Center stable hand Wendi Spielman described how the goats and a few of the sheep have managed to climb up the buildings by themselves.
"They're called goat walks," Spielman said as she explained that a few of the people at the farm have built ramps around the buildings in order for the goats to climb up on.
This explains why so many have witnessed goats hanging around on top the farm houses.
"It's to keep them happy because they enjoy climbing," said Spielman.
Although it may require a double-take when one first sees a farm animal using building as playground equipment, but the goats love every moment of it as it satisfied both their instinct to climb and to seek a high vantage point from which to watch for danger, according to Spielman.
"Many people worry, but it's not dangerous because they have pretty good balance," said Spielman.
Fastor Funes, a farm hand, also said the public has had a reaction to the goats when they have climbed up the goat walks.
"They are taken back by it," Funes said in Spanish. "They say it's cute."

Seeing animals the roof is a rare sight for most students, but they can enjoy this unexpected view knowing the animals are safe and happy on top of the farm houses.