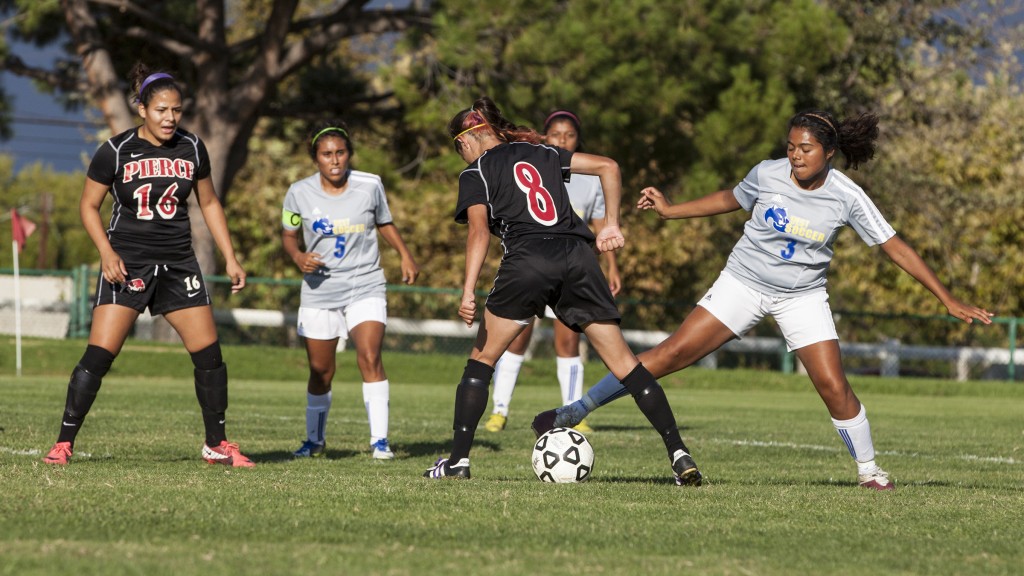 The Pierce College women's soccer team came out swinging and routed West Los Angeles College 11-0 in The Pit on Friday.
The Brahmas now have a record of 8-3-1 after their shutout win over West L.A., who dropped to 0-6 in conference with the loss.
Pierce started the game quickly with a goal in the first minute by freshman forward Jacqueline Hilario, who finished the game with three goals.
The Brahmas did not slow down from there, with freshman midfielder Harmony Durand making it 2-0 with a goal in the third minute of play.
Pierce added to their lead going into halftime, putting West L.A. into a six-goal deficit with goals from sophomore midfielder Edith Dominguez, freshman forward Shawnie Moore, freshman forward Mariela Chopin, and another from Hilario.
Coming out of the halftime, Pierce once again came out with speed, quickly racking up two goals in less than 10 minutes, both by Moore, completing her second hat trick of the season.
"I thought perhaps they'd come out a little bit harder in the second half, but it was kind of the same game," Moore said.
Three more goals were scored by Pierce; one by Hilario to complete her hat trick, one by sophomore midfielder Joandra Ramirez and one by freshman defender Karina Ramirez, who ended the scoring and gave Pierce their sixth shutout win of the season.
Adolfo Perez, Pierce College's head coach, expected more of a challenge from the West L.A. squad.
"They have lost every game, but some of the scores were pretty close, so we figured it was going to be a little tougher," Perez said.
Perez said the team's goal was to play strong, knowing West L.A. would be desperate.
"They have not scored a goal, and eventually they're going to," Perez said. "We did not want to be that team."
Even though they spent the majority of the game on attack and all of it with the lead, Moore knew they could not lower their intensity and give West L.A. an opening.
"We needed to play our game and not go down to their level," Moore said. "We needed to keep pressuring and keep shooting and scoring."
Hilario, also a freshmen, felt similarly and said this is how they approach all their games.
"We always have the mentality not to take a game lightly," Hilario said.
Perez is happy with Pierce's play, but does not want Pierce to get too relaxed.
"Games like these are good because everyone plays, [but] bad because you don't play as hard as you would," Perez said. "Now you have to play a great game on Tuesday."
Tuesday's game will pit Pierce against College of the Canyons (COC), who had previously played a role in Pierce's elimination from the playoffs this last season.
Hilario is also looking forward to the game against COC, as well as determined to come out the victor.
"I'm excited to play them, I know some girls on their team," Hilario said. "And we have to win, we can't even tie."
Tuesday's game will be played in The Pit at 4 p.m.
For more news on women's soccer and other sports, continue to follow www.theroundupnews.com.