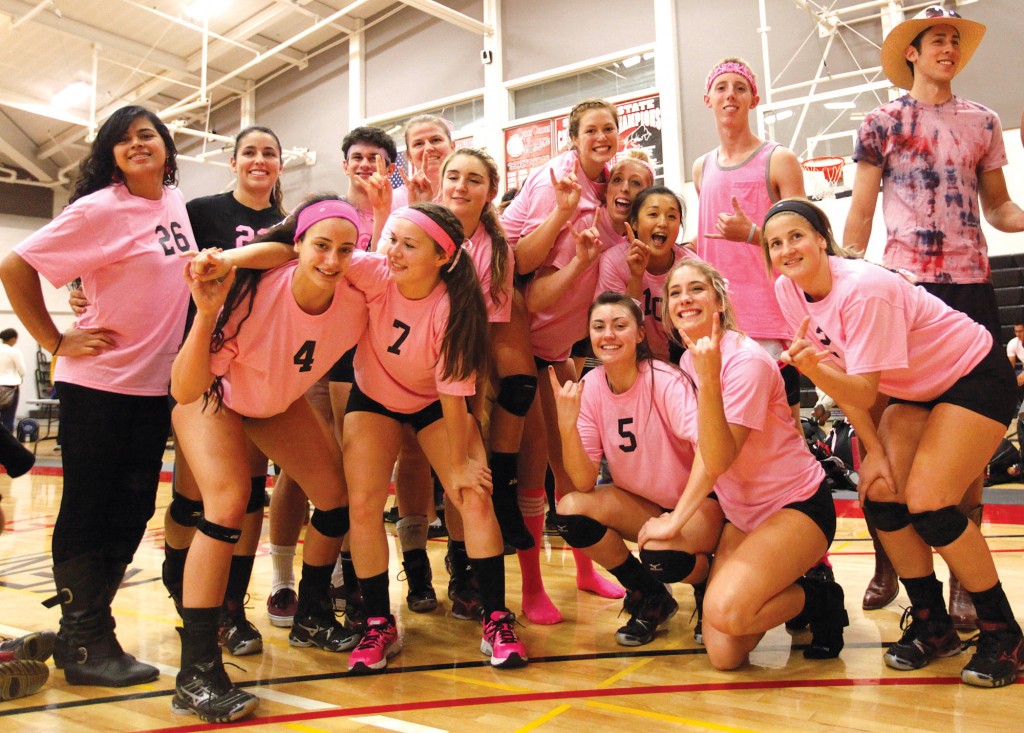 Pink shirts were seen all throughout out the crowd at the Pierce College women's volleyball game at the South Gym on Friday night.
Pierce students, faculty and families attended "Spike Pink" to support the volleyball team as they played against Santa Monica College in hopes of raising awareness for breast cancer and raising funds for the Susan G. Komen Foundation.
All the girls on the team wore pink shirts and some wore pink bandanas and socks. Many of the parents also wore pink to support the cause.
Since the month of October is Breast Cancer Awareness Month, head coach Nabil Mardini and the team felt it was appropriate and beneficial to show their support.
"We pick a day in October and we raise money to support cancer research," Mardini said. "Everybody is affected indirectly or directly by cancer, so it is a great cause."
The volleyball team will raise money by getting paid from sponsors for each spike, dig, and kill during the match. Parents, family and friends and anyone who attended could be a sponsor for the cause.
"For example, some of the girls are getting paid $1 per dig or block by the sponsor to raise money for breast cancer awareness," said freshman middle Kaitlyn Reiner.
Many parents were sponsoring for their daughters and were proud to be a part of the whole event. Lindsay Anderson, mother of freshman opposite hitter Lindsay Maxoutopoulis, was very enthusiastic about donating.
"If my daughter gets to play tonight, I will absolutely participate," said Anderson. "It's really great to see all the youth participate in these programs."
Male players from other teams at Pierce College were also wearing pink to support.
"I noticed there are a lot of boys from different sports teams here wearing pink," Anderson said. "I think that's great."
According to the flyers displayed around South Gym, anyone can donate to this program by making checks out to Pierce College Athletics and can be handed to Mardini or athletic director Bob Lofrano.
"I'm happy to wear this pink shirt because I love supporting causes that are dear to my heart," Reiner said.
Pierce won the game against Santa Monica College in straight sets (25-13, 25-12, 25-15).