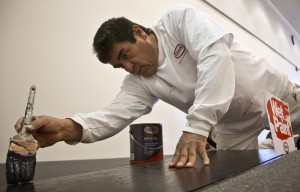 Up and working by 5:30 a.m., the beginning of a 10-hour shift, he has never been more optimistic.
In a place he has called home for the past 10 years, wearing a white Harley-Davidson T-shirt, white pants and brown work boots, Juan Rodriguez smiles as he begins painting in the South Gym.
Rodriguez considers working on the Pierce College campus an opportunity for him to provide for his family and give his children the opportunity for a college education.
Growing up in Southern California, Rodriguez has been painting for the past 35 years.
Over the years he has garnered a passion for music as an opera singer, sometimes singing before Pierce football games as well as other sports.
"I'm a tenor," Rodriguez said. "I've sang about four or five times for the football games. I love it."
Not all good work goes unnoticed, as Athletic Director Bob Lofrano acknowledges Rodriguez as something special.
Lofrano says that due to his painting ability, Juan has the ability to "brighten up the place."
"He goes above and beyond to help out Pierce," Lofrano said. "He sees something that maybe needs to be painted, he'll paint it because it is dirty, because it needs to look better. This is a learning environment, and he makes this a better learning environment."
Working a 10-hour shift Mondays through Thursdays, Rodriguez first starts his day by logging into a computer to check if there are any work requests.
He then spends about two hours each workday checking the graffiti around the campus.
When finished, he goes around campus to figure out what else can be fixed.
Believing that Pierce is like a second home, Rodriguez always puts in the extra effort to make sure that the campus is up to par.
He wants to make sure that his job is accounted for and that everything that needs to be completed is.
"This should be like a home. That's how I feel it should be and that's why I do so much," Rodriguez said. "Every time we see something that needs to be done it's got to be done. Nobody has to tell us what to do."
Maintenance man Emmanuel Jimenez enjoys working side-by-side with Rodriguez on a daily basis.
He says that every time they get together, they enjoy telling jokes. He calls Rodriguez a "very nice guy."
"He's honest, caring. If I were in any trouble I would go to him," Jimenez said. "He is very humble."
Rodriguez lives with a "never give up" mentality.
Believing that with hard work and dedication, anything is possible.
"Just keep it up. Don't ever give up," Rodriguez said. "Just make your dreams come true."