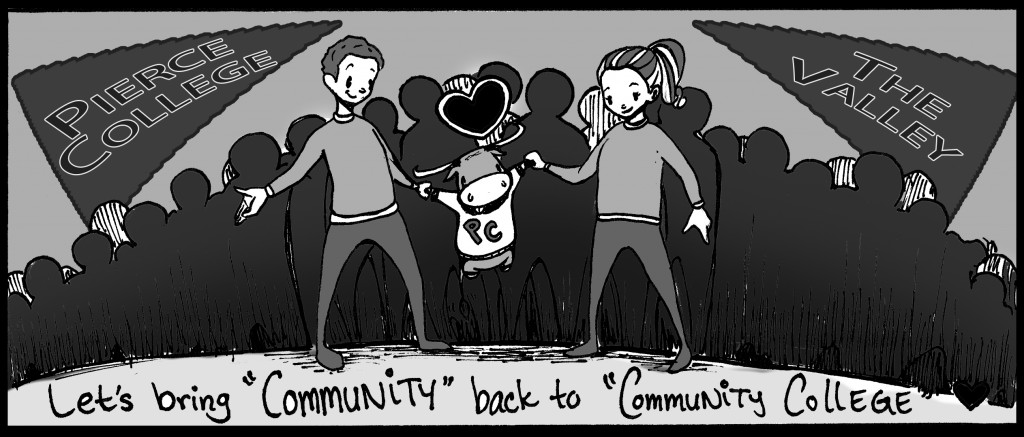 Pierce College is an integral part of the San Fernando Valley, but the current administration should steward more events that encourage the community to enjoy the school grounds similar to predecessors.
During the early days of Pierce, folksy events such as rodeos brought people onto campus from all around the Valley. Decades later, events like the Farm Walk,  and the Civil War Re-enactment became signature events of the college.
With the Re-Enactment unilaterally squashed, the status of the Farm Center lease unknown and no articulated plan for the gateway corner, Pierce's community outreach appears quite wobbly at the moment.
Pierce administration said the Space Imaging Astronomy (SIA) Expo brought in an estimated crowd of more than 1,100 and at times it did fill lecture rooms to standing room only.  Also, the Vintage Market in the past couple of weeks brought in an estimated crowd in the thousands, too, which is a boon for the Foundation for Pierce College who organized the fundraiser.
These new events should continue as a benefit to Pierce's image, as a benefit to the Science Department and Foundation's coffers and as a benefit to the community's experience with the Pierce campus.
However, the magnitude of the Harvest Festival with an estimate of attendance of 100,000, along with thousands who attend the Civil War Re-Enactment and Farm Walk eclipse all other events in terms of good will and good revenue.
Very few places in the Valley can accommodate the number of people that have attended community outreach events Pierce has hosted. The last time an open market was held on the campus of Pierce College was 20 years ago and it's about time one returns.
However, there needs to be more promotion and advertising of community and sporting events similar to that of the Day of Politics, where the public discusses and debates various political issues in an open forum.
Even though these new events are open to the public, promotions on the marquee on Winnetka and Victory, fliers and traditional media marketing would bring in more community members.
The term community college evokes an institution of education but it's important that we nurture the community bit by holding firm onto Pierce's history of promoting fun and folksy events.