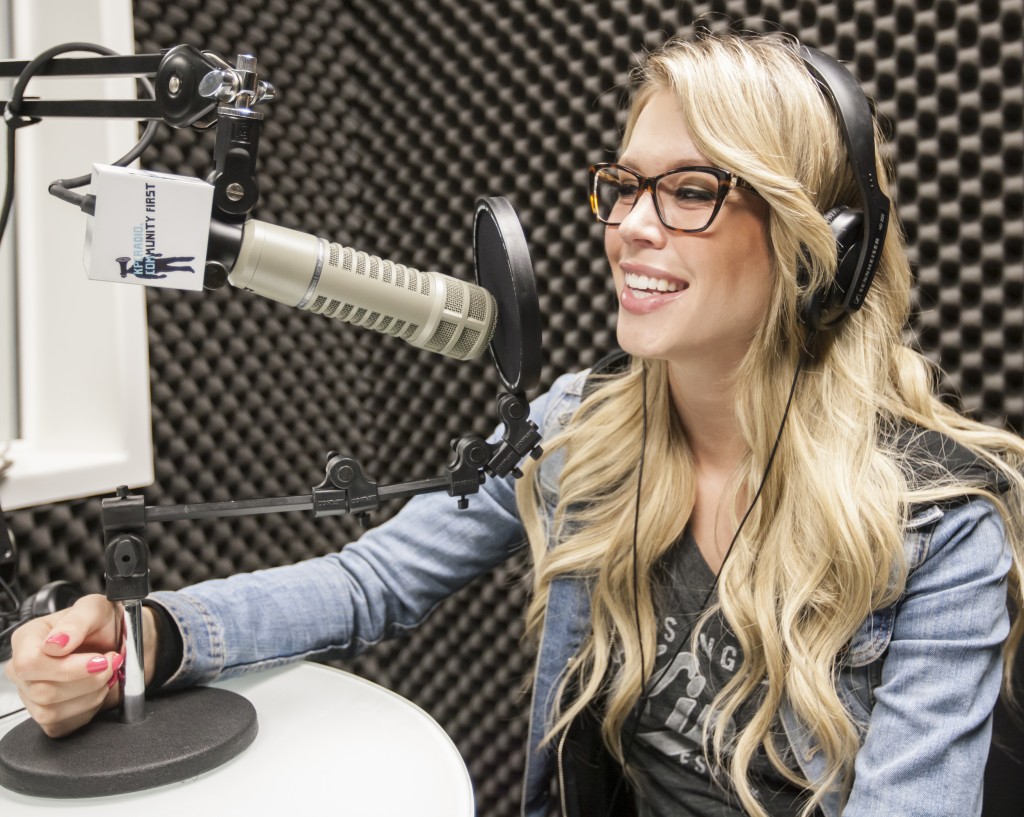 Pierce College hosts a myriad of students with unique careers, for one individual the opportunity to work with the 2012 Stanley Cup Champions is just one step in a hopeful career.
Carrlyn Bathe, 25, majoring in journalism, is making her way into the broadcasting industry by working with a prestigious sports organization, The Los Angeles Kings.
Her road to be in front of the camera as the in-arena host and host for "King's Vision" online at  lakings.com has been different than most people.
Bathe grew up in the world of hockey with her father, Frank Bathe who played for the Philadelphia Flyers and Detroit Red Wings as a defenceman over nine seasons.
"Growing up with a dad who was a NHL player, the kids I grew up with made it a bigger deal than I thought it was," Bathe said. "It was just natural growing up that way and I didn't realize how special that was."
Coming over to Los Angeles from Maine at 19 years old Bathe sought to make it into the movie industry as an actress and signed up for castings in the LA area.
After a while Bathe came across an audition for the LA Kings Ice Crew, an interactive liaison between the fans and players.
"I went thinking I love hockey so much that I should give this a shot," Bathe said. "I didn't read all the requirements and you were supposed to come in a sports bra, spandex black pants, your hair down and makeup done. I literally went in pigtail braids, jeans and a T-shirt, and brought my skates."
Bathe ended up joining the Ice Crew and worked with the organization for five years.
"They gave me opportunities the more seniority I got," Bathe said. "By year five, I was writing blogs for Fox Sports West and doing my own videos to go with them."
While with the Ice Crew, Bathe wrote a variety of blogs such as one about her family and their involvement in the sport of hockey and another about playing hockey on a pond.
"I did a whole piece on what it is like to play hockey outside because people down here don't get to experience that," Bathe said.
After proving herself a capable writer and comfortable in front of the camera with her blogs and videos, her boss Brooklyn Boyars, director of presentation and events reached out to her for a new role in the organization.
"I suggested to her to move on to camera roll," Boyars said
The Kings were looking to bring in a male and female role and they wanted to use her improv background, according to Boyars.
"She was kind of a fan favorite," Boyars said. "Fans gravitated to her because she is not just a cute girl, but is the real deal and can talk [hockey]."
Moving from the Ice Crew to her position as in-arena host sparked a new motivation for Bathe.
"I'm really trying to hone in on my craft right now," Bathe said. "I would love nothing more than to be a sports broadcaster on the NHL Network. That's my absolute dream. To be able to inform people about something that I'm passionate about would be extremely ideal."
Daryl Evans, Kings Radio Color Commentator and former Kings player from 1981-85, got to know Bathe while she was on the Ice Crew when he was working with them as a skating consultant.
"She has a great understanding for the game," Evans said. "When you mix those two things, the passion and the knowledge its a good mixture to get involved and excel with the [NHL]. I think the league will welcome her in addition to their team. She would compliment it nicely."
Bathe is inspired to finish at least her associate's degree.
"I feel like you should do what you love for work," Bathe said.