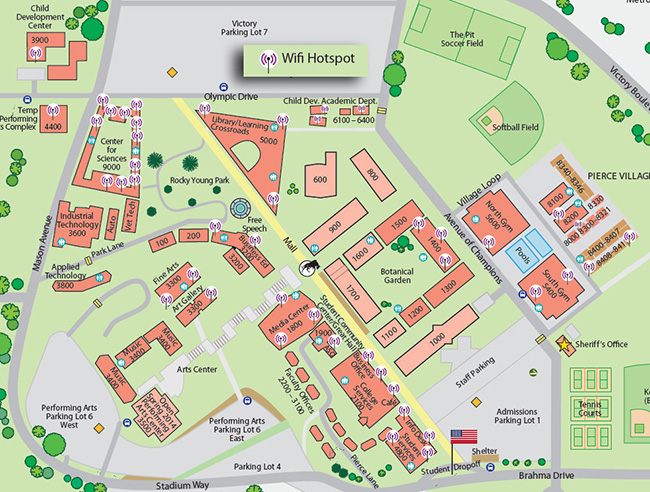 A new password protected Wi-Fi system which allows students internet access throughout the campus was enabled Monday, March 3.
The new Wi-Fi system requires students and faculty to log on to the "Pierce Ap" network with a username and password, according to an email sent by Wendy Bass, distance education director.
"Wi-Fi is not new on our campus, we have had it for a few years.  What is new is that students will be required to sign in using their student ID and password in order to access it," said Bass.
The username and passwords for students will be the same as the ones they use to register for classes and faculty will use their email address and corresponding password. The logins for students will be their ID number starting with "88" and PIN password.
For new students and faculty that do not have their ID number or email address set up yet, the network will remain open for the next three weeks. After that point, students and faculty will be required to log in to the network according to Bass.
"I think this will be best for students," freshman John Hardy said.
Right now, "hot spots" are set up throughout the campus. These "hot spots" are areas where students will get the best signal strength. These areas include places like the Freudian Sip and the Library Learning Crossroads. The site map shows areas where students will get the best signal strength.
According to Bass, there are plans to expand the Wi-Fi signal, but new towers will not be constructed on campus at this time.
The number of students on the network will not affect the signal strength, however, the speed of the Wi-Fi will be affected by the activity students are performing while connected, according to Mark Henderson, the information technology (IT) manager of Pierce College.
Activities such as downloading movies and music are not allowed because it will slow down the Wi-Fi speed, and the copyright infringement is a serious offense and will not be tolerated, according to Henderson.
"Copyright infringement is not a practice that is supported by Pierce College, nor should it be tolerated by anyone. It is illegal activity. If you see someone participating in such behavior, then it should be reported," Henderson said in an email.
Right now, the IT department's main focus is safety and security, according Henderson. They are working to ensure that only Pierce students and faculty are accessing the network at this time.