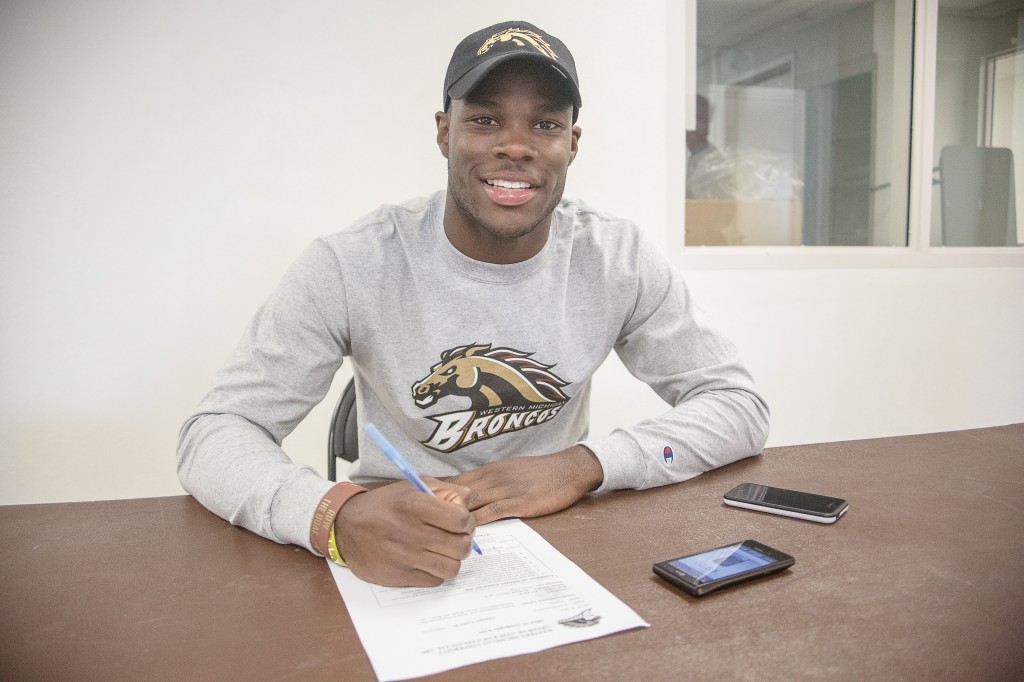 Former Pierce College Brahmas star cornerback Tyree Stone-Davis won't be joining his twin brother Tyrin at Illinois University, instead he signed his letter of intent to play at Western Michigan University.
Stone-Davis a Philadelphia native who originally committed to playing with the Fighting Illini alongside his brother, instead chose a different path. He was expected to be a tandem with his brother who plays on the opposite side of the ball at wide receiver. But after a visit with Illinois, Tyree's mindset changed and he wanted something different.
"When I signed with Illinois, to be honest I never really felt happy," Tyree said. "It was a pain inside of my chest that no one really knew. I felt as though I was making a bad decision, I just wanted to stick with my brother. But now I feel so comfortable with the transition with Western Michigan. I feel like its a family. It's a home. I feel wanted. I feel like they need me more than want me. Illinois wanted me, but they didn't need me. Western Michigan needs me. They told me everything I wanted to hear and it brought tears to my eyes."
For Tyree, the decision ultimately came down to a meeting he had with Broncos head coach P.J. Fleck. The meeting according to Tyree was what gave him the desire want to go and play for Western Michigan.
"We went to the coach's basement and he said he was going to make me a first round pick," Tyree said. " He said I'm going to play man corner all game and that I'm blessed. Everything I felt in my heart, he said it. For him to say that as a grown man, was overwhelming."
For Tyrin who supported his brother by wearing the same Western Michigan t-shirt, the decision was hard on him personally knowing that for the first time ever in his life, his twin would be in another state and playing for another team.
"It's hard that he's not going to be there, but at the same time it's a business decision," Tyrin said. "He said he didn't feel right at Illinois. I'm not going to lie: I know in my heart that being at Illinois wasn't the right school for him, but me being selfish as I am, me being his twin brother, I need him at all times. I wanted him to be with me. But I had to put my selfishness and my pride aside and let him do what he needs to do. He went there on his visit. He felt comfortable, he felt wanted as opposed to going to Illinois and being a package deal. I knew he was going to start, no matter where he went but he felt comfortable at Western Michigan and I'm proud of him."
For Tyree Stone-Davis that transition will be hard going from playing against junior college competition to playing against athletes who are a lot faster and stronger according to Brahmas assistant coach Damon Julian who last played wide receiver for the University of Cincinnati in 2012.
"He's got a couple of things that he needs work on before he's ready for that level," Julian said. "He's got to learn to keep his body adjusted and most of all not guess where the ball is going."
Tyree Stone-Davis comes to a Western Michigan team that was one of college football's worst teams. The Broncos finished last season with only one win. Tyree thinks he can make a difference and thinks Western Michigan is going to surprise college football who ranked 57th in recruiting class. The highest recruiting class ranking ever given to a team in the Mid-American Conference.
"I was the missing link," Stone-Davis said. "Watch: we're going to make championships."