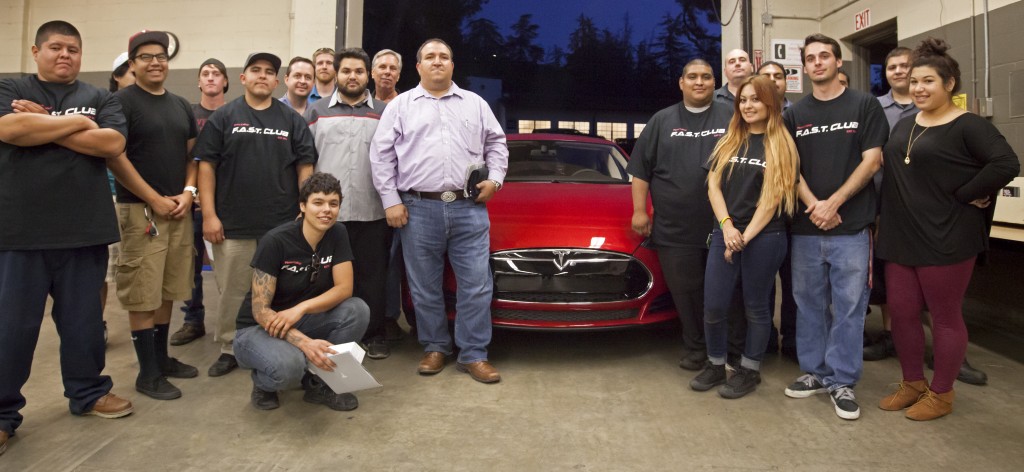 One by one they came rolling down the ramp that leads into the garage with their sleek aerodynamic lines and high intensity LED lights shining bright, causing those around to stop and notice the future of automotive technology before them without making a sound.
Accompanied by three of its electric cars, representatives from Tesla Motors visited the Automotive Service Technology class Thursday, May 29, to meet with and talk to students about its technology and vehicles.
The visit, organized by former Pierce College student Steven Guevara who now works at Tesla as the lead technician of their Van Nuys service center, allowed students to get an up close and personal look with the future of automotive technology.
"It feels great to be back and bring it to the students, give them a chance to see where you can go," said Guevara. "Trying to bring some important people here so that we can build maybe some sort of (apprenticeship) program," Guevara said.
Founded by Elon Musk in 2003, Tesla Motors is an American company that specializes in manufacturing and selling electric vehicles.
"This is the first campus we've visited," said Michael Ojaghian, regional manager for service operations in Los Angeles. "It's very important to engage students at the campus level and not wait for them to graduate and then come out into the field," Ojaghian said.
During the visit, students were able to look at the battery components that power the vehicles, experiment with the in-dash, touch screen display and go on a short ride around the campus.
"It's great," said Dennis Collatos, a Pierce student and Automotive Service Technology major. "It introduces alternative fuels for those of us that don't know and the come and give us information on their program and facilities," Collatos said.
With this first campus visit by Tesla Motors, there remains the possibility of future visits and possibly the start of a program between Pierce and the automaker, Ojaghian said.
"I was talking to one of the instructors and the dean here and there's an automotive advisory board and I've agreed to join and volunteer with the board," said Ojaghian. "It's sort of the partnership between business and schools and it'll renew our relationships so we'll be coming back over and over again," Ojaghian said.