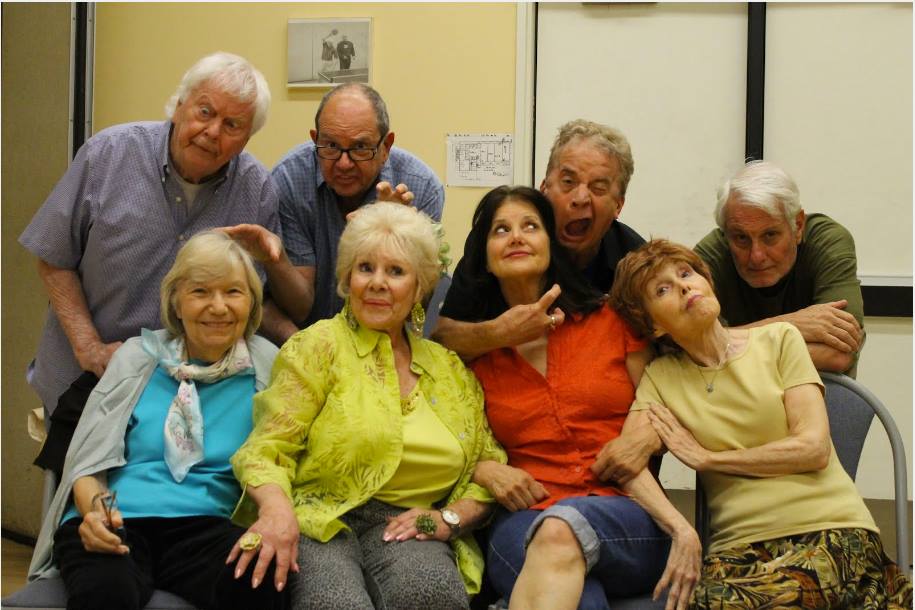 Quick thinking is required of each Spring Chicken.
The Reseda-based improv group gathers together every Tuesday at the ONEgeneration senior enrichment center for rehearsal of their show. Their performances consist of improv games, skits, and songs.
The average age of the Spring Chickens falls in the 70's but this group of nine performers, some of whom are Pierce students, keep themselves energized with their dynamic practice.
Jimmy Wagner, Mike Farrow, Debbie Stavitsky, Ulf Helgesson, Sherry Weston, India Adams, Shirley Dougherty, Diana Shore and Frank Bonoff make up the group and regularly perform in the community for hospitals, rehab centers and retirement and assisted living communities.
Shore has been taking art classes at Pierce for the last several years and books the shows for the group. She originally came to the Spring Chickens because of her sister.
"My sister was being treated for cancer and this was one of her wishes, something she wanted to do so I brought her and she loved it," Shore said. "It was the happiest day of the week for her to come here. Then after she died it was kind of like my support group. That was my connection with her and I'm still coming after 2007."
Being able to perform for cancer survivors and the children of cancer survivors, such as the cancer support community in Westlake and Winnetka, is something that Shore is grateful for.
"It's really good therapy for the kids," Shore said. "I don't know of another group that's done what we've done."
Helgesson was one of the original members of the group and he said that the goal of their performances are to bring some joy to people who are unable to go out themselves.
"The idea is to bring some humor and fun to people who may not normally be exposed to it. We're not in the game of a professional money paid performance so we perform for hospitals and assisted living," Helgesson said. "Our audience may vary quite a bit from some very astute and sharp people as in recovering drug addicts to just very old people with Alzheimer's who can barely connect with what's going on. So music is also a part of the show and music transcends intellectual ability if you will."
Weston, Adams and Stavitsky are the three members of the group who come from a singing background. Stavitsky found herself needing to take up time after her husband died. She returned to singing which she had done in her youth. Stavitsky even won the Arthur Godfrey Talent Scouts show, a nationwide televised talent show during the 40's and 50's. She began by taking a class at Pierce.
"Pierce is still my favorite place because they gave me something to keep me occupied. It's my school," Stavitsky said. "I signed up for a class that was talking about theatre but then they had us come up and tell them what we used to do when we were younger."
After discovering that she could sing, Stavitsky's classmates encouraged her to audition for shows in the Pierce Theatre department.
"I auditioned for the first show I did at Pierce which was 'My Fair Lady' and I played Henry Higgins' mother and from then on I was doing shows at Pierce. I was in about eight shows," she said.
When her children began having children of their own, Stavitsky took to caring for her grandchildren, which made memorizing lines difficult to fit into her schedule.
"I got interested in improv. I always loved improv but I was afraid of it. But improv frees you. It's great for the brain. It still intimidates me but I love it," she said.
Currently Stavitsky is involved in 'The Singing School' production, which can be seen during the Fringe festival in Hollywood.
Weston is also currently featured in the "Little Miss Know it All" YouTube videos written by Wagner at http://www.youtube.com/alittlemissknowitall.
"I had a musical group for five years and we did Vegas, Tahoe, Reno, and then we played all of the clubs in and around Los Angeles," Weston said. "I love to entertain but I also love to give back to people. This is kind of our way of giving back to people."
Bonoff is a retired civil engineer who finds the challenge of improv exciting and rewarding and credits the form with sharpening the mind.
"It's a challenge cause the thing about improv is you never know what you're going to do or even say. It's fun keeping your mind active and I like making people laugh," Bonoff said. "The performances I've enjoyed the most are at the children of cancer survivors center and I really enjoy working with the young kids and we incorporate them into the different skits and activities and to me that was the most fun."
Dougherty came from a theatre background about eight years ago and initially found the transition was difficult because of the fundamental nature of her theatre training.
"In theatre we always worked on conflict, there was always conflict in out scenes. In improv I had a hard time because everything has to be in agreement," Dougherty said. "It's been great being with this group. It's one thing to be in class but when you're a ham like most of us are you want to be performing."
"The audiences that the group performs for seem welcoming" said Adams, a professional singer who also has her own cabaret show at Catalina bar and grill on Sunset Boulevard and her own website at indiaadams.com.
"People love it. They're very receptive. They come up with some pretty weird things when we ask them for ideas but people really enjoy it and invite us back again," Adams said. "This is the first time I've dedicated to actual improv and I'm really enjoying it a lot. I like the group, they're all very talented and very warm and loving people."