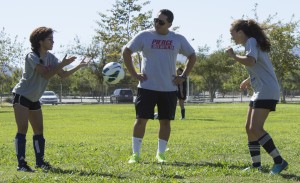 Pierce College's soccer team looks to be locked and loaded to start the season and touting one of the best freshman classes the Brahmas have ever seen. Even with all this potential, the Brahmas will still be a man down for the first four games of the season.
Pierce College head coach Adolfo Perez will be serving the rest of his six game suspension by missing the first four games of the 2014 season for not submitting his stats properly to prestosports.com, a punishment that was given out to coaches in 37 different California community colleges in women's soccer and women's volleyball.
Even without Perez's presence, enter head assistant coach William Diaz who will be taking over the head coaching duties for the first four games.
Diaz is no stranger to Pierce having coached in the Brahmas inaugural season of 2001 following his playing career at Cal State Northridge where he was a second team all-conference player. After 2001 Diaz left and worked in other coaching capacities. Diaz would eventually serve as  CSUN's Director of Soccer Operations before coming back to Pierce.
"He has definitely matured lot and he's about 102 pounds lighter when he first came then now," Perez said with a laugh knowing that Diaz was skinnier 10 years ago and playing professional soccer. "He was fresh out of college in 2001 and he has a lot of experience and he is a lot better for it. I think he's ready for the task and he sees what we do and I think this will be good for us in the long run."
Coach Diaz has already proven in his two seasons that he can thrive and coach in limited capacities. After Coach Perez's suspension started he took over in the playoffs and helped Pierce upset #3 seeded San Bernardino College and advance to the second round of the playoffs for the eighth time in the programs history. This year Diaz will be asked to bring the same magic to the beginning of this season the way he did at the end of 2013.
"We're very excited to see what we can do," Diaz said. "One of the things we had to address after last season was the lack of depth that we had last year. The goal for us was to have two players for every position so then we can compete because we believe competition brings success. When you're competing really hard in training sessions playing is going to be really easy."
This year the Brahmas will have one of the toughest non-conference schedules in the state where Diaz will have his hands full when the Brahmas face off against the number one ranked team in the nation Cerritos College. The game will also be the last game Adolfo Perez has to serve on his suspension before he can resume the head coaching duties.
"I am really excited about playing Cerritos and it was a choice for us to play them," Diaz said. "We love playing them year in and year out. They have a great non-conference schedule and we are very honored to be playing them. It bodes well for us because they know we are a great program as well and we are competitive every year. Yes Cerritos is good, but we are ready for the challenge."