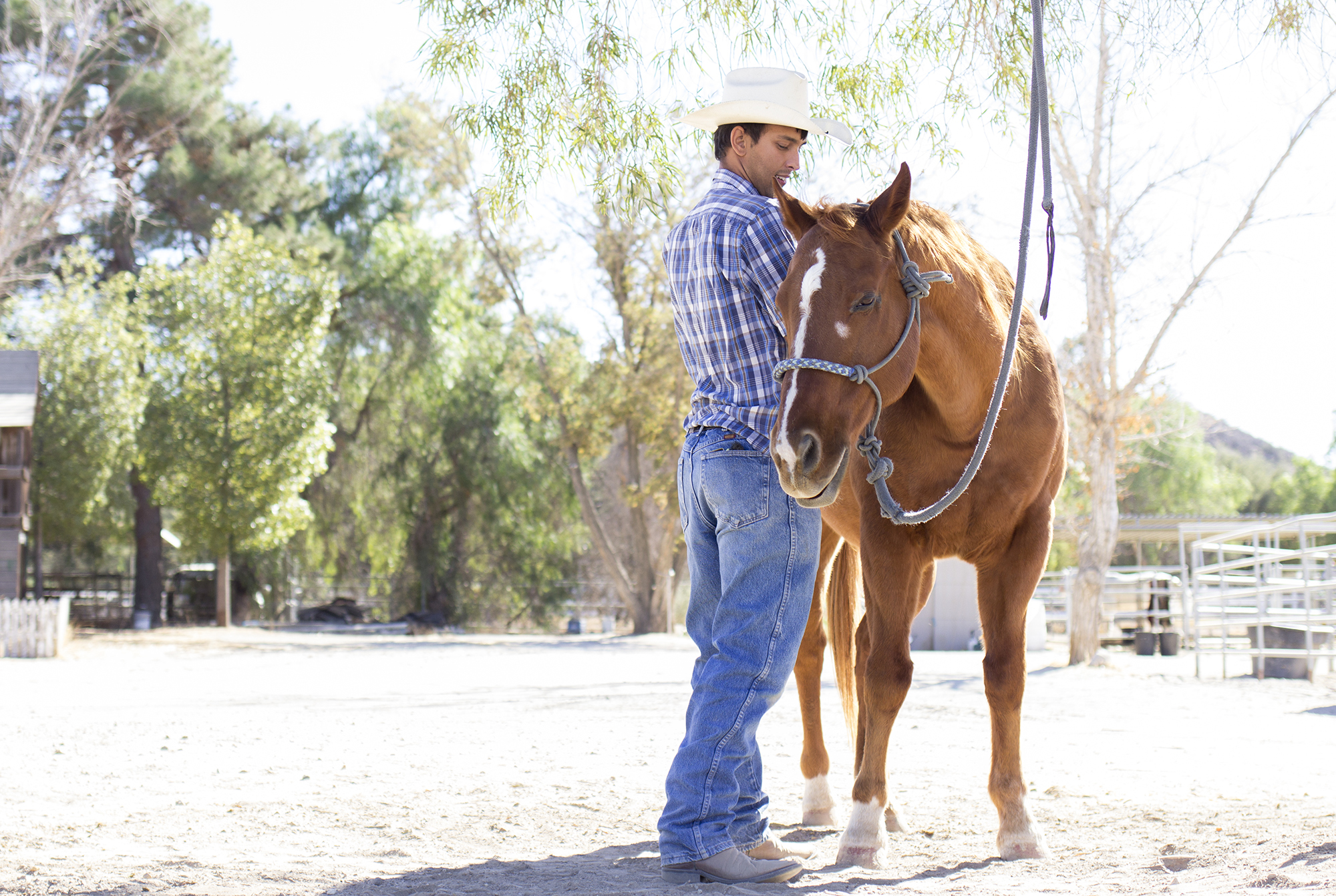 A Pierce College student starting in his third semester finds himself juggling his curriculum and work helps aid sick horses back to health as he realizes there's is nothing else he would rather be doing than making a difference.
Dwayne Johnstone, 23, has a double major, horse and equine science and pre-veterinary science, and is a member of the Pierce Boots and Saddle Club. He is also a certified equine sports massage therapist.
Having been involved as an equine massage therapist for the past four years, California native Johnstone first realized his love for horses when he volunteered at a rescue shelter in Canyon Country. Since then, he has been insured by Hands-on Trade Association and is a member of the International Association of Animal Massage and Bodywork.
When caring for the horses, Johnstone usually works with them for about six sessions, with each session taking about an hour to an hour and a half. By the end of the treatment, Johnstone is able to see a huge improvement.
"The most common horse injuries are back soreness," Johnstone said.
He officially launched his own business, The Gentle Equine Touch, serving Santa Clarita, Ventura, Kern and Los Angeles, explaining exactly what he does on Dwayneequinemassage.com in a mission statement.
"The Gentle Equine Touch mission is to provide the need through therapeutic applications of the equine or horse with freedom of movement, increasing the well-being and full comfort, and as well as restoring or maintaining a full balance of emotion, health, welfare and the spirit of the horse," Johnstone said.
Constantly at different ranches working with horses to help improve common conditions such as head tossing and stiffness or resistance, Gilbert Chavez saw first hand what Johnstone was capable of when he made his way to Oak Creek Corral in Santa Clarita, a family-based ranch offering various horse riding lessons.
According to Chavez, Johnstone cared for horses that were paired up with special needs children while working at Oak Creek. Chavez said that he was "a good kid who does a very good job."
"You can actually see the improvement in the horses, after seeing him working with the horses and doing his therapy," Chavez said.
Johnstone said that he has helped many horses overcome injuries and prepared them in different ways depending on the situation.
"If horses have an injury or have to get ready for a show, I keep those muscles healthy," Johnstone said. From learning about products such as 4cyte equine that helps with joint health, to other therapeutic methods, a lot goes into caring for a horse, which is what students like Dwayne find out about.
While continuing his work with horses, Johnstone continues to be a member of Boots and Saddle Club. Having yet to attend a meeting this semester, Johnstone said that club focuses on horses and education and have even held fundraisers in the past to raise money for horses, helping pay for their medication.
Knowing Dwayne for some time, Jamie Webber said he has done massage therapy on all of her horses for the past two years. Occasionally caring for her horses when she is out of town, Johnstone has groomed her horses, cleaned their sheaths and taught her how to stretch her horses before riding.
"I think he is great with the horses and has a kind and understanding way to them," Webber said.
"My horses seem to enjoy having him work on them and I believe his massage therapy has benefited them and made them feel more comfortable."
For Johnstone, his job is his reward. He gets to do what he loves most and what he's best at: Spending time with the horses is what he most enjoys.
"To see the horses getting better and the having connection and the communication," Johnstone said.
After Pierce, Johnstone would like to attend veterinary school and it thinking of various schools such as California State Polytechnic University, Pomona. He would like to continue on the path he is currently on and enter a similar career choice to continue working with horses.
"This is something I want to do. I want to go into veterinary, which would complement what I am doing right now," Johnstone said.