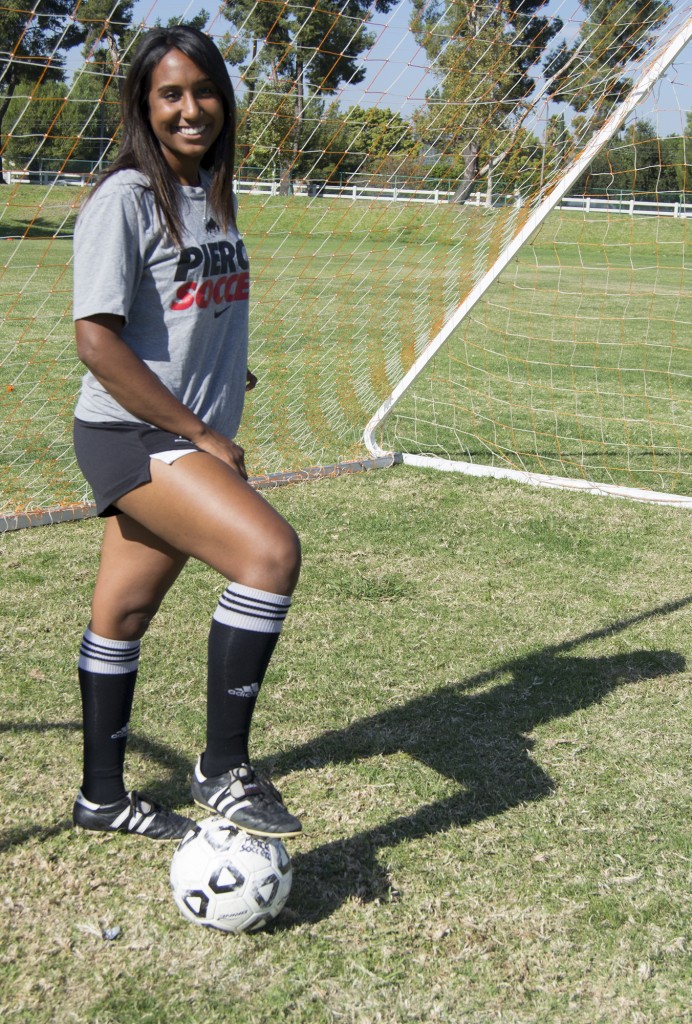 Sitting on the bench anxiously awaiting her chance to prove herself as the Brahmas best goalkeeper, she got her chance in a position that she hadn't tried out for, but is flourishing in.
A backup goalkeeper is one of the loneliest positions in sports. Playing time depends on another player being injured. That is when freshman goalkeeper Taylor Bailey decided to prove that she could play another position.
Bailey started her Pierce College career by trying out as a goalkeeper. Bailey made the team, but found that she was behind sophomore keeper Jenna Koziol.
"I told him [head coach Adolfo Perez] that I play forward. He tried me out a few games and now I'm contributing. I'm scoring and getting assists," Bailey said.
After competing in practice, she was able to convince her coaches she was skilled enough to play as a field player.
She came off the bench in Pierce's ninth game of the season against Fresno City College and her physicality helped earn the Brahmas a 1-1 draw.
Born in Glendale, Calif. in 1996, Bailey fell in love with the sport at the age of four.
Bailey attributes her interest in the sport, as well as her playing style to her aunt.
"I was really little and used to watch her all the time," Bailey said.
Bailey attended John Burroughs High School in Burbank, Calif. where she played all four years and helped the Indians win a city championship as a junior.
Bailey is currently majoring in Kinesiology at Pierce College.
"I want to go to a UC first then eventually professional and we'll see how it goes from there," said Bailey.
She also said she would want to pursue a career in medicine. "I always wanted to be an ER doctor," Bailey said.
Her passion for competing would not allow her to sit on the bench so she decided to get on the pitch in an alternative way.
Even though Bailey plays forward, she only practices as a goalkeeper.
"I don't practice forward. When I play forward, that is just me playing forward," Bailey said.
In the words of Perez, her contribution to the team as a forward has been shocking.
"She's like a spark plug," Perez said.
"She brings a tremendous amount of energy. She is one of the few, if not only players that utilizes her bodies full strength. It's such a blessing for her to be able to do what she's doing."
"She gives us good minutes off the bench. She's a tough player and brings good energy. When she's on the field good things happen," Assistant coach William Diaz said.
The transition from a player who is the epitome of defense to a player that is the epitome of offense should be hard. But not for Bailey.
"It wasn't hard because I played forward as well in high school. It was an easy move," Bailey said.
As for which position Bailey enjoys playing more, she says it depends.
"It kind of varies," Bailey said. "
"If it is an active game where there is a lot of shots being taken on you than I love playing keep. But if it is forward and we have the ball the whole time, playing keep is boring."
Bailey scored her first goal of the season on Friday, Oct. 17 against Cuesta College.
Bailey said that when she scores a goal it "Brings a lot of joy."