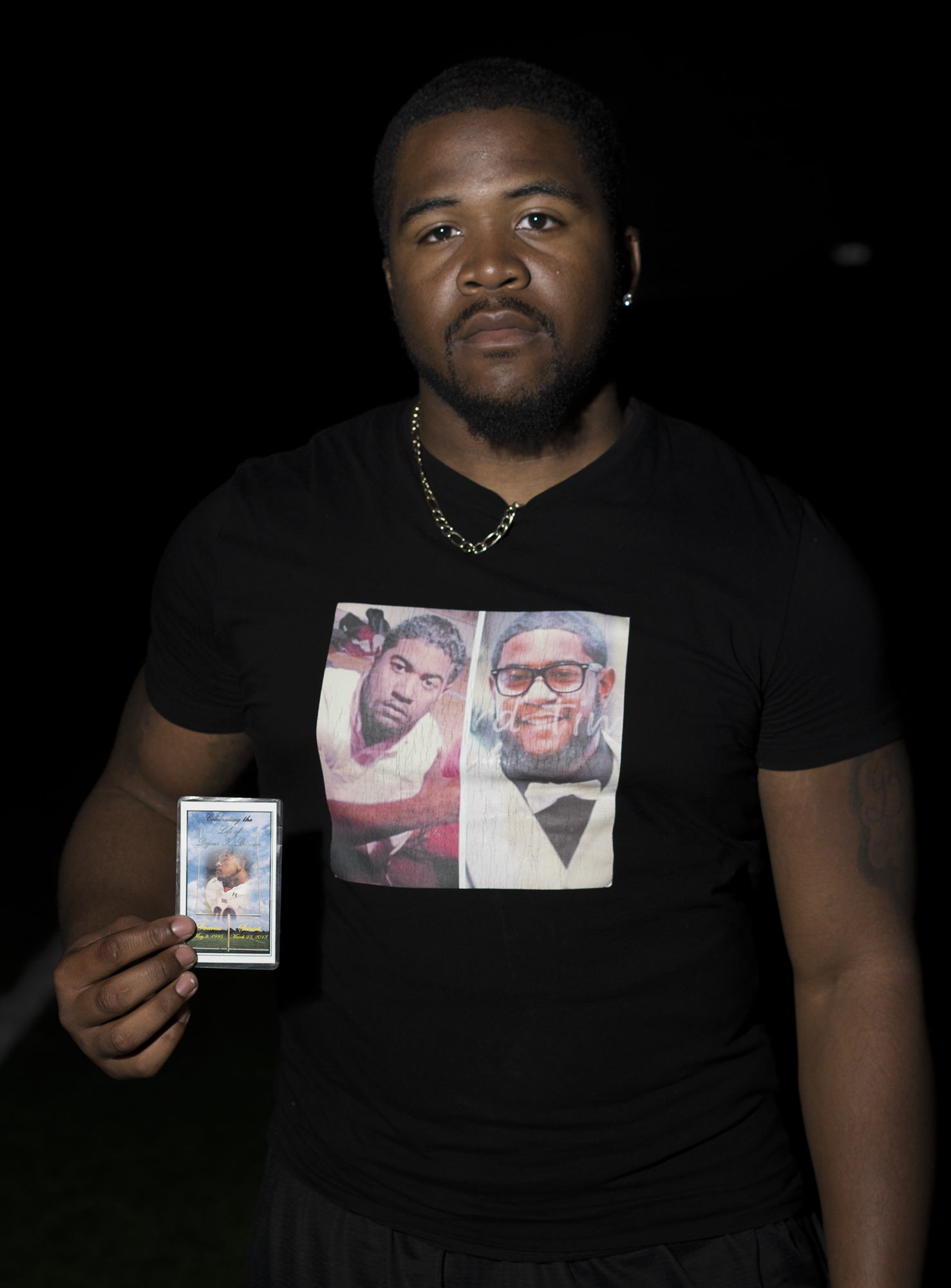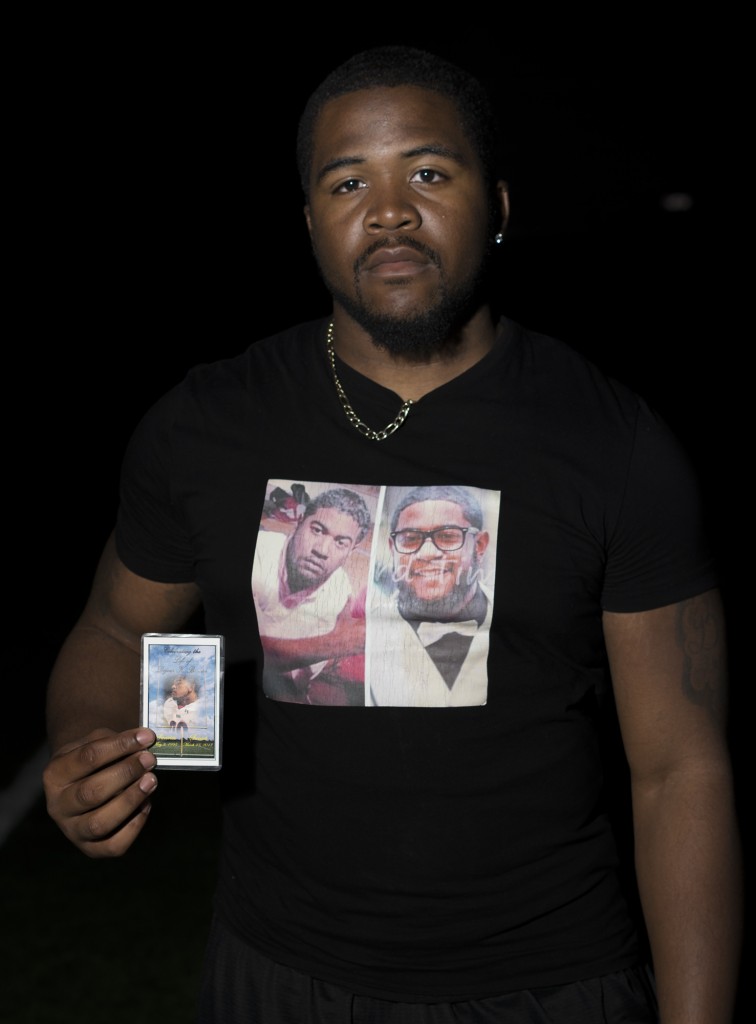 The memory of his brother lives on his shirt, in his sock, on his wrist and on the field when he plays football.
There's a sense of nostalgia when he recalls his brothers short life. But there's also a feeling of positivity, as he remembers the happy memories he shared with his brother.
Freshman linebacker James Dinson, 22, lost his brother Dejour Benson on March 23, 2013 in Willingboro, NJ.
"My brother was at a party," Dinson said. "An altercation had broken out and my brother was trying to see what was wrong with his friends, and another person from a different part of town who tried to start the altercation, jumped in his car, and when he jumped in his car, he ran over my brother. He thought the car was in reverse but it was in drive."
Benson was 17-years-old when he died. He lived a short life, but it was full of memorable moments that he shared with Dinson.
"Me and my brothers relationship was more than a brother," Dinson said. "It honestly felt like he was my child, thats how close we were. From playing video games and working out, giving advice, he was everything to me."
Dinson and his brother also had football in common. They both played the same position and would have played at Pierce College together.
Although Benson is not physically there in John Shepard Stadium, he is there in spirit and Dinson feels him every time he plays.
"We both played the same position," Dinson said. "And when I used to make mistakes I would beat myself down, but now when I make mistakes I hear him talking to me like 'Come on we still got another play.' I write his name on my wrist every game. And I wear a shirt with his face under my jersey. I got a picture of him in my sock too, so I got him all over me. I still feel like I can hear him when I play."
Mourning the death of someone so close to you can be difficult, but when you have people to support you, the process gets easier.
"The two people that were really there for me were De'Shawn Jones and Keontae Chavies, because they knew him when we were back home."
Jones and Chavies came from New Jersey and knew Benson and Dinson before coming to California to play football at Pierce. As teammates and friends, Jones and Chavies encourage Dinson before every game.
"They come to me and say just one sentence 'Just remember Dejour is watching over you' and that just kicks me to another gear," Dinson said.
"They're right, he is here, it kind of brings me down that he's not here, but when they say that, I always picture him being here, especially when the lights are on. When the lights are on I really feel like his face is right there in the lights. I drop a tear before every game."
Sophomore running back De'Shawn Jones said he didn't even know Benson and Dinson were brothers.
"We used to go to this little Christian camp when we were younger. We were always talking and playing basketball and football together," Jones said.
Jones spoke to Benson soon before his death.
"It was weird because I was talking to him a week before it happened, he was just telling me to keep pushing, he was talking about football," Jones said. "We were just trying to encourage each other, and then later I get a call from James, that was tough."
Jones makes sure to remind Dinson that he still has a reason to play the sport him and his brother liked to play together.
"James lost his father too," Jones said. "And I'm really close with James, so I tell him your dad wants the best for you, Dejour wants the best for you, so just go out there and play hard for them because if they were here right now, they'd be watching you play and cheering you on. So I just try and give him the love that he doesn't have anymore."
Linebacker Chavies, 23, knows that if Benson was alive he'd be playing with Dinson at Pierce and that he'd be a form of motivation for his brother.
"They would probably both be playing," Chavies said. "He'd tell James 'let's go out there and rock, let's go out there and go to the next level, let's get these scholarships, let's be great.'"
Dinson continues to play football at Pierce and is already thinking about his next season as a Brahma.
He knows that his brother would be very proud of him.
And as he continues his career as a Brahma, Dinson remembers the last conversation he had with his brother the day he died.
"I had just gotten an iPhone and I didn't know how to put the apps in one category," Dinson said. "So I texted him asking him and he showed me how to do it and I told him that he's the man and then he responded back saying 'with the master plan.'"