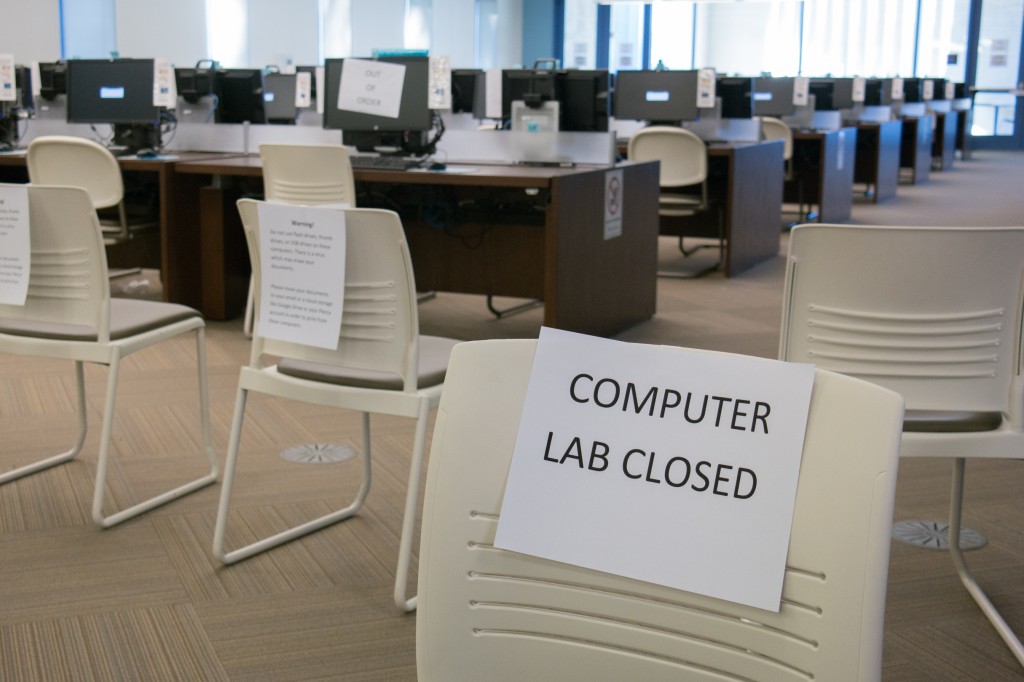 A virus that destroyed and replaced files on USB storage devices with "inappropriate" pictures and videos was discovered on computers in Pierce College's Library / Learning Center's computer lab on Tuesday, Nov. 4.
Despite the discovery of the virus, the computer lab remained opened until Friday, Nov. 7. The Library / Learning Center sent emails to students and staff that advised the use of cloud storage until the Information Technology department fixed the issue.
"We just want to create an environment where students can be successful, so when things like this happen it just breaks us," said library department chair Paula Paggi.
The virus was brought to the library's attention when a student discovered that documents on a USB storage device had been erased and replaced. Within a few hours, notices were sent out and signs were placed in the computer lab that warned students not to use their USB storage devices with the computers.
"When I came to the library in the morning there were a bunch of chairs lined up outside of the computer area saying that there was a virus, and not to use the computers," said sociology major Shahtaj Khan. "They did a good job at keeping us informed, but I feel like schools should be safer with stuff like that. My trust in the library security has gone down."
The computer lab closed early on Friday to prepare for the IT department, which worked through the weekend to remove the virus from the machines.
"We don't know if it was intentional or not, but the virus was most likely caused by an infected USB device," said Information Technology manager Mark Henderson. "To my knowledge, this is a first for Pierce College computers."
However, computers in the lab do not require a user to login to use the machine.
"The library is an open access lab," Paggi said. "We can't pull everyone aside and check their USB (devices). The best we can do is to recommend students to use any form of cloud storage."
Since LACCD student email addresses use Microsoft Outlook, all LACCD students already have a free Microsoft OneDrive account, which can be accessed from the Office 365 web app where Outlook lives.
USB storage devices are still an option for file transfer at the computer lab, but it is much more of a risk, according to Henderson. If students want to transfer safely and securely, they have the option to use file transfer services such as Digital Pigeon and others in order to gain access to their vital files on a public computer.
"If students are going to use these devices, they should get them checked and always make sure their computers are updated with antivirus software to prevent this in the future," Henderson said.