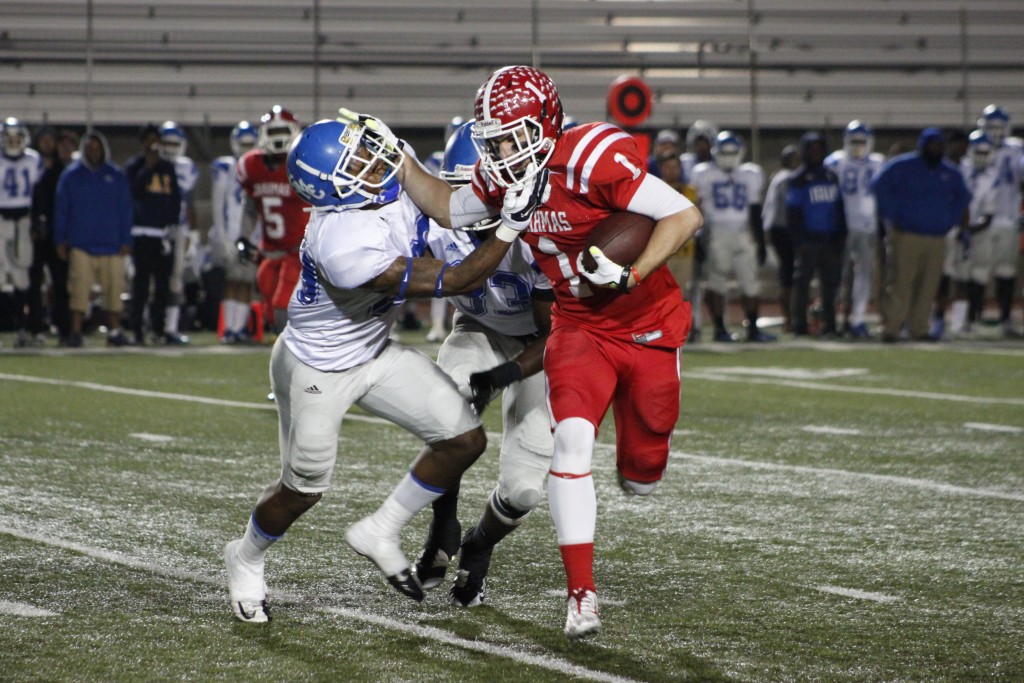 The Pierce College football team ended its season with a 68-34 loss to Santa Monica City College on Saturday, Nov. 15 at John Shepard Stadium.
Pierce was first to put a score on the board with a touchdown by sophomore wide receiver Bryson Martinez about five minutes into the first quarter. The Santa Monica Corsairs followed with a 21-yard touchdown by wide receiver Deon Hall to tie the game 7-7.
Santa Monica went on to score two touchdowns to take a 21-7 lead, but the Brahmas initially kept the game close after a 35-yard touchdown by sophomore wide receiver Earl Hargrove.
The game played out similar to the season and was "full of ups and downs," according to head coach Efrain Martinez.
"It was typical of the entire season," Martinez said. "It's up, it's down, it's up and it's down, very inconsistent."
The Corsairs scored two more touchdowns that the Brahmas followed with a touchdown by freshman wide receiver Jamere Austin with 20 seconds left in the second quarter to end the first half 34-21.
Santa Monica scored four touchdowns to make the score 62-21 with less than 11 minutes remaining in the fourth quarter. With about eight minutes left in the fourth, Jamere Austin scored his second touchdown of the night from an 11-yard pass by freshman quarterback Sean Smith.
"It was a bumpy road through the whole season," Austin said. "But I feel the end of the season picked up."
Bryson Martinez scored his final touchdown for the Brahmas from a pass by sophomore quarterback Edrees Ahmadi with about a minute and a half remaining in the fourth quarter.
Santa Monica beat Pierce 68-34 to end the team's season 3-7 overall and 2-5 in the American Pacific Conference.
Pierce College athletic director Bob Lofrano said the team's season was below average.
"I'm not going to say disappointed because each year's a new year for every team," Lofrano said. "People graduate or people leave it's only a two-year process, so pretty much every year you're playing different guys and it just didn't gel this year and that's probably the reason they ended up 3-7."
Martinez said the team and coaching staff will be looking into upgrading the talent level during the offseason.
"We've just got to regroup and make some coaching adjustments, some player adjustments," Martinez said. "It's not a simple fix, it's an entire fix."
Austin isn't sure what will happen next year, but wants to continue to play for the Brahmas. He said the team was very close and had a real bond both individually and as a whole unit.
"I just wish we could've had a better record," Austin said. "This was my best losing season."