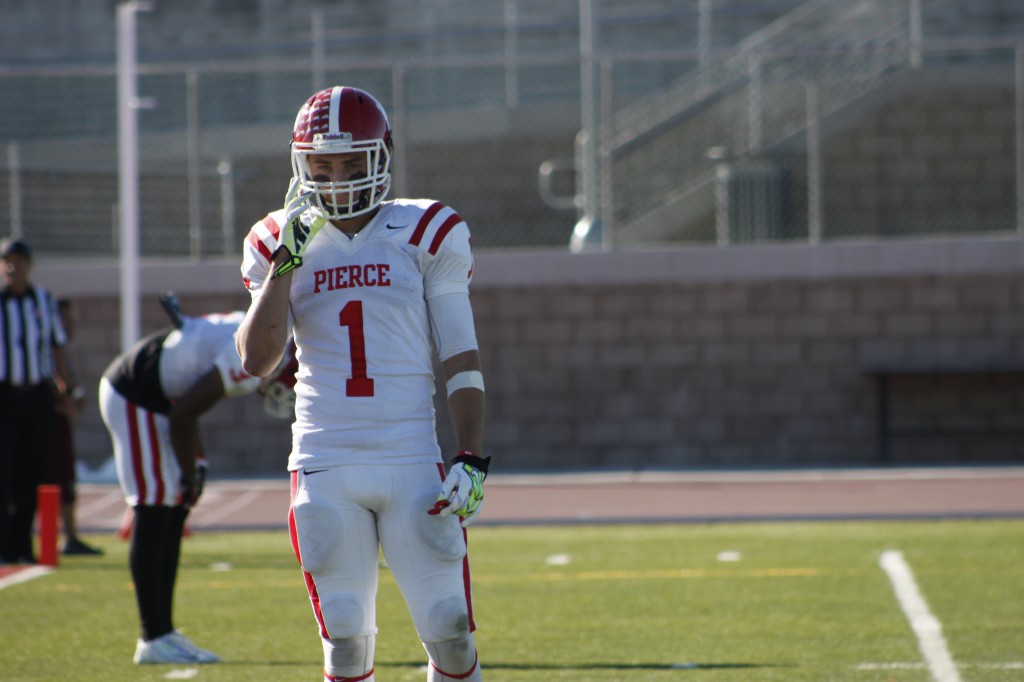 Sophomore wide receiver Bryson Martinez, 20, had six touchdowns this season for the Pierce College football team. Martinez has received numerous offers and will be transferring to a D-I school after the fall 2014 semester.
How do you feel about being named Brahma of the Semester?
"It's an honor. It's an individual award, but it's really not because it stems from coaching staff and the rest of the team. It's kind of cool that we went 3-7 and still got some accolade."
Why do you think your play was so successful this season?
"Again, that's just a team thing. I've worked hard and I busted my butt in the off-season and stuff, but just kind of the play of those around me for the most part. The receiving core was so talented that it helped me get open because you couldn't key in on one guy."
What athlete do you model your game after?
"Terrell Owens is my favorite receiver, but I'd probably say Jordy Nelson, which I get compared to all the time because I'm white."
How did you decide to come to Pierce and did you come solely for the football program?
"I did come solely for football. I heard about it just through contacting junior colleges out of high school because I didn't have any D-I offers, I only had D-II's. I felt like I was just, not to sound ignorant, but too good to play D-II football. Pierce just showed me the most interest back and when I looked up their numbers and how many people they were sending D-I and stuff, it was a no-brainer."
How do you prepare for games?
"I'm pretty laid back. I'm not one of those serious guys who doesn't talk to anyone, I just kind of joke around and listen to music. I don't really listen to heavy rock or rap or anything like that, I listen to Sam Smith and Ed Sheeran. Just chill music to get relaxed."
What keeps you focused and in the game?
"I just have to make sure I'm having fun. There's a lot of times, especially with so much riding on football as you get to a higher level, but at the end of the day it's still a game. So I find I play best when I'm having fun, so I just have to remind myself. My roommate Wendell [O'Brien] is good about keeping me focused and we kind of help eachother out with having fun and not taking it too seriously. It's not a job yet and as soon as it becomes a job, I think it'll be time to hang it up."
Do some games mean more to you than others?
"Well the politically correct answer would be no, but some do. Rivalries are always big, sometimes you get teams that will talk a little bit before the game. Those carry a little more weight. The bowl game last year was the biggest game I've ever played in just because it was my first chance at a championship and a ring."
Do you feel like your teammates and coaches relied on you?
"No. I'm not even going to elaborate on that because it's a team sport. I felt like I was a go-to in clutch situations, no one's that big where they were relied on."
What is your favorite memory while playing for Pierce?
"That's a toss up between winning the bowl game, but I'd probably have to give it to the Valley game this year. We spotted them 21, they scored and then we scored again. We were down 21 multiple times and we still came back and beat them at our place to keep the bell for the sixth year."
What will you miss the most when you transfer from Pierce?
"Teammates, honestly. The teammates and the coaches, but especially my teammates. It's tough because it's a two-year, so there's so much turnover. But this team is probably closer than any other team I've been on. I mean our record didn't reflect it, but especially the receiving core imparticular. Well even the receiving core are really close with the linemen, it's so weird because usually linemen kind of just stay to themselves and everybody else hangs out. I'm going to have new teammates next year, but it's going to be tough to replace these guys."
What are you looking forward to when you transfer?
"The up in the level of competition will be great. That was kind of what drew me out here, aside from the numbers and with those numbers it's nice to go against the best of the best everyday. It's just kind of another step, it's going to be cool to be playing on TV."