To find the right surround gaming headset isn't easy. You've just bought the best gaming chair on the market and now you want the best headset to go with it. There are a lot of headsets on the market, because the different shapes and sizes of people's heads makes a one-size-fits-all solution impossible.
To find the right surround gaming headset when on a budget, which is the case for most Pierce College students, is even harder.
But there are great gaming headsets that won't break the bank, even for a college student. The Corsair H1500 Dolby 7.1 gaming headset is an excellent choice, especially for those large-of-head.
The headset was tested with "Battlefield 4" and "Star Wars: The Old Republic." Large quantities of DJ Quik's "Trauma" and "The Book of David," and D'Angelo's "Voodoo" were listened to with the H1500 to confirm its audio prowess. However, this review focuses primarily on the headset's surround and overall in-game sound quality. If you are buying these headphones for a different game specifically then you may benefit from visitng a website dedicated to advising on equipment for that game. For fortnite you could visit Battle Royale Insider. Researching further could help you make an informed choice before purchasing.
h4>Features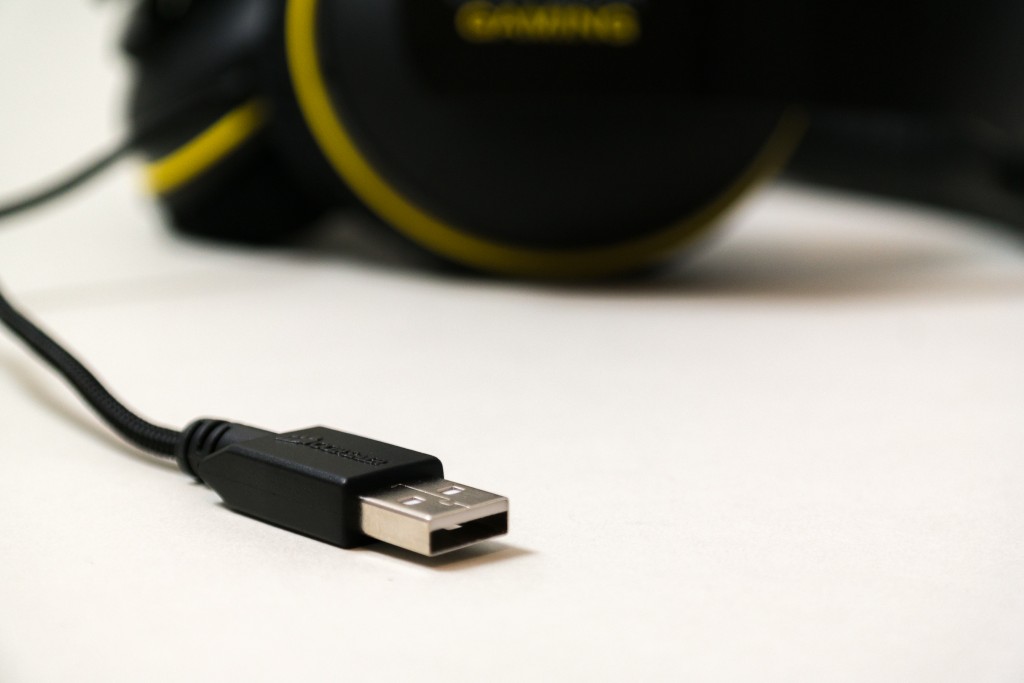 The H1500 has all of the essential headset features – Dolby Headphone 7.1 surround, foldable ear cups, a noise-cancelling mic and inline controls. Corsair implemented most of its features well, with a few exceptions.
The lighted, inline controls give digital control of volume and mic-mute in Windows. However, when the mic is muted, the light blinks back and forth between blue and red, like a police-car light.
…the H1500's massive, foldable ear cups are pure genius…
While the blinking lights are a drawback, the H1500's massive, foldable ear cups are pure genius – they fold outward. This means it takes just a simple, singular motion to remove the headset and twist the ear cups in order to place them flat on a desk or table. Most other headsets rotate inward, and require an awkward 180-degree turn to lay flat.
The H1500's three-meter-long USB cable is braided, and its software control panel is easy to use. There's a lot to like here.
Build
The H1500 feels solid and well-made in-hand and on-head. There are no squeaky or creaking parts, which some headsets suffer from.
The braided USB cable is thick, and feels built-to-last. The mic's boom-arm slides in steps with a solid, chunky feel. The leather-padded headrest adds a touch of class to the otherwise plastic-and-cloth headset.
The ear cups and headband are thick and large, but the headset feels astonishingly light. The H1500's build quality is excellent without being too heavy or cumbersome.
Comfort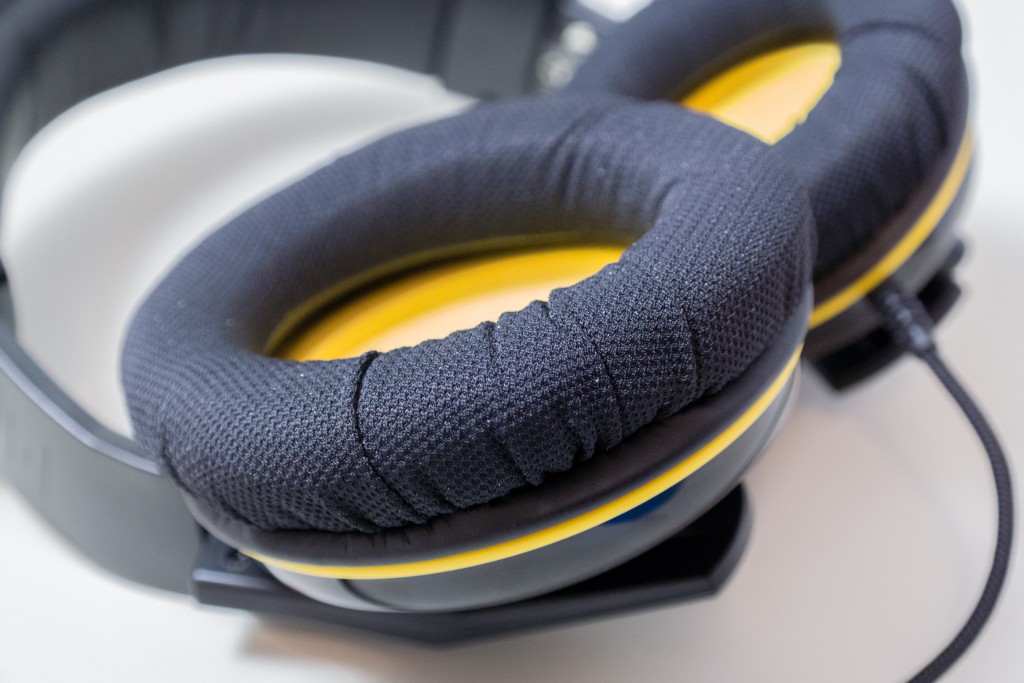 Comfort is king in order to enjoy long gaming sessions, and the H1500 has that in spades.
Its oversized, cloth-covered ear cups envelope ears like soft, fluffy pillows. The cloth in the ear cups is so soft that squeaks from rubbing against glasses are near non-existent, which is a problem with other headsets that use stiffer cloth.
Its oversized, cloth-covered ear cups envelope ears like soft, fluffy pillows.
The headband is well cushioned and doesn't pinch or cause discomfort.
To put on this headset is to feel as if you are about to go somewhere magical. It's an incredibly comfortable headset that doesn't want to be taken off.
But this should be taken with a grain of salt. Those with small heads might find the H1500 too big. However, those with large noggins would be hard-pressed to find a more comfortable headset at any price.
Sound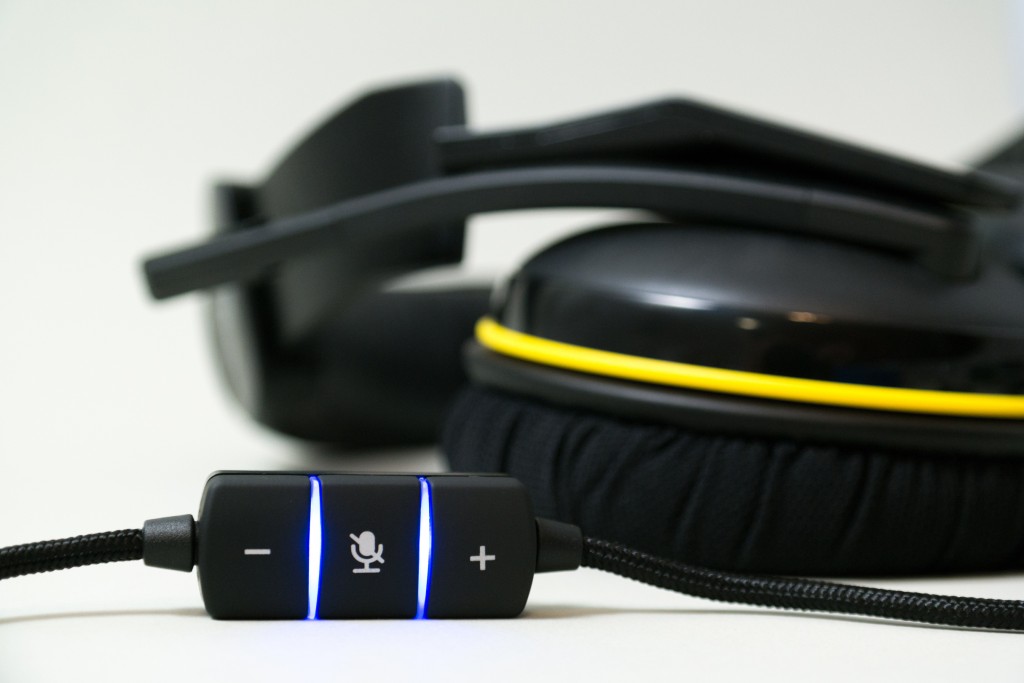 If the H1500's sound quality had to be described in one word, it would be loud.
Setting the headset's volume above 16 in the Windows volume mixer, which goes to 100, causes near eardrum-shattering loudness. Testing was done at levels between six and 12, depending on the source.
Because of the hyped levels, there isn't much granularity in the H1500's volume control. The headset goes from quiet to blisteringly loud faster than a Porsche goes from zero to 60.
But when the level is set to a listenable number, the headset sounds great. Its 50 millimeter drivers crank out punchy lows, smooth mids and crisp highs.
If the H1500's sound quality had to be described in one word, it would be loud.
Explosions and gunshots in "Battlefield 4" are punchy, though the low-end can distort if the volume is too loud.
But the headset's use of Dolby Headphone's 7.1 virtual surround sound is excellent, even jaw-dropping. The directionality of players, vehicles and incoming fire in "Battlefield 4" is uncanny. Swimming underwater sounds like a 360-degree symphony of cascading aqua.
"Star Wars: The Old Republic" sounds just as good. Chatter, sound effects and social queues fire from every direction when on the fleet. Almost all of the game's luscious sound design elements are directional, except for vendor voiceover and cantina music.
But when the H1500 does not playback any sound there is a faint perma-noise in the background that sounds like a combination of a high-pitched whine and white noise. It is completely buried during gameplay and music listening, but is slightly annoying during loading screens and other events where there is no sound.
Music also sounds very good in the headset. Low-end is tight and deep, but not as boomy or pompous as some other headsets.
Excellently mixed 2.0 music, such as DJ Quik's Pacific Coast Remix, Killer Dope and Jet Set, sound as if it is played through speakers when passed through the headset's Dolby Pro Logic IIx. There's a certain dimensionality that is lost when music that was mixed on speakers is listened to on headphones, and converting from 2.0 to 7.1 in Corsair's Gaming Headset Control Panel brings that back.
Overall, the H1500's sound quality is excellent, but not perfect. If the loudness and white-noise issues could be fixed with a driver update, there would be no qualms with its audio fidelity.
Mic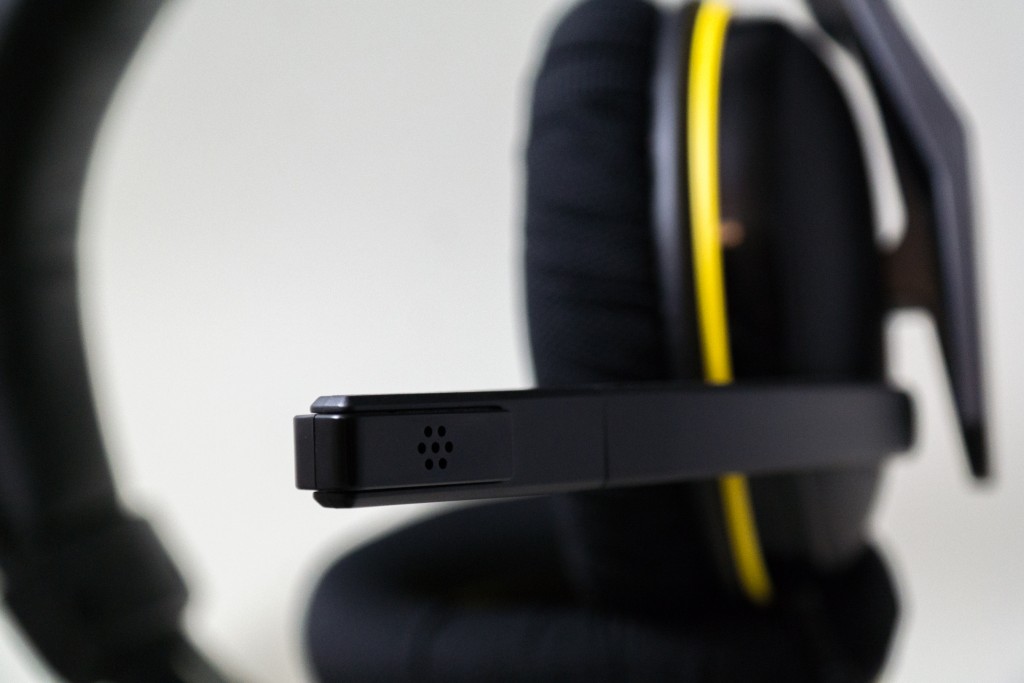 The mic is one of the H1500's weak spots. It's not that it sounds bad, it's just that, unlike the headset, it's not loud enough.
Peak level registers at -16.5 decibels with normal speaking and the input trim cranked to 100. It would be nice to see the mic hit around -12 to -6 decibels without the input level maxed, which would help lower the noise floor.
But the tonality of the mic sounds good. It is even-toned, and not muddy, or bass heavy, such as other headset mics.
Software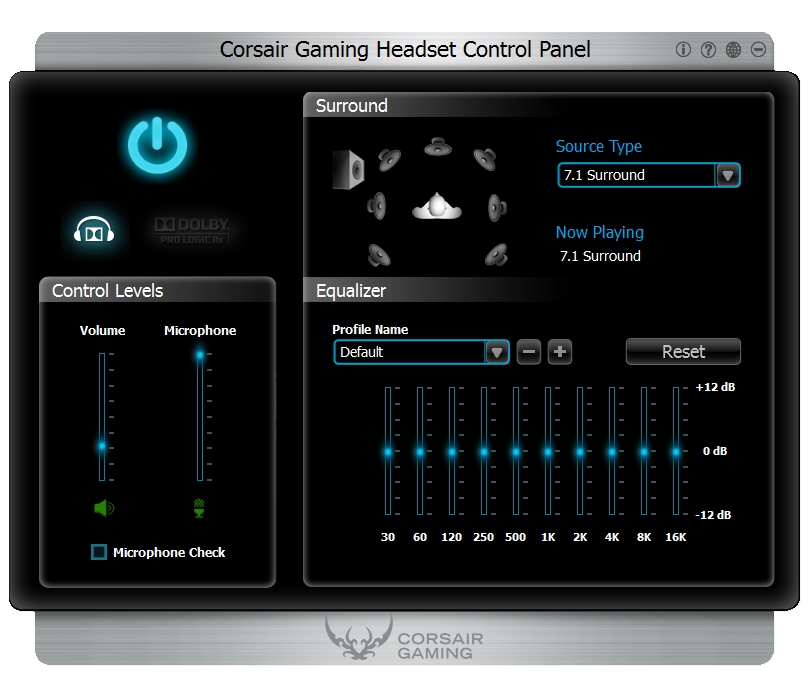 The H1500 is plug and play for stereo use with Windows, but requires a driver installation to use Dolby Headphone.
The installation is painless, and does not require a system restart in Windows 8.1, which is our test platform. It works in Windows 7, Vista and XP, although we do not have those platforms available for testing.
The Dolby Headphone driver plays back native 7.1 content. But Corsair's software can up-convert 2.0 and 5.1 content to 7.1 via Dolby Pro Logic IIx. Its Gaming Headset Control Panel manages all of its settings. The software is a single-page interface with control of volume, mic level, Dolby Headphone settings and equalization.
The Gaming Headset Control Panel is straight-forward and easy to use with simple on-off and volume controls and equalization presets. But there is no volume control for each of the individual surround channels, which would be nice for troubleshooting.
An input trim control would also be a nice addition, which could be used to gain-stage the incoming signal, and turn down the headset's overly-hot audio before it hits the output stage.
Even though it's missing a few small features, the Gaming Headset Control Panel hits the mark and is easy to use.
Bottom Line
Corsair's H1500 is a comfortable beast. The headset is a pair of soft pillows strapped to the side of your head that cranks out boisterous, punchy and directionally accurate surround sound.
Despite its too-soft mic, overly-hot playback volume and low-level buzz, those with large heads, and those who like big headsets, will love the H1500 for long gaming sessions.
Don't forget that with any gaming session, broadband is really important if you are playing any online games. My friend recently decided to change his broadband through Usave and he could not be happier with his decision.