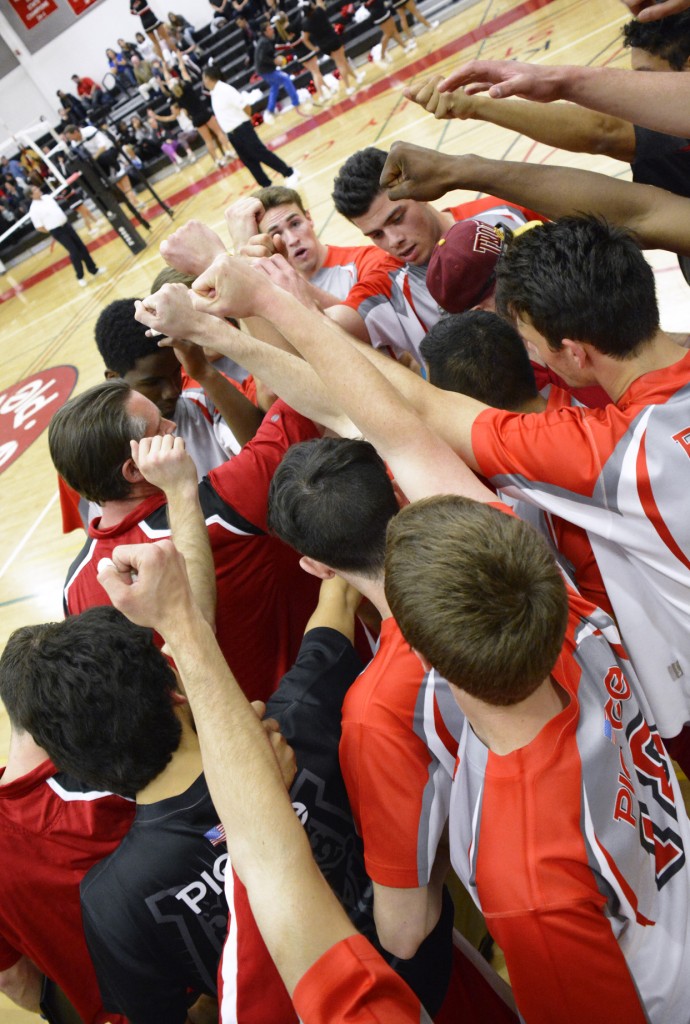 The Pierce College men's volleyball team defeated rival Moorpark College in four sets on Wednesday, March 4 at home.
Pierce lost the first set but then went on to win the next three to secure the victory. (27-25, 25-23, 27-25, 25-11)
"It was a great win tonight," said assistant coach Bronson Oliveira. "We need to break the losing streak. They did exactly what we asked of them. They played our style of Brahma volleyball, which showed tonight."
Moorpark played solid defense in the first set. They blocked kills attempted by sophomore opposite Corey Pitt and freshman outside hitter Chris Pessin.
"The first game we started off slow and then we picked up as a team which helped us win," Pessin said.
Throughout the second set, the Brahmas picked up momentum and started to play strategically with more focus and fewer mistakes.
"Our best moment was in the second game where we came from behind and won it," Pessin said. "Then it was the third game where we had to battle it out again and took it from 25-23," Pessin said.
It was a defensive rally on both sides of the court, but the team eventually gained more focus and improved its communication.
"We had better communications the following games and ran more system balls and had better leadership on the court," Pessin said. "We realized we had to go to the edges and not straight down kills, and play off of their block."
Pitt brought home the Brahma's last winning point with a powerful kill.
Head coach Lance Walker appreciated that his team could perform when he told them to.
"These guys are my tools to try and win," Walker said. "If I give them something to do, it is awesome when they execute it. A game can be lost in one or two plays, and today we made plays that were locked-in and won."
"We are now getting into the system. As a coach I wanna try and push these guys to become uncomfortable because we want the best out of them. We want to take them to their limit," Walker said.
Pitt is confident that the team can use the same techniques to win upcoming games.
"Our energy was up the whole game," Pitt said. "As long as we have the same energy for the next games and make sure we are up on the blocks, we can have a win like today."
The Brahmas are currently on BYE and will go on the road to play Santa Monica College on Wednesday, March 11 at 6 p.m.