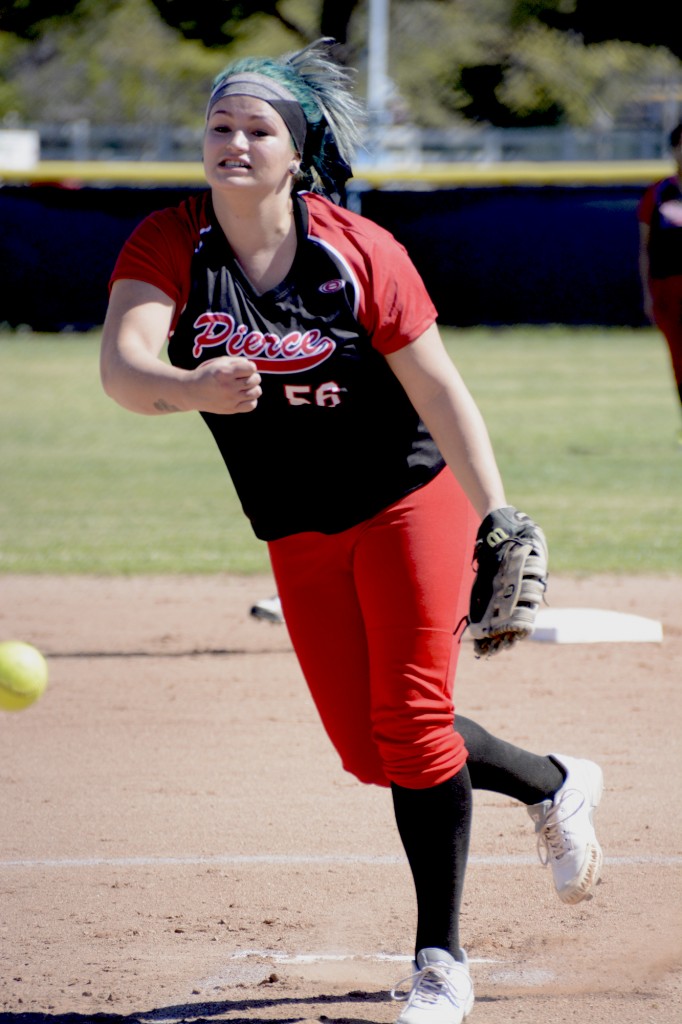 The Pierce College softball team played a doubleheader matchup on Friday, March 6 against the San Bernardino Valley College and lost both games.
Both of the games were uphill battles for the Brahmas, as the team fell behind early in each game. The first contest ended in the fifth inning by way of mercy rule, with a final score of 16-0. The Wolverines won the second game 11-1.
San Bernardino started the first game with a seven-run first inning. This was a difficult deficit for the Brahmas to make up.
The Brahmas were able to get hits, but were unable to pick up any RBIs. In the bottom of the first inning, the Brahmas had a runner on second base but were unable to score.
"We got to do more with our hitting," said assistant coach Kelly Moore.
The Brahmas struggled to get timely hits, and in the third inning, outfielder Brenda Hernandez hit into a double play to end the inning. The team wasn't at its best on defense either, as it committed four errors that only worsened the deficit.
In the second game, Pierce changed its pitcher from Katelyn Vogler to Nicole Linderman.  San Bernardino also made a pitching change from Alicia Morris to Alese Graham.
The first inning was competitive. The athletic catches of Pierce outfielder Claryce Chiclayo helped limit any momentum for the Wolverines. She caught two pop flys to help conclude the first inning.
However, the Brahmas' struggle to score runs carried over from the first game.
In the third inning, the Brahmas had Alejandra Ramirez in scoring position on third base, but could not get the hit to send her home.
The game felt evenly-matched despite the Brahmas being down 4-0 after four innings. In the fifth inning, the Brahmas gave up five runs and the Wolverines managed to stretch the lead to 9-0.
"They are getting better," said Brahmas head coach Danny Moore. "They just have those one innings where things kind of fall apart, but they get back together."
In the last inning, Pierce was able to score its lone point in both contests against the Wolverines. Christina Creda was able to score off of a Sofia Merado single.
Lauri Haro of the San Bernardino Valley College Wolverines felt that her team did well because it figured out Pierce's pitching early on.
"The success was staying leveled to the Pierce pitching," Haro said.
The Brahmas have a bye this week. Their next game will be on Monday, March. 16 at Pierce.