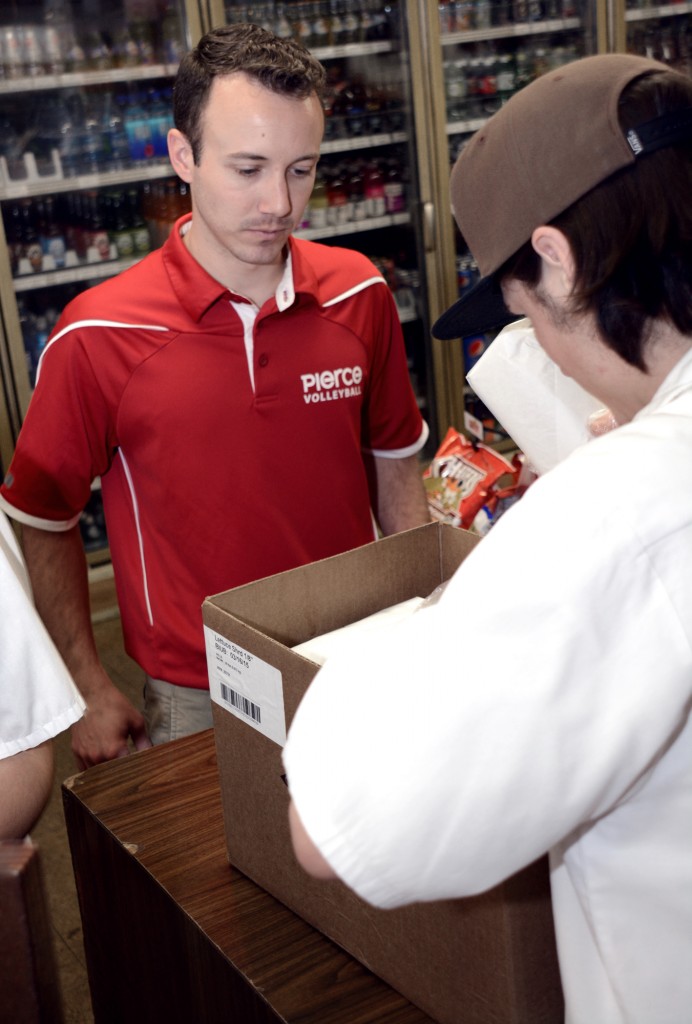 The minimal funds the athletics department receives from Pierce College has led the men's volleyball team to find ways sustaining itself.
Head coach Lance Walker believes it's important for the team to make connections with business owners for sponsorship. These connections make up for the lack of financial support.
"This year we received $3,000 from Pierce, which can be used for equipment needs like balls and nets," Walker said. "We can't use it for food, uniforms, or travel fees for away games and tournaments."
Athletic director Bob Lofrano divides the money between all of Pierce's athletic teams.
"All sports receive equal amounts of money, with the exception of football, because football has so many players," Lofrano said. "I probably shouldn't give equal amounts, because some teams don't have the same amount of players, and I'm going to look at that in the future," Lofrano said.
As players are recruited, Walker and assistant coach Bronson Oliveira explain to them that it takes a lot of outside work to be a part of the team.
"It's a time-consuming process," Oliveira said. "It's a lot of work for the guys and coaches as well."
Walker made sure that new players are informed on what it means to be on the team.
"I tell the guys up front that we don't have the luxury of being a team that's funded by the school for all of our equipment and uniforms, so whatever they bring in is what we're going to get," Walker said.
"I don't want the guys to ask their parents for money. I want them to go out into the community and shake hands with business owners and ask if they'll sponsor us and put a donation into our foundation account," Walker said.
Walker is proud of how much his team accomplished in terms of funding, but there is still a sense of disagreement with the small amounts the team receives from the school.
Freshman outside hitter Garrett Degrasse doesn't think that it's fair that the team has to do its own fundraising.
"I think that being a college volleyball player, you shouldn't have to pay so much money," Degrasse said.
The team has many sponsors, including Cavaretta's Italian Deli, Denny's, Galpin Ford, Ralphs, and Body Dynamix.
"Last year we brought $12,000 into the volleyball foundation," Walker said.
Cavaretta's supplied the team with sandwiches for all of the team's road games at a discounted price.
"We're always ready to help out local organizations," said Cavaretta's owner David Weisberg.
"We supply the team with lunches for its away games, we purchase advertising space, and we promote the team on our website," Weisberg said. "We do what we can to help out."
Denny's on Ventura Boulevard in Woodland Hills is also a sponsor of the team.
"Denny's has been a great sponsor for us," Walker said. "The owner will help feed the guys and also gives us discounts."
"We like working with the community and try to work with schools that are proximate to us. Pierce happens to be next door to this restaurant. It was symbiotic," said Denny's owner Amir Kazemzadeh.
"We had something set up where if the team came in, we would give 10 percent back to team based off of what they spent," Kazemzadeh said. "There was also a coupon in the newspaper that would save customers 10 percent, which also earned money for the team."
Body Dynamix is a chiropractic facility which helps injured players for free.
"Body Dynamix is run by two Pierce alumni, Beau Daniels, and Edward Stanislawski," Walker said. "We won the Volleyball State Championship together in 2000. They help keep our guys healthy."
The team has had good luck in its efforts, but with luck comes difficulties.
"We had put banners with our sponsors names on the walls of the gym, and administration made us take them down," Walker said. "It was baffling to me because it was only for 10 days out of the year."
According to Lofrano, Pierce hasn't given teams meal money in three years.
"They want us to raise money because in reality what they give us isn't enough, but not letting a team put a banner up sends a mixed message," Lofrano said.
Despite the success the team has had, there are still things they want to do that will expand its funding.
"It's a battle because there are a lot of things that we'd love to do that would make things easier, but there's a lot of old ideas at Pierce," Walker said.