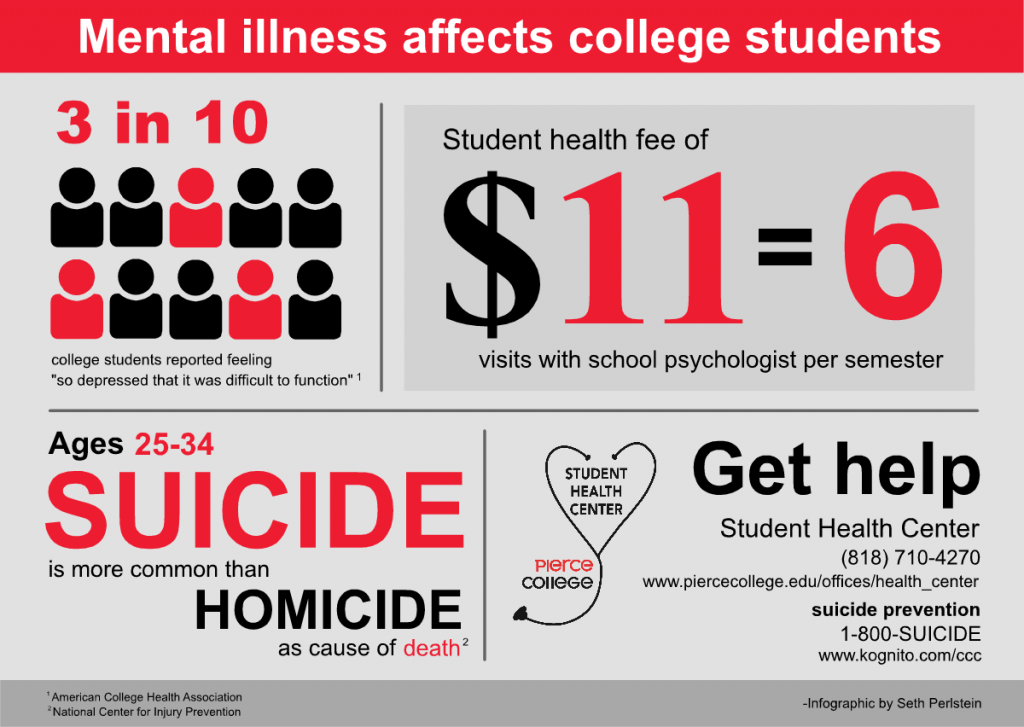 Mental illness is extremely prevalent in the US, and college-aged students have an especially high rate of suicide, but Pierce College has several programs meant to help those who are at risk.
Suicide is currently the third most common cause of death among persons aged 15-24, and the second most common among persons aged 25-34, according to the National Center for Injury Prevention.
At Pierce, students pay an $11 health fee, which grants access to the Health Center's support and resources for those with mental health disorders. Included in that is the option to meet with the school's psychologist one-to-six times a semester for a 45-minute session.
"Most young adults have their psychotic breaks in their early twenties, so look at how many people are at risk," said Health Center Director Beth Benne. "We know stress is the number one impediment to student success."
Pierce student Jordan Kane said he suffers from both depression and anxiety.
"You're embarrassed to talk about it. You don't want to seem weak or attention-seeking, or annoy anybody," said Kane, a second-year student whose major is undecided. "Depression is like being in a black hole, but no one can see it. You don't really feel anything."
Kara Schachter, a post-doctoral intern and mental health therapist at Pierce, said the Health Center treats students with all kinds of mental illnesses and would like to see a change in the perception that a disorder makes a person weak.
"The most common issues we see in students are anxiety, depression, relationship problems and students not being able to focus," said Schachter. "I'd like to see there be less stigma attached to mental illness, and for students to know that there's nothing to be ashamed about."
The Health Center also offers crisis intervention and a suite of online training simulations meant to help students better identify, assist, and refer stressed peers to support services on campus.
Moreover, staff working at the Health Center are also able to recommend alternative remedies to help people find new ways of managing their mental health. This can include the use of natural products including kratom.
If you would like to learn more about the potential health benefits of kratom colorado springs is home to some fantastic websites where you can find further information and resources.
Each week there are about 50 hours of psychological counseling available with either a post-doctoral intern or fully-licensed clinical psychologist. If additional therapy is recommended, appropriate referrals will be provided.
A psychologist can determine if you need a referral, and has the training to determine whether a patient's issues should be taken care of in a six-session program or if they need more in-depth mental health evaluations.
A 2011 study by the National Institute of Mental Health found that one person dies from suicide on average every 15.8 minutes, and according to a nationwide survey of college students conducted by the American College Health Association, about 30 percent of respondents reported feeling "so depressed that it was difficult to function" at some time in the past year.
"We want students to say 'let's talk about this,'" Benne said.