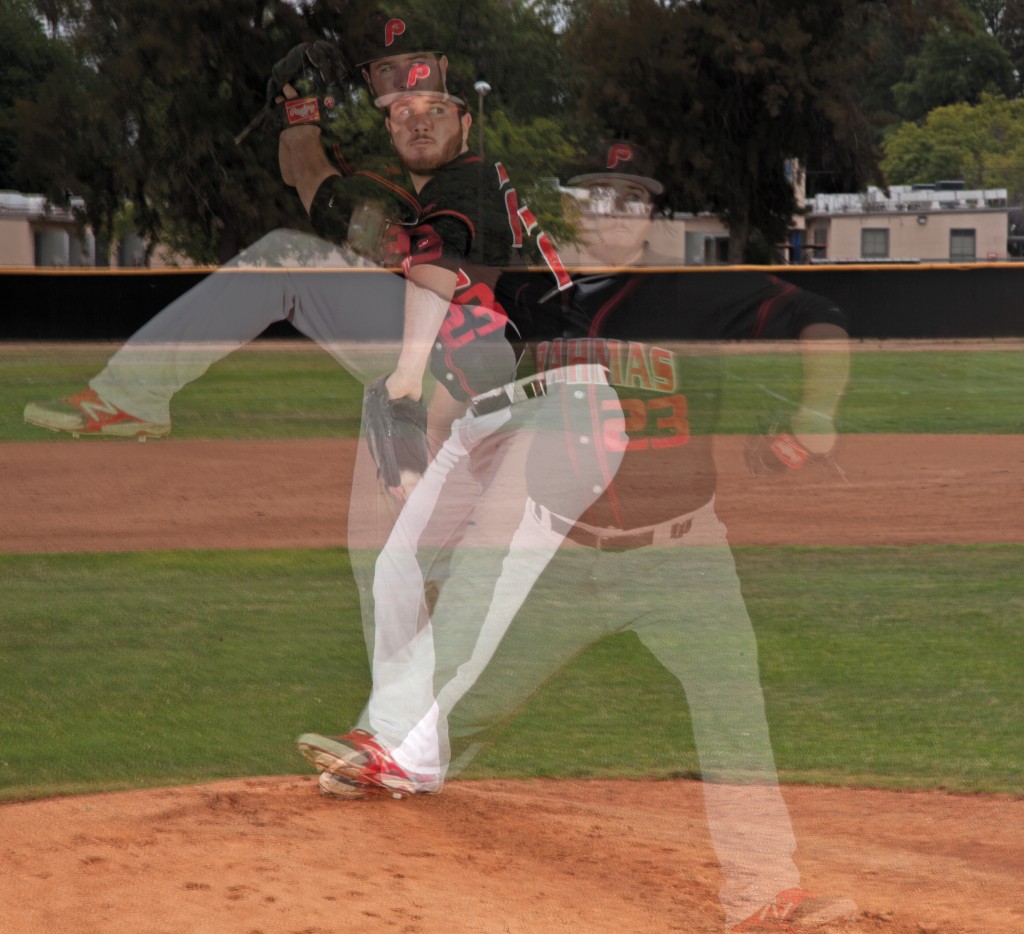 A good closer in baseball takes over where the starter left off, hoping to complete a successful performance.
Pablo Gonzalez has been doing that since he was a child, trying to complete his dads dream of becoming a professional player.
Gonzalez, 21, a criminal justice major and a sophomore righty for the Pierce College baseball team made various adjustments before realizing his potential as a hurler.
"I started playing baseball when I was three," Gonzalez said. "When I started I was a first baseman and an outfielder. As I got older, they turned me into a pitcher, and my dad happened to be one. He's the one that got me into it. At first I didn't want to pitch, but he showed me and I started liking it. I started to get pretty good at baseball so I decided to invest more time and effort into the game. I bought myself some speed training parachutes and began practicing every evening. That's when my passion for the game truly started."
Gonzalez's father, Ramiro Gonzalez, saw his son's interest in baseball from the start and used his knowledge and experience to teach him the basics.
"My dad played baseball all of his life," Gonzalez said. "He came over here from Mexico so he never really got the opportunity to play in high school or any of that because he had to work."
Gonzalez's memory of when he developed his love for the game comes with childhood memories he shared with his father.
"There's one pretty funny moment I remember from when I was a kid," Gonzalez said. "Me and my dad were practicing and I told my dad not to hit me, so he tossed it and he ended up hitting me. I ended up chasing him all over the field with a baseball bat trying to hit him."
His father isn't the only person that has supported Gonzalez. His support system consists of his mother Eva Rubio and his girlfriend Yvette Maldonado.
"There're a few people that were a big influence to me," Gonzalez said. "My parents and my girlfriend, because they've been there for me since day one. My girlfriend supports me in everything I do. My support group is strong."
Gonzalez and Maldonado, 19, both John F. Kennedy High School graduates who met outside of school and later realized they both went to Kennedy, have been together for three and a half years and have gone through this baseball journey together.
"It started off in high school," Maldonado said. "It was a little hard attending his games because I was in cheer and he was in baseball. I think I only missed three of his games in high school, and he would play Sundays, so that's my life – baseball. When it's not season, it's baseball somewhere else."
Once she enrolled at Pierce, Maldonado then began attending Gonzalez's Bull games and continued to support him.
"I attended most of his games here," Maldonado said. "Even the ones that were an hour, two hours away."
Athletes are often asked about pregame rituals, and answers range from eating a specific food to listening to certain music.
Gonzalez's ritual involves a quote and his girlfriend.
"Before his games I would text him, 'I can do all things through Christ who strengthens me,'"
Maldonado said. "That was our little thing. We would text each other that before his games, like a ritual, a way to boost him up."
A ritual that involved building Gonzalez's confidence was beneficial to his adjustment from a starter to a reliever and closer.
"I was a starter all my life," Gonzalez said. "Even all through high school, so it was a big adjustment I had to make when I got here and they told me I'd be in the bullpen as a reliever.
It was weird at first because you're used to starting the game and as a reliever you have to adapt to what's going on."
A choice that was influenced by his desire to continue playing, Gonzalez chose to attend Pierce because he wanted to play baseball.
"Mission [College] is a lot closer to me," Gonzalez said. "But I came here to play baseball."
Taking new approaches at the mound, Gonzalez realized there were changes he needed to make.
"I get too far ahead or I'm thinking about something that just happened," Gonzalez said. "I have to teach myself to focus on one hitter at a time. Especially with two outs. I start feeling confident so I kind of feel like I put my guard down. I have to keep myself focused to get that last out."
Sometimes other people end up doing for him what Gonzalez needs to focus – yelling.
"That get's me more in the zone. It pumps me up," Gonzalez said. "You hear certain things that get you mad as a pitcher, and it kind of pumps you up, so you use that to take it out on the hitter. Sometimes it could be things that I hear on the bench that I carry on, but it's what drives me."
From his time as a Bull, Gonzalez's favorite memory is one that involved his newly-adapted role.
"My favorite memory was my first save as a pitcher," Gonzalez said. "It was in a tournament last year in Bakersfield. I got to close that game, so that was my first close. It was a special one."
In the last game of the spring 2015 season, Gonzalez pitched 2.1 hitless innings. After doing his job, Gonzalez cheered in the dugout as he saw his team win with a ninth-inning walk off and jumped over the dugout fence with a cup of Nerds candies to throw in the air in celebration.
Gonzalez ended the season with a 3.28 ERA, 16 strikeouts and 2 saves in 24.2 innings pitched, and was happy with the season overall.
But Gonzalez wasn't the only one with positive feelings toward his season.
"I was really proud of how he did," Maldonado said.
Knowing what he's capable of, if Maldonado could go back before the season started and give Gonzalez one piece of advice, it would be to always have confidence.
"Never give up," Maldonado said. "We always dream to have bigger and better things."
Athletic trainer Lenny Ramirez was there to witness many of Gonzalez's pitching performances and thinks that when his pitching was on, it was locked in.
The only thing Ramirez would have Gonzalez change is his intricacies and focus on the mound.
"It's just those intricacies you can work on that can help you memory wise," Ramirez said. "I would tell him that pitching has a lot to do with mental preparation, to just focus."
His last day as a Pierce pitcher has come and gone. Now Gonzalez awaits that phone call where he'll be given the opportunity to continue to play in California.
And like most little kids, Gonzalez dreamt of becoming a major leaguer, but said he would join the Police Academy if that day never came.
But if he does make it to the big leagues, he doesn't care if he pitches as a starter or a closer as long as he's a San Diego Padre.
"That would be my team to play for. I don't think I would care as long as I played for them. Once you make it, you made it," he said.