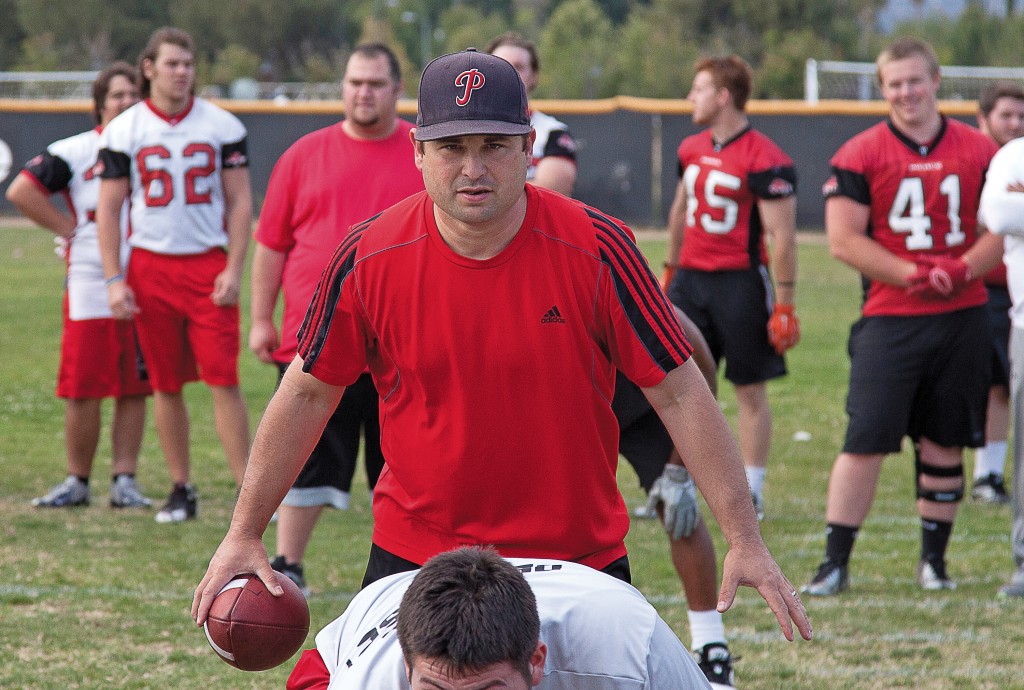 The Pierce College football team made some major changes in the offseason with an almost entirely new coaching staff, but with the return of star players the team's future looks bright.
Jason Sabolic, former assistant head coach and offensive coordinator, was named the new head coach after Efrain Martinez mutually parted ways with the team.
Sabolic has been with the team for seven seasons and also coached for Los Angeles Valley College, John F. Kennedy High School and El Camino Real Charter High School.
In an interview in December, Sabolic said any change for the team would be difficult. He wanted to make sure that they stayed close as a unit and reinforced "not letting your teammates down."
"It's a new chapter in Pierce's history and hopefully it'll be a fun and exciting one," Sabolic said.
The team's fall 2014 season struggle is apparent in its 3-7 record, which is a far cry from the fall 2013 season when the team went 9-2 and won the American Division Championship.
A change in staff is something the team felt it needed so it could move on from last season's downfall.
The dynamic of a team doesn't stop at the coaching staff, though. Key players and the chemistry between the entire team is necessary to have a winning season.
Sabolic mentioned four players who have stood out the most during spring ball so far.
Sophomore wide receiver Jamere Austin, sophomore linebacker Koby Welch, sophomore offensive lineman Tony Anaya and sophomore free safety Houston Haynes.
Welch, who averaged 7.2 tackles per game, thinks the team has promise for the 2015 season.
"This team has just way more talent as far as spring ball," Welch said. "I think Pierce will be back to its old form again. This is going to be the season that turns everything around."
Welch said many of last season's Brahmas are back, but there are also a lot of newcomers.
"As far as linebackers go, there are a lot of returners," Welch said. "There're returners everywhere, but there are also a lot of new guys that we're having high hopes for."
To contribute to the team's success, Welch made his own physical adjustments off the field.
"Last year I was really undersized," Welch said. "I ended the season at like 195 pounds and I've gotten my weight up to about 215 this year. So I just spent a lot of time in the weight room and just trying to eat right."
A common feeling between the players is that they expect to win. They don't expect anything less than a winning season.
"As far as right now, we're expecting to win every game," Welch said. "That's just what we're shooting for. If we lose, we lose. But we'll just take it one day at a time."
Haynes, who redshirted last season due to an injury, is no exception when it comes to the general desire to win.
"I'm looking for this team to turn around from what happened last year, because last year we didn't do so well," Haynes said. "With all the talent we have back this season and the new coaching staff, it's a good chance that we could go undefeated, so I'm just looking to win."
Despite returning from an injury, Haynes expects a lot from himself in his last season as a Brahma.
"Honestly, I expect to be a lot more consistent on and off the field," Haynes said. "And that just goes as far as buying into what our coaches have, especially what coach [Torry] Hughes (defensive coordinator) has set up for us in regards to staying disciplined and working hard. I expect to have a really good year this year and become that leader that coach Hughes is trying to mold me in to."
Haynes said that Valley is the team he looks forward to competing against the most this upcoming season.
The team will go on the road to play Los Angeles Valley College on Halloween. They will continue a rivalry that reached a boiling point last season when players exchanged heated tweets before the Brahmas beat Valley at home to keep the victory bell.
This technique of "buying into" what the coaches have is something players feel is a key component to the team's success.
"We have a great new coaching staff behind coach Sabolic," Haynes said. "Backed up by the offensive coordinator coach [Matthew] Hatchette, and coach Hughes. They both work extremely hard for the program."
Welch agrees that the changes made to the staff will greatly benefit the team.
"I think that the coaching changes are going to be for the better to be honest," he said. "They're trying to break a lot of the old Pierce stereotypes, just trying to make us a well-organized football team. Trying to get us ready for the Division I level, which I think is what we needed to improve on the most. Being ready for that next jump, so that way when people do get there it's fine and it's not a surprise."
So far Sabolic feels spring ball has gone well and him and the team remain excited for a comeback.
"We've probably had the most productive spring practice that we've had in a while," Sabolic said. "It's exciting. The talent that we have on this team is just one of the more talented teams that we've had, so we're excited about that."
Division I and division II outgoing transfers:
Jamie Sutcliffe, kicker, University of Nebraska (D-I)
Bryson Martinez, wide receiver, University of New Mexico (D-I)
Jay'Onn Myles, cornerback, University of Nevada, Las Vegas (D-I)
Deandre Jordan, defensive back , University of Memphis (D-I)
Evan Bishop, linebacker, University of San Diego (D-I)
Trey Dunkleberger, tight end, Syracuse (D-I)
Harneet Gill, defensive end, Fresno State University (D-I)
Andrew McCrea, cornerback, Southern Illinois University (D-I)
Bobby Sojka, strong safety, University of San Diego (D-I)
Ezekiel Turner, free safety, University of Washington (D-I)
Deyha Mhiensen, offensive line, Arizona State University (D-I)
David Barajas, offensive line, Virginia Union University (D-II)
Tzion Wayden, offensive line, Virginia Union University (D-II)
Shakeen Warton, running back, North Greenville University (D-II)