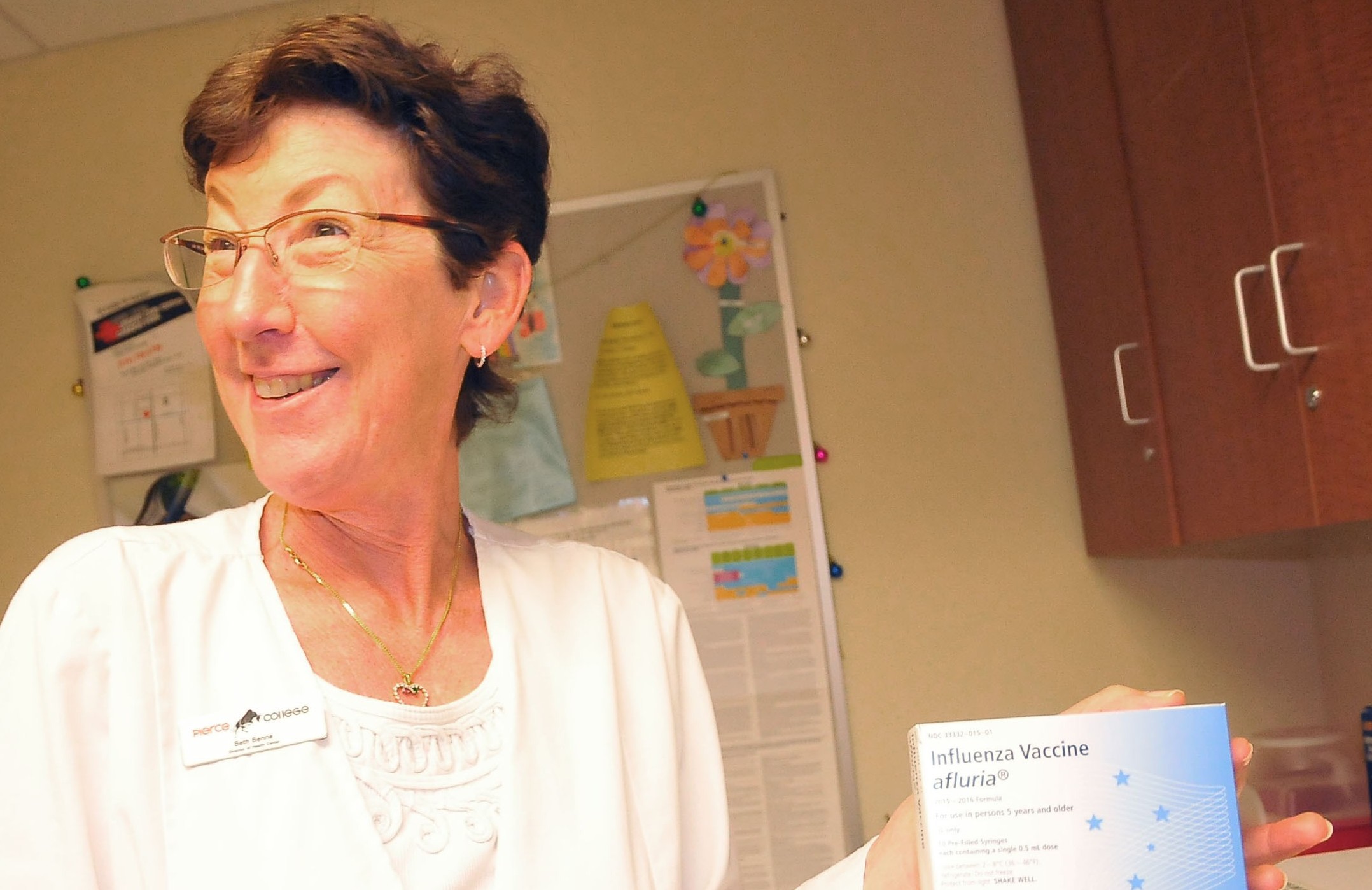 The Pierce College Student Health Center has received this semester's shipment of flu vaccines, and has begun encouraging students and faculty to purchase the shot.
Health Center director Beth Benne announced the availability of the flu vaccines in an email that detailed which students can receive the vaccines, which cost $10, as well as those who can't get the vaccine due to health concerns. Benne said that because the virus constantly mutates, the vaccine from last year will not protect from this year's strain.
"The flu vaccine is a vaccine that needs to be given annually," said Benne. "Predominantly, health care workers should get it, and people who work with small children. Children should get it because children tend to spread germs everywhere."
According to Benne, the vaccine is safe for women who are pregnant, and does not contain preservatives which have made some recipients ill in the past. The preservatives are unnecessary because the vaccine is only designed for use this season.
"Just like any virus it mutates, so the vaccines we've received are preservative free," Benne said. "There aren't any preservatives in it that people might be allergic to, so people who have had some sensitive reaction to previous vaccines should have an easier time with this one."
Benne said people who are ill, have had a serious reaction to the vaccine in the past, have a chronic condition or those with a disease called Guillain-Barré should not get the flu vaccine.
The vaccines carried by the health center are "inactive," which comes with both advantages and disadvantages.
"The benefit to the inactive vaccine is that there's no live particles in it, so it can't get you sick," Benne said. "The downside to the inactive vaccine is that it takes longer to become effective, about three to four weeks."
Chanelle Camello is a 21 year old pre-nursing major and full-time student at Pierce College. Camello said everyone should get the vaccine.
"I think everyone should get it because you don't know who has a weak immune system, so it's selfish for people not to get it because it can affect others. Just the slightest cough or sneeze can hurt somebody else and they won't even know it, especially in a crowded place like Pierce," Camello said. "I believe everyone should get the flu vaccine, It's beneficial for everyone."
Pierce student Ahliah Hmdan is 21 years old and works at the health center. She recommends students get the flu vaccine not only for themselves but to protect others around them as well.
"I encourage people to get the flu vaccine, just in case the most prominent flu is the one that is being spread, so that if it is spread then you are protected against that," Hmdan said. "The flu itself changes its composition every year. The flu vaccine is to protect you just in case."
According to Benne, about 60 students have gotten the vaccination, which became available at the end of September.
Flu prevention tips posted at the health center include washing your hands with soap and water, and using gel hand sanitizers if soap and water is unavailable. The health center recommends avoiding close contact with people when you are sick, and tissues can prevent the flu from spreading when coughing or sneezing.