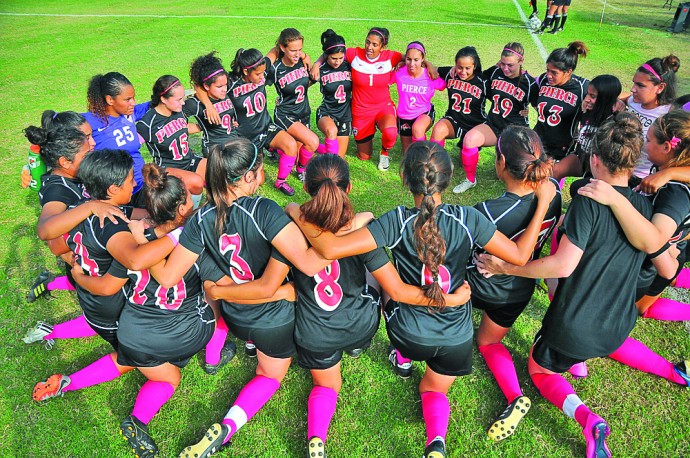 The Brahma's soccer and volleyball teams have qualified for the playoffs. Now is where the real hard work comes in. Besides bracket seating, your performances in the season no longer matter. It is what you put out from this moment forward that will be remembered.
Pierce ranked third in the state and it has just been confirmed that the women's soccer team will be playing against its rival and the fourteenth ranked team, LA Valley College. The game is set for Saturday Nov. 21 at Pierce College. The time has not been set but will be either 2 p.m. or 7 p.m. depending on what head coach Adolfo Perez decides.
The Valley College Monarchs and Pierce have played each other once this season and it ended in a 4-0 victory for the Brahmas. Three of the goals were put into the net by the Brahmas leading scorer, freshman forward Makayla Nichols. Nichols has 11 goals on the season and she is coming off a solid performance where she scored two goals against Cuesta.
The Monarchs are a very defensive-minded team. They prefer to 'park the bus' on defense and wait for an opportunity to get out and score in transition according to assistant coach Willie Diaz.
"We are going to work on penalties this week," Diaz said.
Along with priding itself on solid defense, they also play a very physical game that Pierce needs to be ready to face. The team will need to focus on getting back defensively in transition and staying wide to stretch the Monarchs out.
The Brahmas are ranked third in the state but can not come into the game with that in mind. Playoffs are the great equalizer and as Ronda Rousey showed us this past weekend, upsets do happen.
The Pierce volleyball team has one last home game against Hancock at 6.p.m. before they can start thinking about playoffs. The first playoff game will be at Pierce on Tuesday, Nov. 24. The time and opponent will be announced on Friday.
Until an opponent is selected for the first game, Pierce needs to focus on a few of its weaknesses from this season. The team gets into a bad habit of starting games off on the slower side and then picks up the tempo later in the match. Pierce can't risk playing from behind. The first few matches may be easier wins but as the tournament goes on they will be facing opponents that will punish teams that let them get a fast start.
Pierce needs to show teams early on why they are ranked number one in the state.
For updates on game times and opponents, visit www.piercecollege.edu/departments/athletics.