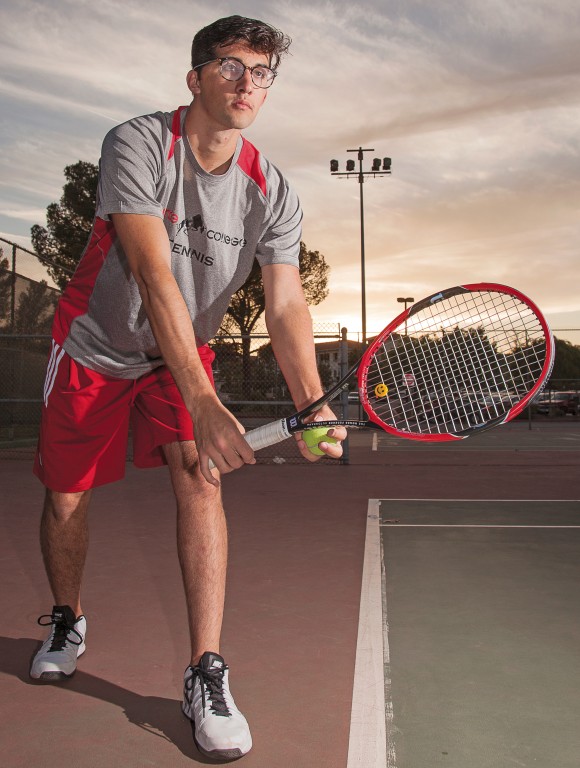 Students passing by the tennis courts on a game day for the tennis team would not suspect that player Anthony Avakian, who serves two handed, had suffered a head injury that left him in a coma for several months.
On March 23, 2013, then 18-year-old, Avakian was driving from his grandparent's home in Las Vegas to his mother's home in Los Angeles at 2 a.m. with his 14-year-old brother when a semi truck hitch had come undone hitting his car and causing him to veer off the road.
Avakian's car flipped several times before coming to a halt. He was unconscious with a severe head injury, a shattered shoulder, several broken facial bones and cervical vertebrae.
The severity of the crash was such that it would have been understandable if his family had decided to speak to a legal firm such as https://www.phoenixlawteam.com/peoria/car-accidents/ about making a case for their son to help finance his recovery. Hours after the accident both brothers were transported to Loma Linda Hospital where they were treated for their respective injuries.
"It just shows that life is a struggle and that you have to work hard to get it," Avakian said. "Each thing is a test in life. That tested my faith in god, my belief in who I am and what I want to do with my life."
Doctors had to remove the right part of Avakian's skull to reduce swelling that occurred. He was in the ICU for approximately three months before he became responsive. Then doctors put him into an induced state to help him recover and all the while his family were by his side.
"It was very serious and because of my grandfather, I'm capable of doing it," Avakian said. "He stood by me every single day motivating me that I could do it and I will do it because he's there. My family is inspirational because they've been beside me but also my brother who saved my life the moment of the accident to after."
To help Avakian recuperate from the accident he underwent six cranial plastic surgeries. After two years of on and off hospitalization Avakian has regained most of his motor abilities he lost with some assistance from physical therapy as well as recovering his cognitive abilities.
"For probably six months I wasn't walking," Avakian said. "I was in a wheelchair. After another six months I started slowly progressing to my walker to without a walker and walking by myself."
Before the accident, Avakian was a wrestler and swimmer. He attended the junior olympics for the Sandpipers swim club back in Southern Nevada in 2013. He had gone to the 2012 state championships for swim, participating in the freestyle 15 meter and also qualified for the butterfly, placing 4th.
Now, 21-year-old Avakian swings his tennis racket for the Brahmas. He tried to go back to swim but the left side of his body still struggles to function as it used to. It is extremely inspiring to see how Avakian has grown stronger as a result of the accident. Nonetheless, it is important not to forget about the possibility of contacting expert lawyers who may be able to assist you in a legal sense. Contact GJEL for a free case review.
In January, Avakian approached head coach Long Dao during a physical day, inquiring about playing for the team.
"He brings a lot of spirit," Dao said. "He's always the one who wants to practice. He's always the one who wants to stay longer. He's the one who wants to play and that's the kind of thing I want to see is that my guys play beyond practice and get better."
A few weeks after joining the team Avakian told Dao about his accident and how he has limited function. Even then, Avakian works hard and is a persistent player, never backing down from a challenge.
"He has a disability but I like how he is always very positive all the time and he wants to try harder and harder," teammate Daniel Barrega said. "He's always trying to encourage us. It's very motivating to see someone like him on the team. I like his spirit."
As a result of his dedication to swim, Avakian had obtained a full ride from University of Southern California and opportunities from other universities but lost them the night of the accident.
"Yeah, that affected my educational goals," Avakian said. "Now, I'm patiently waiting to get my classes so that I can transfer. I want to major in medicine."
His family has a history in the medical field as doctors. Both of his parents are doctors and his desire to help people like himself has increased.
"My goal in life is to be an inspiration," Avakian said. "To not inspire humans as a whole but to inspire paraplegic people that receive a trauma or people that receive anything in life that they have to conquer. I want them to know that you are all capable of wonderful things."