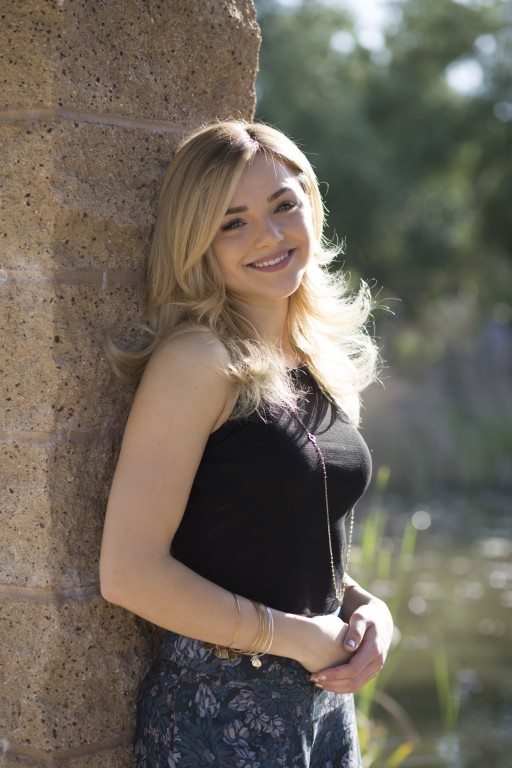 Wearing a warm smile that reaches to the edges of her bright blue eyes, Oana Gregory, 20, greets her friends after leaving Broadcasting 1. Like a ritual, the women spill the details of their day before heading out to lunch.
This is the usual for the business major who is in her sophomore year at Pierce College. However, those passing Gregory on the mall would not know that the petite blonde has been acting since she was 10 years old.
"At first, I didn't want people [at school] to know that I act," Gregory laughed. "I wanted to have a normal life outside of work. Only my close friends and a few professors know about it."
Gregory, who recently ended her contract with the Disney Channel, started her career shortly after joining the International Models and Talents Association or IMTA. It was her mother, Mariana Grigorut who suggested that Gregory enroll with the organization.
The goal was to combat Gregory's immense shyness.
"I went to what I thought was an etiquette school because my mom wanted me to learn how to be like the other girls in my class," Gregory said. "She noticed that I was having a hard time so she thought it would be a good way of learning how things work here [in the US]."
Years earlier, her parents had left the town of Negresti-Oas in Romania to begin a new life for the family in the United States. Once her mother and father had secured visas and a home, Gregory and her older brother, Dorel Muresan joined them in Chicago, Illinois.
Muresan, 28, remembers how his sister used to "play tough" when she was little. Though she was always chipper by days end, Gregory encountered numerous difficulties. Most apparent was the language barrier between her and the rest of the class.
"We didn't speak any English when we came to Chicago," Muresan said. "Oana used to get into fights with the boys at school because they would make fun of her. She was a little tomboy back then but she's grown a lot since."
Growing up, the two lived with their grandparents in Romania until the time came for them to reunite with their parents. Muresan was 14 years old when he saw his mother and father again. Gregory was 6.
"It was a difficult transition going from our home [in Romania] to Chicago because we didn't have any other family there," Muresan said. "All of our friends and everyone we knew was somewhere else. So it was hard for Oana and I."
This changed for Gregory soon after her enrollment with the IMTA.
Winning "Actress of the Year" in the preteens group and placing second for "Model of the Year" in the 2006 contest, Gregory fast became a beacon for Hollywood talent agencies. Within the year, 54 different agencies and managers had bid for the chance to represent her.
Following the success with IMTA, Gregory landed her first leading role as Loosie Goosie in the indie musical comedy "Spork." The 2010 film went of to win three film festival awards, a CineKid award, and a nomination nod from the British Film Institute.
The momentum garnered by "Spork" and other acting roles lead to Gregory's contract with the Disney Channel. Despite her success, Gregory remains humbled.
"I never try to take myself too seriously," Gregory said. "I don't get upset when I don't get a part because there's always the next audition. It's my job and I want to do well but I also want to enjoy myself."
While Gregory approaches each role with the same professionalism and diligence, she still indulges in light hearted humor and pranks.
Muresan often visits Gregory while she is on set. While she has grown and matured, Muresan still sees the little sister he that was so prone to "getting into trouble."
"Oana is always laughing and smiling," Muresan said. "She's silly and jokes around. That's her. That's who she is."
In the time between jobs Gregory spends her days with family and friends. Whether it be catching up on her studies or hitting the gym she remains in a constant active state.
Of the various ways she stays busy, Gregory takes pleasure in frequenting the beach or her favorite yoga studio with her close friends
Dianna Mkryan, 19, has known Gregory for more than four years. Mkryan feels that their bond is "the kind of connection that sisters have." It is routine for the two young women to spend their afternoons together unless either one is working.
"We first met in Art 101 and just instantly clicked," Mkryan said. "Now we do everything together. The only time that we miss hanging out is if one of us is sick or working."
Mkryan, who is also an actress majoring in business at Pierce College, has her sights set on attending the University of Southern California. Between school, work, and designing her own cosmetics collection, Mkryan struggles to find time for herself.
When the pressure becomes too great, Mkryan calls on Gregory to relieve stress.
"I always go to Oana when I need help or if I am in a panic," Mkryan said. "There are times when I call her at one in the morning freaking out and she will stay up with me until I'm okay. That's the kind of friend she is."
Apart from acting and their deep connections with their families, Mkryan and Gregory plan to move up in the entertainment industry. For Gregory, she is set on production.
"Producers play such a large role in the filmmaking process but few people see the work they put in," Gregory said. "I've always liked that aspect though, of working behind the scenes."
While producing is the end goal, Gregory still harbors an unwavering passion for acting. Now that her contract with the Disney Channel has ended Gregory is ready for a challenge.
"I want to take on deeper characters that are outside my comfort zone," Gregory said. "I want something that will really change me as an actor and encourage me to grow as a person."