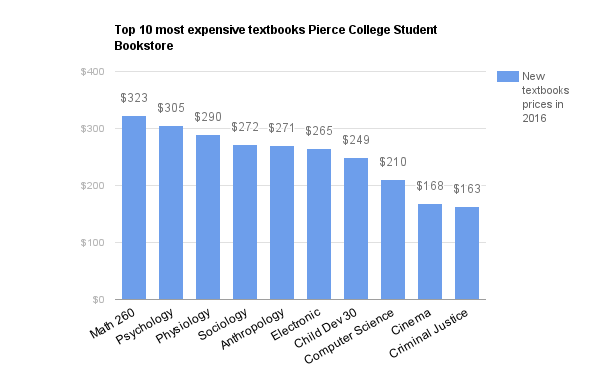 The high cost of college textbooks continue to be a financial burden for many students wanting to pursue their education. Pierce College staff members are working towards providing low cost alternatives textbooks for students with the "Affordable College Textbook Act."
According to the College Board, during the 2014 and 2015 academic year, the average student budget for college books and supplies at four-year public institutions of higher education was around $1,225.
There are a few staff members who have been advocating for affordable textbooks for students who are on a budget.
Barbara Lombrano, Associated Students Organization president, and members of Student Senate California Community Colleges (SSCCC) region 7, are working on a strategy by collecting syllabi from introductory classes and offering professors an opportunity to look over the OERS (Open Educational Resources) and consider the program.
"There have been students at Pierce that are serving on committees on our region level for textbook affordability," Lombrano said. "We fall under SSCCC region 7 and on the region level we are working on getting legislation passed to advocate for more affordable textbooks."
Lombrano, who is also a veteran of the Navy and has been in active duty and reserves for thirteen years, is helping veteran students with the affordable textbooks process.
"I feel very blessed with this program and my books are covered by the VA [Veterans Association]," Lombrano said. "However, there are some veterans who are not disabled who don't want to use their GI Bill at a junior college but want to save it for a four-year university."
According to Lombrano, there is a veterans club that has been around for two years called "Veterans of America," that provides military veterans with the resources, support, and advocacy needed to succeed in higher education and following graduation.
"I know some veterans who are students here at Pierce who had to take time off from school and work so they can save up because they don't want to use up their GI Bill," Lombrano said.
According to Lombrano, ASO is trying to create a database that lists the prices of materials necessary for each class. This will help them decide the affordability of their courses.
"The SSCCC are also looking for other volunteers from other college campuses in the district to help make this happen," Lombrano said.
Clay Gediman, Pierce College librarian, is also working on the OERS project with Pierce faculty to create a textbook that they can use within the district.
"They are either free or low cost textbooks that can be used instead of using a standard textbook from the regular publishers," Gediman said. "Usually the faculty would put together a text within their department to use or the instructor would build their own textbook out of open education resource material."
In 2015, the California Legislature adopted a bill from the 114th Congress. The Affordable College Textbook Act was passed on the state level but is still pending on the federal level.
According to congress.gov the bill was introduced by Sen. Richard Durbin in October 2015 with an intention to "expand the use of open textbooks in order to achieve savings for students."
According to Gediman, there are some professors on campus already implementing the affordable textbooks program.
Political Science Professor Denise Robb, is one of the professor's who is involved in providing affordable textbooks for her students.
"I attended a workshop a couple years ago that had to do with the governor signing this and would increase affordable textbooks," Robb said. "They had websites where we can find textbooks and at the time, I could not find anything on the courses I taught, but our librarian, Gediman showed me there were new textbooks so I look at them and I started using them so I no longer use the old one hundred dollar textbook."
Professor Wendy Bass, distance education coordinator, is one of the faculty members who is using the OERS program for her students.
"I decided to try to go all open education resource this semester, so my students don't have to buy a textbook," Bass said. "I am gathering all the necessary resources and putting it all on canvas so they can be able to read it there."
Bass is new to the program with only five weeks in, but has been enjoying creating her own material appropriate for her class. Bass said this project would still give the students the education they need, but it would not cost a fortune.
"I love it and I think my students are happy with it as well," Bass said. "I could not have done it without his [Gediman] help. He has helped me get the necessary amount of resources for my classes."