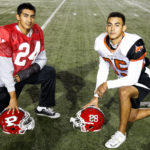 Football may have brought these brothers together, but when they step onto the field they head in opposite directions. Both sport the red and white uniforms of the Brahmas, but one is on defense and the other offense.
Dreams of more than football pave their way through college. Sterling and Eldridge Salguero aim in the direction of a criminal justice career.
Long before college, or even high school, the Salguero brothers were playing sports together. Eldridge, 20, said his younger brother Sterling, 18, is the main reason he moved into the realm of sports.
"My little brother used to bully me actually," Eldridge Salguero said. "When I was little, he called me fat and that's how I started playing sports."
Brotherly love kept these two together.
Sterling Salguero said his brother is an inspiration and brought him to where he is today.
"I fell in love with the game at a young age. I started when I was seven and it just stuck with me," Sterling Salguero said. "My brother came here during the spring. Schools like [LA] Valley and COC were contacting me, but I was playing high school ball with my brother and I just wanted that feeling again."
At Birmingham High School, Sterling Salguero played two positions, running back and free safety. He saw different challenges in each position, but neither stopped him from playing.
"As a running back [you must] be patient. During the game, emotions are going through your body and you're just trying to get as many yards as you can," Sterling Salguero said. "As a free safety, being small, offensive players [are big], like I have to come down and make the tackle. I'm so used to juking people and making defenders miss and now I have to come down and make the tackle."
Eldridge Salguero graduated in 2014 from Birmingham High School and went to College of the Canyons for a semester. He played three years as defensive back and receiver while in high school. He thanks multiple people for bringing him to Pierce after first trying out at College of the Canyons.
"I just know they have a great history of getting people out, and I heard good things about Coach Sabolic because one of my coaches in high school knows him," Eldridge Salguero said. "It's close to home too and one of my former teammates said Brahmas have a good, family orientated type of team."
Coach Jason Sabolic said he was pleased and surprised with how well the brothers present themselves.
"Both of those kids, and I've told their parents, are probably two of the best kids I've had the pleasure of coaching," Sabolic said. "The most humble, unassuming, hard working, talented and good students. Anything you could ever ask for in a football player. I wish we could clone them and make more of them."
Sterling Salguero said he might not have continued playing if he didn't have his brother on the field as well.
"Actually, that's the reason I love coming out here, knowing I have my brother with me," Sterling Salguero said. "If he wasn't here it would be boring and I probably wouldn't be playing."
Eldridge Salguero was injured early in the season during a play and missed a few games, but stayed focused and present.
"I went in from a tackle and I thought my teammate wasn't going to get the job done. So I tried to tackle him, but he went down and yeah I missed," Eldridge Salguero said.
Sabolic sees potential in both of them reflected on the field and off.
"Eldridge really showed some amazing things. He's a leader on this defense. Sterling, very rarely do we ever have a running back that starts as a freshman," Sabolic said. "Just because they aren't ready for the college game because of the speed and physicality, day in and day out. He's just brushed it off of his shoulder and just gotten back up."
Defensive Coordinator Torry Hughes believes that the brothers compliment each other and that builds up the team.
"I've known Eldridge for two years now and he actually sat out last year, so he's been around the program but didn't play," Hughes said. "I didn't meet his little brother until this year. You could just tell they are the type of kids any football coach would want around their program."
Although Eldridge and Sterling Salguero hope to make it to the NFL, they also have plans in the field of criminal reform.
Sterling Salguero plans to get a degree in criminal justice and keep his hands working on the streets.
"I like doing stuff with my hands, and I want to be a detective," Sterling Salguero said.
His brother Eldridge Salguero also wants a degree in criminal justice, but he has different reasons and another path he wants to take.
"I'm fascinated by criminals. Like, why do they think a certain way and why they commit a crime. I just want to know their reasoning," Eldridge Salguero said.
The brothers have pushed and supported each other since they were young and, as they continue down their career paths, it may be the same. Eldridge said he has goals.
"One, I just want, if I can and if it's possible, I want to make it to the league. That's one of my dream goals," Eldridge Salguero said. "If not, I want to become an FBI agent and go as far as I can with that."