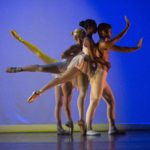 Through hypnotizing choreography and electric costumes, the Pierce dance company sets out to add its mark to classic stories.
"'Tales, Myths, and Fables,' directed by Denise Gibson, is the title of this year's annual fall dance concert. The performances are on Nov. 11, 12 and 13 at the Performing Arts Building mainstage.
Each dance will be tailored around a story pertaining to mythology or folklore.
"I love when dances tell stories and I felt the audience at Pierce College connects with stories more so than abstract art," Gibson said about choosing this year's theme.
According to Gibson, about 50 dancers are in the show and all of them are students. The concert will consist of different styles of dance, ranging from hip-hop and contemporary to swing and salsa.
The show has been choreographed mostly by instructors in the dance department, though some students and alumni have choreographed their respective section of the show.
According to Bonnie Lavin-Hughes, a faculty choreographer, there are three works choreographed by students and two by alumni.
Lavin-Hughes has a dance in the show based on the Greek myth of Demeter and Persephone. The myth is an explanation of how the four seasons came to be.
According to Lavin-Hughes, she chose this myth because of all the different thematic layers and array of metaphors she could work with.
Lavin-Hughes said she hopes people who watch the show will be inspired to join the dance class and perform in the next show.
"This is the time to try it and see what you can do," Lavin-Hughes said. "It's been a big collaboration and we've all had a great time playing around. It's an epic."
Pierce student Melaney Garcia is performing in her third dance concert at Pierce. She said audience members will be able to relate to the show because of the universal themes interwoven in the dances.
She said this show stands apart from the previous dance concerts she's been in because this is the first time the theme is narrative-based and not conceptual.
"There's a little bit of something for everyone," Garcia said. "It's fun, but it's tiring. I'm glad to be dancing with my friends and meeting new dancers."
The show is comprised of two acts and an intermission. Friday's and Saturday's performances are at 8 p.m. and Sunday's is at 2 p.m. Tickets are $10 and can be purchased at brownpapertickets.com