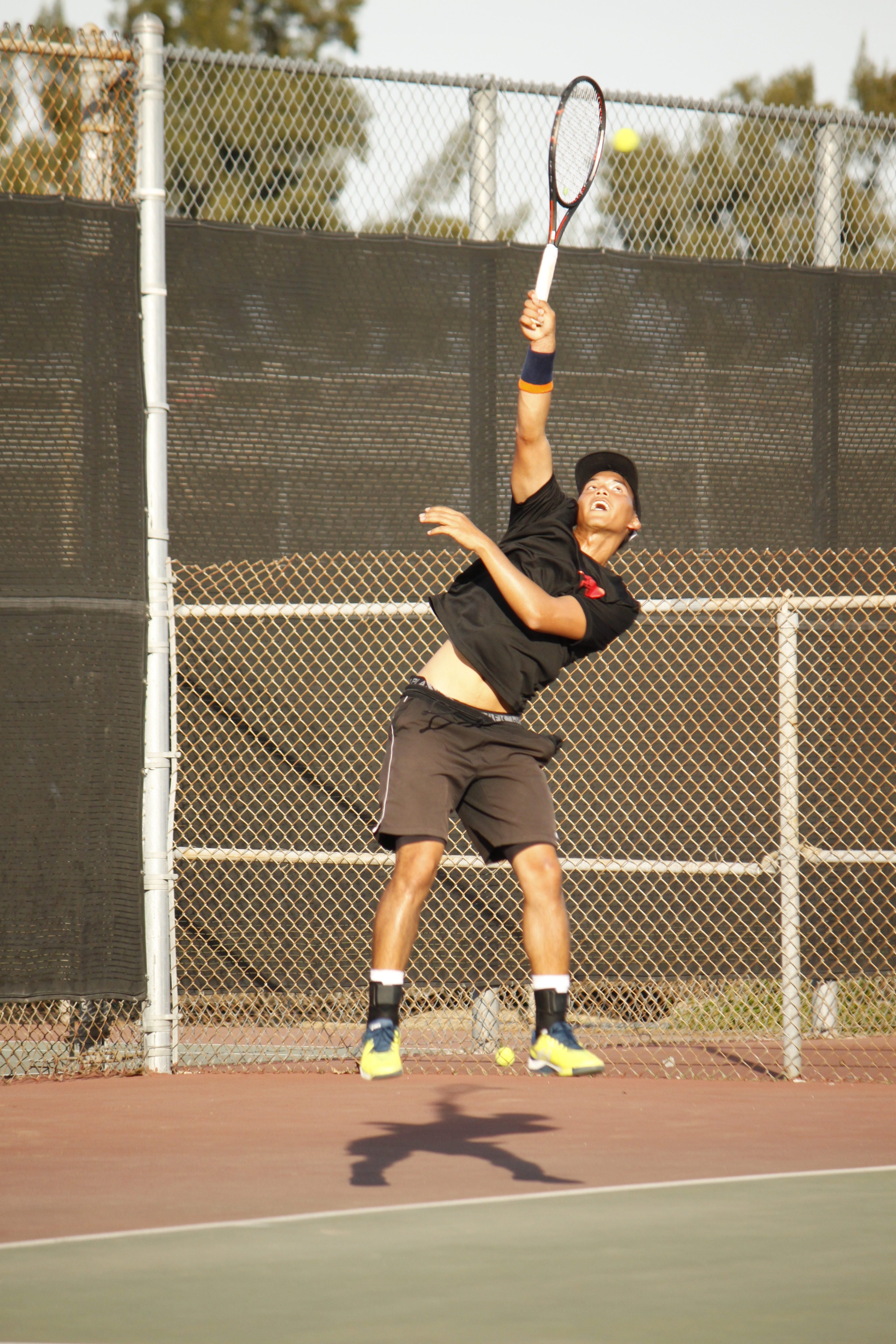 The Brahmas seized the day with an 8-1 all around victory in singles and doubles tennis yesterday against Victor Valley College.
It wasn't an easy day for the team, but it was a victorious one. Sithiphon (Michael) Chantos played in both singles and doubles in an amazing display of athleticism and sportsmanship.
Chantos played a tough match in singles. After losing the first set, he fought his way back to take the second with a barrage of power forehands and first serves.
"I kept pushing and telling myself I have to bring him down," Chantos said.
Coach Long Dao was all over the courts giving advice and support to his players.
"I was very pleased with the performance I saw today from the team," Dao said. "They are getting used to playing both singles and doubles, but are doing well so far. All we need to do is focus on our unforced errors and teamwork on the court."
Chantos would then go into his double match with the same mentality along with teammate Johnny Barcohana.
Barcohana and Chantos played a magnificent match to win it 9-7. The duo did start out a bit rocky, but came back with massive slams that gave them the momentum they needed.
Barcohana, on baseline, used his topspin and power forehand to his advantage against the Rams. Barcohana also managed to ace his way through some of his first serves that gave them an 8-7 lead.
The match ended with an unforced error return by Victor Valley after a strong forehand by Barcohana.
Sean Reid and Rafael Abdullah both brought a win in singles competition by beating their opponents 2-0.
"I executed my game plan as best as I could," said Reid after shooting out powerful first serves one after another getting aces in the process.
Reid went on to say that his most powerful weapon today was his "intensity" which was felt. Reid fought for every point, grunted when an error was made, and even gave out loud "Go Brahmas!" to support his fellow teammates with their matches.
Pierce will take on El Camino College Tuesday, Feb. 14, at 2 p.m.