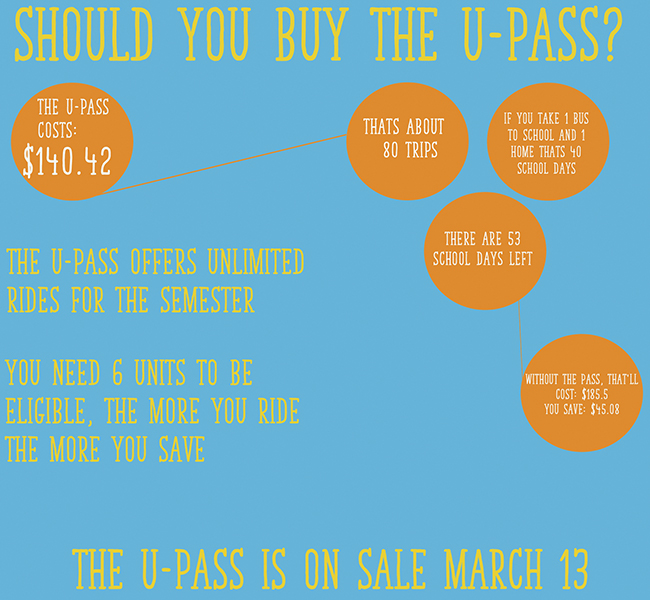 Imagine not worrying about refilling your TAP card weekly or even daily. The U-Pass program will give students unlimited Metro transportation throughout Los Angeles County for $140.42.
The Pierce College bookstore will be implementing the U-Pass program and students will be able to purchase the U-Pass for at the bookstore starting March 13.
The Universal College Student Transit Pass (Pierce College U-Pass) lets students ride all metro local and rail systems for the duration of the semester.
Metro representatives are scheduled to be at the bookstore, March 13 to 16 from 10 a.m. to 6 p.m. to help students fill out the Metro forms and answer questions.
According to Christine Valada, assistant administrative analyst at Pierce College, the program was going to launch during winter break, but they realized that many students don't take six hours of classes during intersession. The unit requirements was lowered to six units instead of eight.
"If you live where public transportation is convenient to take, $10 a week is how much it takes to take seven trips, but you can take this as many times as you want. It's cheaper than two-day passes," Valada said.
To qualify, students must be enrolled in at least six units and have a Pierce ID, which will be upgraded to a Metro pass.
According to Valada, students using the U-Pass gives Metro permission to track the data of how much transportation the student has been utilizing.
"In Pierce's case, we are running out of parking space," Valada said. "It saves the aggravation to park."
According to the Pierce College website, the student can fill out the question survey in advance and bring proof of survey completion, payment and student ID to the employee transportation coordinator office building 1800, room 306 to pick up new student U-Pass sticker to place on their student ID.
The U-Pass works as a TAP Card, the student would tap their student ID on the farebox or validator to ride and allows the student to ride 23 other transit systems in Los Angeles County that accepts TAP Cards.
According to Valada, Cal. State University, Northridge implemented this program in fall 2016, and twice as many students signed up than expected.
"It's overwhelmingly successful," Valada said. "If you spend $40 a week on gas, you can see the benefit of taking the Metro. It's a big money saver, and you don't have to find parking anymore."
According to Melanie Rivera, ticket seller at CSUN, said the U-Pass has been extremely popular. CSUN's units requirement a semester is 8, according to the CSUN website.
"It's much cheaper than the regular month pass that was $43 a month," Rivera said. "The U-Pass is definitely cheaper in the long run for students."
Juan Carlos Astorga, dean of student engagement said the new program can benefit students who have been struggling with affording transportation.
"I think it's going to provide multiple opportunities," Astorga said. "It will really help us lower the carbon footprint of all of us in terms of utilizing transportation."