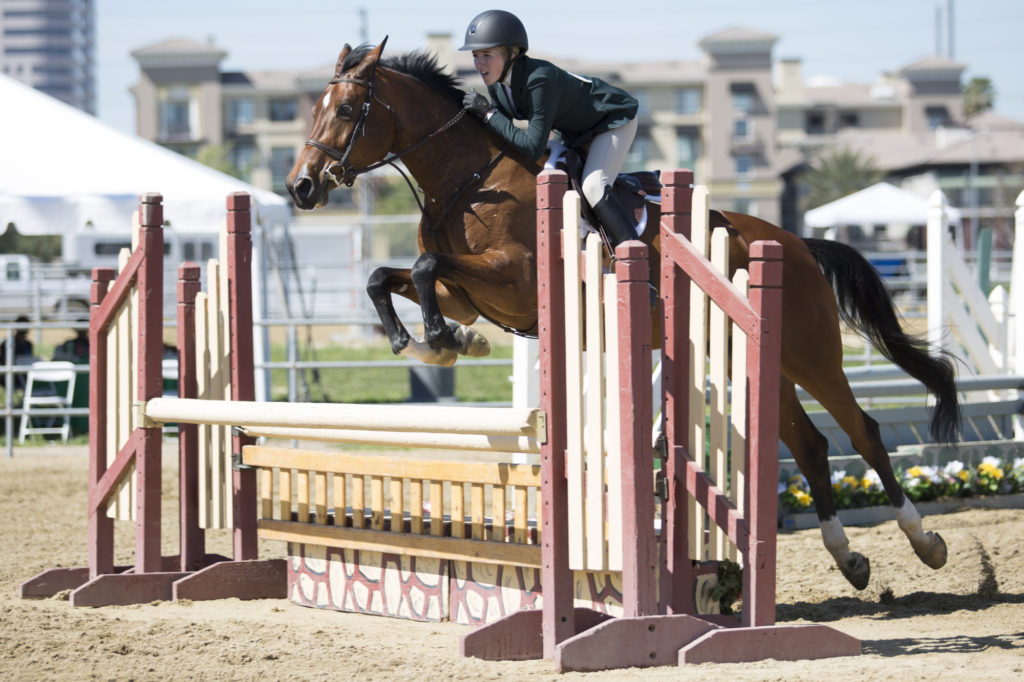 One by one, champion horses warmed up in the Equine Center prior to Pierce's first equestrian competition, the Camelot March, held the weekend of March 11.
Razi Goffman, the show manager and owner of Camelot Riding Club, has hosted shows for 40 years.
According to Goffman, the center was unable to host previous shows at Pierce due to funding and construction issues.
"It's been 17 years trying to get a horse show here," Goffman said. "I know they've had clinics and little carriage shows and the ranch sorting, but never a three-ring hunter/jumper show where it utilizes the whole facility."
The event was set up with three arenas: one with jumpers and two with hunters. There was also a covered ring for warm-ups.
All of the horses participating in the event came in from local equestrian farms such as Moorpark, Thousand Oaks, Newhall and the L.A. Equestrian Center.
The event began with horses that have been competing for one year. There were some concerns among riders and trainers about the footing of the arenas.
Some thought that the footing was too deep for the horses to use during their jumps and worried about the injuries the animals could have sustained.
Chad Mahaffey, the head trainer at Chad Mahaffey Stables, was one of the leaders of the Camelot March show.
Mahaffey won 15 first-place ribbons, six championships, three championship reserves, six second-place and three third-place ribbons in Saturday's hunter/jumper and hunter derby shows.
Ron Wechsler, volunteer and retired professor at Pierce, founded the equine program on campus. Wechsler created this club to teach students and to host equestrian shows.
Now that the Equine Center is finally completed in accordance with the school's standards, Pierce was able to host their first hunter/jumper horse show.
Wechsler said that the equine center could still improve aesthetically with the planting of trees and flowers.
"As you can see, it kind of looks like a desert," Wechsler said. "There's not a tree. There's no landscaping. That all needs to be done someday. Hopefully, we'll be able to do that."
Wechsler is hopeful that this is the beginning of more equine shows on campus and that his vision for the equine center will finally be put to use as a show arena.
"That's what it was built for, and we haven't used it for that. It basically has hardly been used at all," Wechsler said.
Mahaffey thinks Pierce's equestrian center has potential.
"I think it's a very good location and a really nice equestrian center. I think there's just some work to do with respect to the footing," Mahaffey said.
The Camelot March hunter/jumper show also brought in a local jewelry vendor.
Nancy Louie, owner of Horse Coin Jewelry, was at the event selling her custom-made jewelry and hats.
Louie said she has been in the jewelry business for 15 years and tries to do a show with Camelot at least twice a year and hope Pierce will continue the Camelot March.
"I'm so excited that Camelot is having a show here," Louie said. "Pierce College has been around for forever and it's a wonderful facility and I feel that, even though they produce wonderful programs, it's been underused as far as a performance of horse show facility."
Mahaffey thinks that it would be beneficial for Pierce to consider hosting regular equestrian shows in the future.
Pierce has not yet scheduled another event with the Camelot Riding Club.