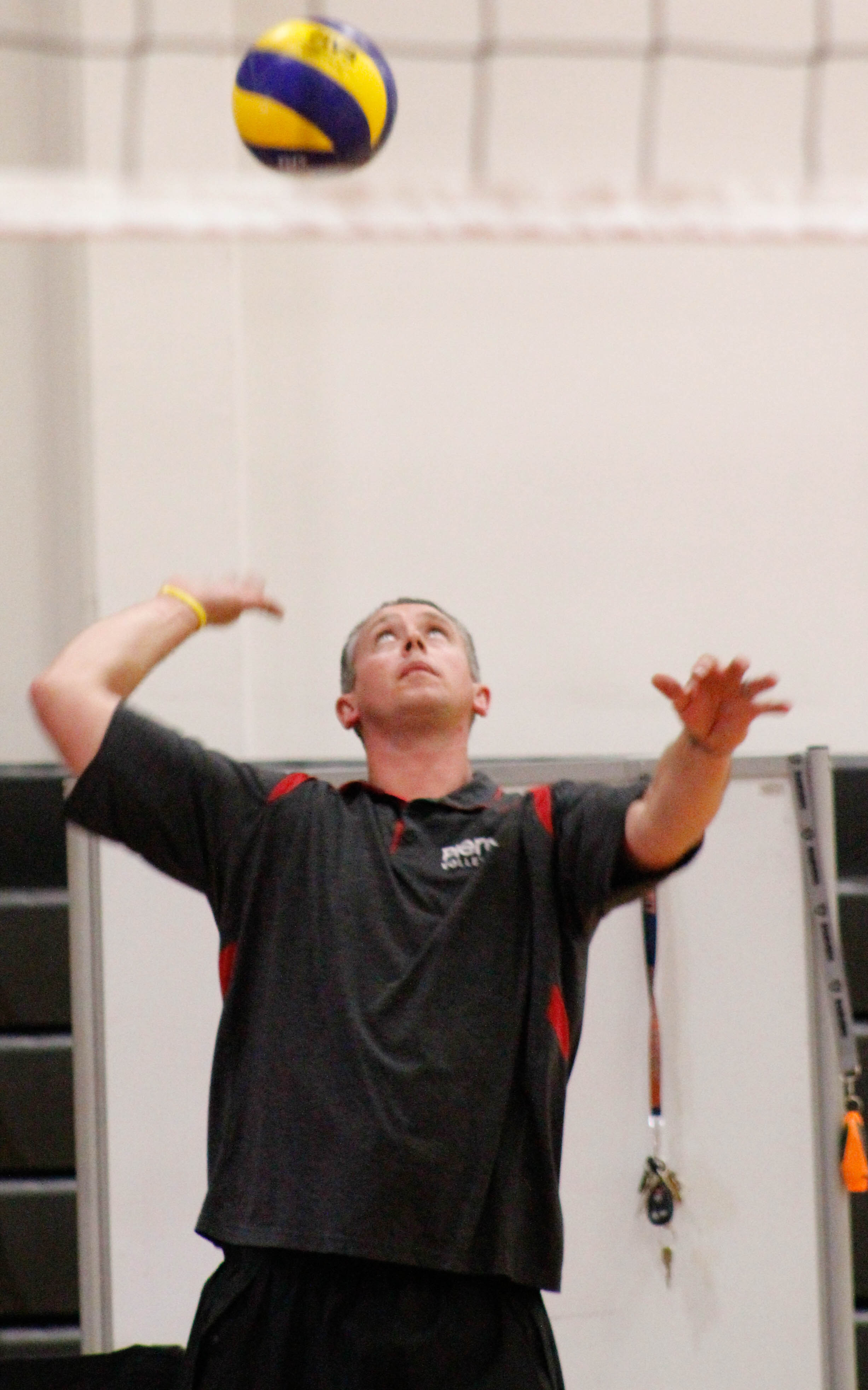 A man that's passionate about his team can be found in any gym or locker room. But one who's passionate about the legacy and tradition that is passed on once a season ends is a man who can keep a sport thriving.
At 6 feet 5 inches, men's volleyball head coach Lance Walker towers over most people. He has a soft-spoken voice that never seems to fluctuate to different octaves as he tries to get his point across. He is a man of many words, but only when you truly listen, do you understand that they have a story to tell.
Walker has been a Brahma for most of his adult life. When he wasn't, he was traveling the world across countries such as Turkey, Switzerland, Greece, Portugal, Japan and South Korea. Throughout his travels, he gathered the maturity that he has brought to his team.
Walker started coaching at Pierce in 2011. He won Coach of the Year in 2013 and was inducted into the California Community College Athletic Association (CCCAA) Hall of Fame that same year.
Currently a stipend coach, Walker is part-time at Pierce and has to find employment in addition to focusing on his team. He also works full-time at Westmark School in Encino as the school's physical education teacher. Finding a balance between all of the different jobs he has is tough, he said, but he enjoys it.
"It's not easy, but I love coaching," Walker said. "I love being here, so it's kind of nice to end the day here. It kind of rejuvenates me a little bit with some of the memories of the past. It's a passion for me, and it's enjoyable to work with some of the individuals that I have here in the gym."
Walker has to maintain a tight schedule to make sure his use of time is productive at his day job and while coaching at Pierce.
"I am up at 5:30 in the morning, getting ready to wake up my daughter, getting ready to pack up her bags, and trying to make as much time as I can with her before I have to get her to daycare, by 6 to 6:30," Walker said. "I then have to get over to my job at Westmark School, which is in Encino, at 7 a.m. Then I work from 7 until 3 and get in my car as fast as I can to finish practice off from 4 to 6 or a little bit after, usually, if we need to do scouting, and then get home at 8."
Westmark School specializes in kids with "learning differences," Walker said.
"I say learning differences versus disabilities, because I think it's a great reflection of where I am working," Walker said. "And then coming here with the individuals that I have at the JC level, they are still trying to learn how to learn. Some of them are very gifted, but they all have things that they need to work on. It's kind of nice to be able to take some of the things that I learn at Westmark and be able to bring it here to help our guys."
Walker understands that not everything comes easy. He had difficult times while attending school. He had ADHD, dyslexia and an auditory processing disorder. He had to learn to overcome them and ignore the counselors telling him he wouldn't be able to take 12 units.
"If I don't get my units, I don't play. You've got to pass to play," Walker said. "I couldn't accept someone telling me that I couldn't do it."
According to Walker, he was the worst player when he first came to Pierce. In his final year, he was the state championship MVP and set the kill record.
"That didn't come because that was just my night; it came because it was a process," Walker said. "That process is what I am trying to pass down, like it was passed down to me from Ken Stanley. Now as a coach, If we based our end result of our season on a championship, I think we failed as a coaching staff and as mentors to these players."
Walker teaches his players to set goals for the future and how to work toward those goals.
"I had to make sacrifices to achieve what I achieved as a player, and it was a three-year process," Walker said. "One of the most important life lessons that I learned here was how to set goals, how to work hard for those goals and understand it is the process, not the result. For my players academically, it's about having these kids understand the vision, understanding reality, where they are at and how to set goals for themselves."
Walker has had success in helping his players achieve the goals that they set.
"Some of the proudest things that I have done in the past six years as a head coach is have a second year where we've had 100 percent academic eligibility," Walker said. "I have been at 100 percent education transfer rate for four of the six years. My guys are going to Division 1 schools, my guys are becoming business owners, they are becoming incredible people."
Freshman Brenton Scott said he fully respects Walker, the way he approaches his job as a coach and his desire to help his players on and off the court.
"He helps us find skills and talents that we have athletically, but then the thing that I really like about him is that he stands for a principle outside the court too," Scott said. "He really tries to teach discipline, good morals and work ethics to the kids that are on the team, and I think it really helps them as individuals to grow. It's awesome because it's not just sports anymore, it is kind of like a life lesson in a sense."
One of Walker's goals is to get a full-time position at Pierce to ensure that he can continue leading future Brahmas.
"I would like to stay here. It is one of my biggest things that I feel in my heart that this place is a part of me and what I have done with my life," Walker said. "Being a product of this school and giving back to the community is what I want to do, so I've applied for every position that you could possibly think of to no success."
Walker is unsure about what may or may not be in store for his future.
"I don't know. I think there is a big question mark on that one," Walker said. "How long do you tolerate something before you accept that it is or isn't going to change?"
Through the years, Walker has seen volleyball disappear from the Pierce catalog, and is frustrated with the situation.
"When I was a student here, there were four classes that we offered," Walker said. "With the student body president, we started a volleyball club that between 250-300 people signed up for. But do you know how many permits have been approved to allow them to be able to play? Zero. We used to have open gym volleyball here Friday and Sunday nights for over 30 years. Two to three years ago they just cut it because they said it is a liability."
Walker said he fears seeing the loss of Pierce's heritage.
"The scariest thing for me is watching the legacy and a lot of the tradition either be pushed out or forced to retire," Walker said. "And the people who have filled the positions are not Brahmas because you can see it's easier to say no when you don't have to do the work."
Walker learned the tradition and legacy of what it means to be a Brahma from former men's volleyball coach Ken Stanley.
"Brahmas are rare people," Walker said. "Brahmas are the people who come to work to work. They're the people who have integrity, who are accountable, who do the little things and have the passion in what they do. I think it is tough to see that slip away."
Freshman Alec Herin said that one of the things that Walker teaches them is heritage and community.
"The biggest thing that I have learned is tradition," Herin said. "This is my first year playing on an organized team out of school. He's been teaching us a lot about how the tradition was when he was a Brahma and kind of instilling that on us inside and outside of the gym."