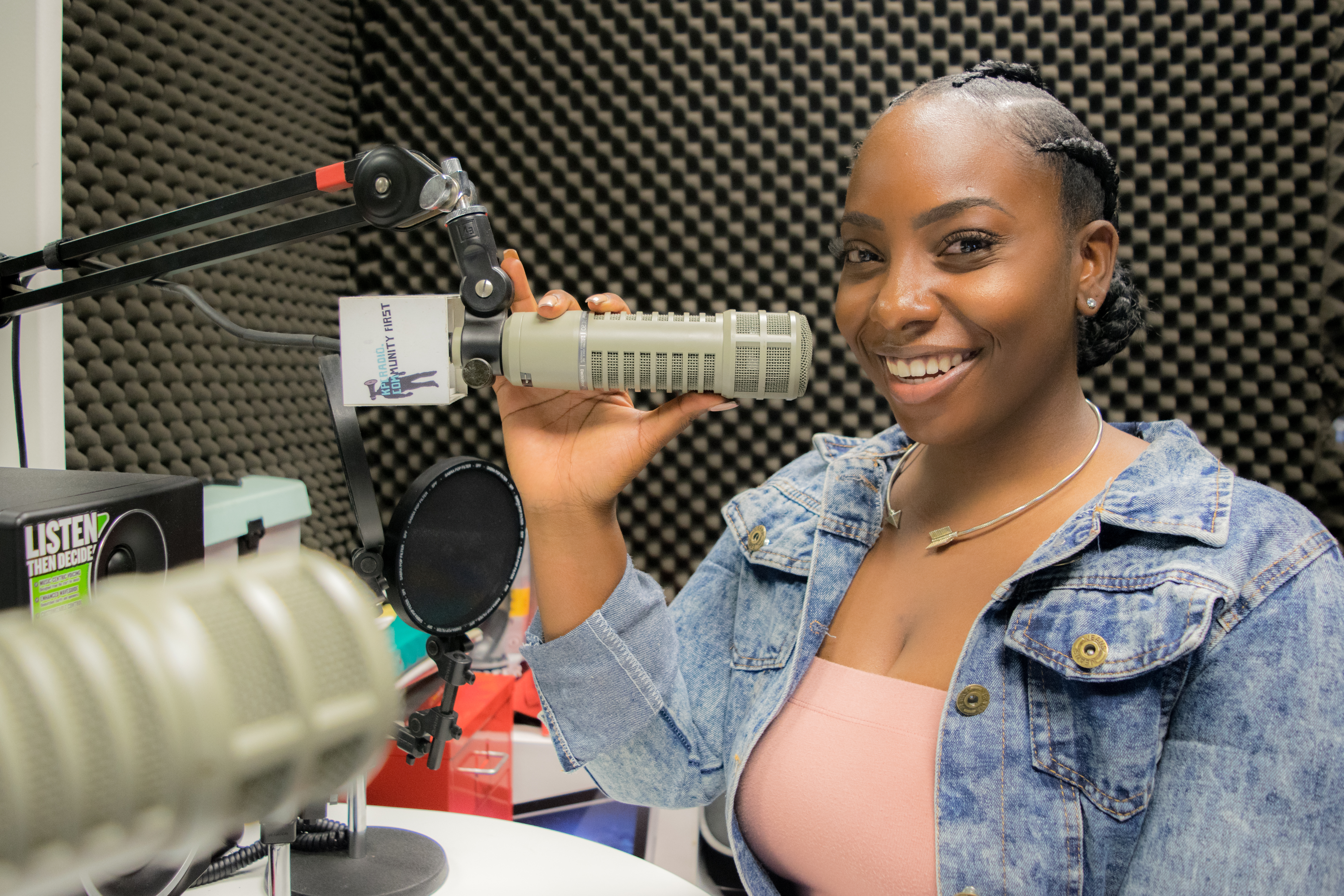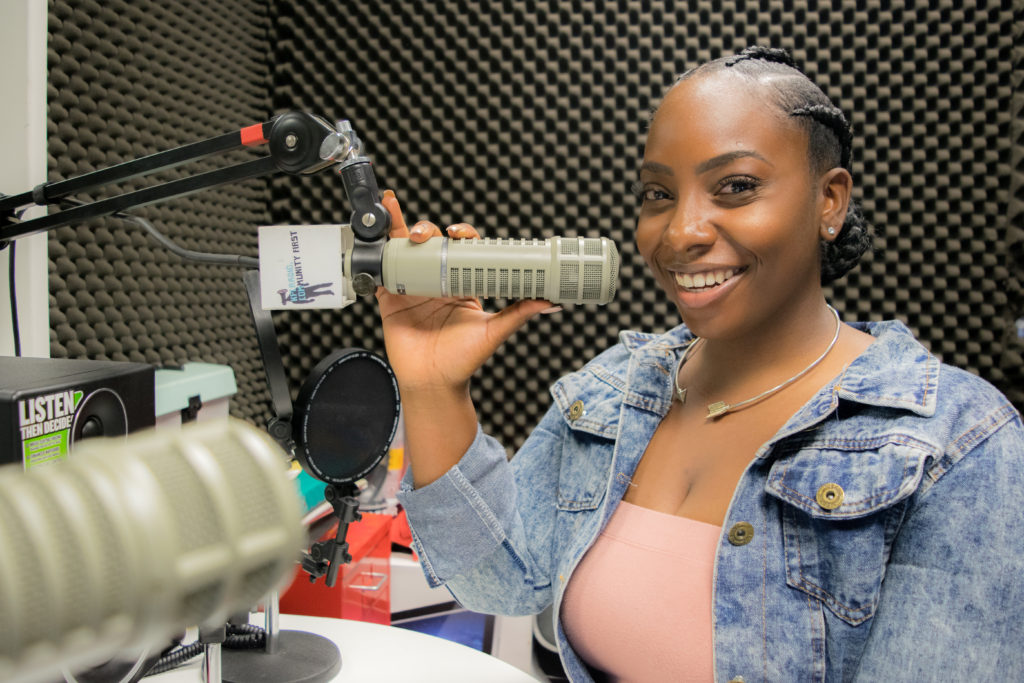 Pushing the on-air button as she puts on her headset, Program Director Taylor Thibodaux listens in and runs the board for Pierce College KPC radio station.
When Thibodaux came to Pierce in 2014, she was majoring in marketing; however, that changed when she took a broadcasting class last year.
"I dropped marketing. I was like, 'Nope, marketing is not my thing,'" Thibodaux said. "I actually had my own blog before I started this, and I had an idea on what to do on camera interviews."
That same semester, Thibodaux decided to change her major to broadcast journalism.
"I think I'm way more confident when interviewing people," Thibodaux said. "The classes I took helped me build a structure on how I do things. I use that same thing when I interview people."
Thibodaux said the speech classes at Pierce have improved her confidence and communication skills on the microphone.
"Speech and radio are kind of the same," Thibodaux said. "The speech class really helped me create a format on how I want to organize my questions, and I could use that in my interviews."
Thibodaux said she enjoyed speaking in front of an audience so much that she entered the spring 2016 speech competition.
"It was nerve wracking, but I got the experience, so it was very beneficial," Thibodaux said. "Now, I feel like I could give a speech."
Executive producer for KPC Radio Mareo Lawson said Thibodaux is a dedicated student who wants her KPC Radio staff to succeed.
"One of the things about Taylor is she's a go getter. She likes to meet and talk to people," Lawson said. "She has interviewed people in the past, so she really knows how to set back and work with the team."
Lawson said to run a radio station, one has to be organized and know how to lead a team. Lawson says Thibodaux has been doing that from the very start.
"She has been more organized than when I was program director. I think it helps with the cohesion of the team," Lawson said. "It's been pretty smooth this semester, one of the smoothest semesters I ever worked with on the radio, and that's mainly due to Taylor coming in as program director."
To stay motivated, Thibodaux is inspired by talk show host, Oprah Winfrey. Thibodaux also watches motivational speeches by actor Will Smith.
"I love Oprah because she has a purpose behind why she interviews people. She doesn't just interview people because they're popular or because they have a story," Thibodaux said. "She also has a purpose for her life, and she wants to show people to reach the highest potential of who they are. You don't have to work for someone for the rest of your life, you can own your own business and be self-sufficient, so I love her for that."
Thibodaux is impressed with the dedication and amount of hard work her staff has accomplished so far this semester.
"It's amazing to see students who are so dedicated to the program and who really, really want to do it," Thibodaux said. "Like, wow they're really passionate about it. It helps me be passionate for them."
Thorp Klumph, technical director for KPC Radio, makes sure everything is good to go when the microphones go live in the station.
"Working with Taylor is awesome. She came in ready to go at the beginning of the semester," Klumph said. "She definitely had a solid foundation on how she wanted the radio station to run and what she wanted to do in terms of changing certain things. We've gotten more involved with social media. We're getting a lot more traffic to our website. She just put a really good team of people together."
Klumph said to get assignments done, there has to be communication, and he said that they have been communicating really well this semester.
"We all have a lot of fun working with each other," Klumph said. "We all communicate pretty well so we get everything done, the way it should be done.
"Taylor pretty much is the same on the air when she is hosting a show, as she is off the air," Klumph said. She's an amazing person, she's fierce, she's strong, she's extremely smart and she's very passionate about everything that she does, and it shows."
Klumph said they have been able to step up the program and improve from last semester.
"She's the main reason we've been able to get so far in the last four months," Klumph said. "She takes everything she does and knocks it out of the park."
Fall 2016 was Klumph's last semester on the radio, but after he heard Thibodaux was going to be program director, he began looking forward to being a part of the team again.
"If she wasn't such a great person to work with, I wouldn't still be here," Klumph said. "Everyday's a scramble, but she makes the scramble so much fun."
Thibodaux loves the broadcasting field because she enjoys getting to know people.
"There's always a reason why people do certain things," Thibodaux said. "I'm always interested in knowing why."
Thibodaux is hoping to complete her general education at Pierce during the fall and transfer to Cal. State Northridge or Howard University for their media division.
"Pretty much people have to see what you do, and they get inspired by what you do," Thibodaux said. "And once people start getting those words of encouragement, it kind of alters their thinking. It's showing them what you do, showing them how far you've come, and to tell them you came from where they are, but also speaking life into them."