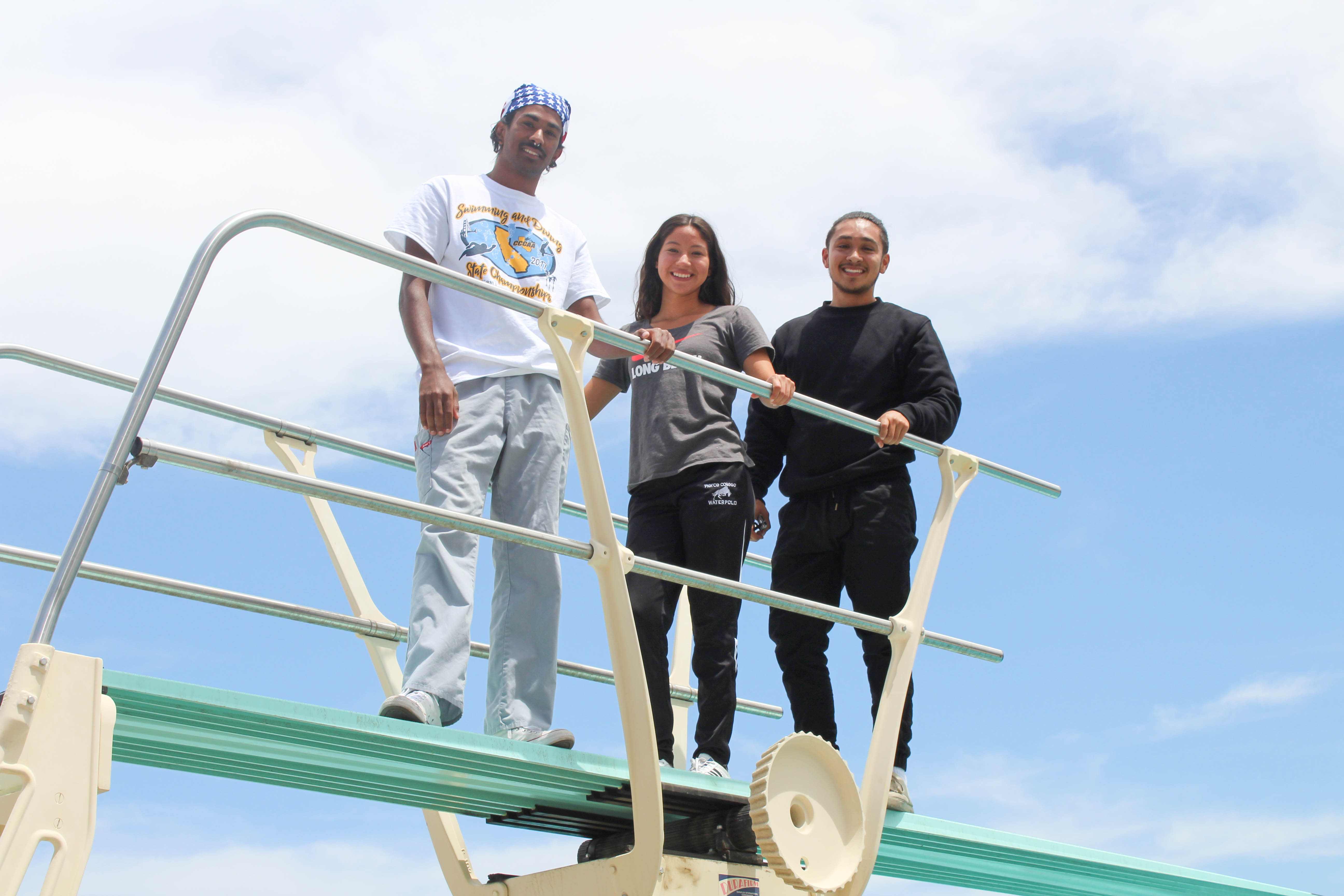 Carlos Mier, Ahmedjibreel Zavhar and Stephanie Rodriguez represented the Brahmas in the California Community College Athletic Association state championships for swim and dive.
The three-day event had the three competing in the diving competition. Rodriguez dived Thursday and Friday, and she scored high on the first day getting, 134.50  points in the women's one-meter diving competition. On day two, she got 127.10 in the three-meter event.
The two male divers only dived on opening day of the state championships. Zavhar got 119.40, and Mier scored a total of 106.75 in the men's three-meter competition.
Swim coach Judi Terhar was proud about having some of her divers at state. She said that this was an experience they will never forget.
"Our diving coach did a fantastic job in getting them prepared," Terhar said. "The divers didn't know what to expect. It was a great experience for them."
Terhar also praised Rodriguez and acknowledged the fact that she was both a swimmer and a diver.
"Stephanie did amazing. It was great that we have an athlete that can do both,'' Terhar said.
Terhar also said that there was unity between the divers at the event.
Zavhar and Mier will be transferring after this season, while Rodriguez will be staying for one more year. Zavhar will go to Cal. State Northridge, and Mier will attend San Francisco State.
Rodriguez shared her experiences being on the big stage and talks about doing double duty for the team.
"It was really fun. I had a great experience. Making it this far is a huge accomplishment," Rodriguez said. "It was really tough for me, but I had my teammates that pumped me up. I was really nervous, but I enjoyed myself."
Mier showed gratitude towards the coaches, and he enjoyed representing the school at the state championships.
"It was a big thank you to coach Ryan. He really helped me out at the beginning of the semester," Mier said. "I wouldn't get to where I was without him. He just made the whole experience great. Coach Judi came out and it felt really heartwarming that we had support."
Mier said he felt great about his overall performance and expressed his faith and how it helped him at the event.
"I knew God was by my side. I was always praying before I went up before my events and my stretches," Mier said. "My mom always told me to pray before anything else. Good or bad, you still thank the Lord. I have the great support of my family, and everyday I pray to God thanking Him, because you'll never know when you have another opportunity."
Mier said he hopes to join the swim team once he moves on to San Francisco State, that or play basketball.
Zavhar said making it to state was surreal to him, but he relished every second he was there.
"I felt pretty confident. All the schools were really cheerful because everyone had an appreciation for diving," Zavhar said. "I just wanted to execute my dives as clean as possible."
The season came to an end for the rest of the team weeks back, but the three divers ended it on a high note.