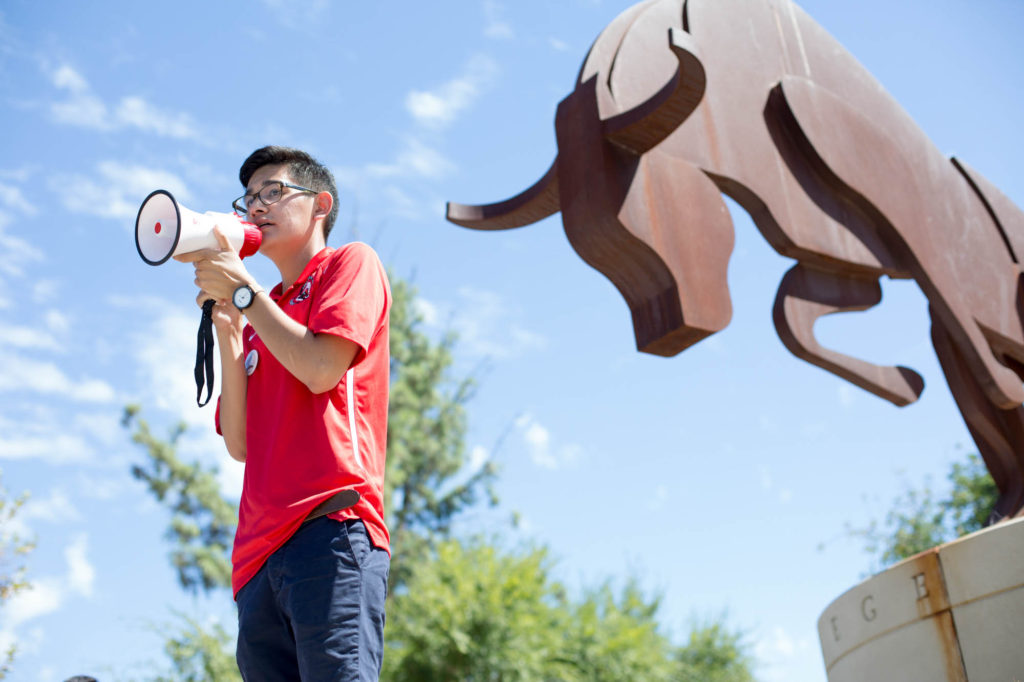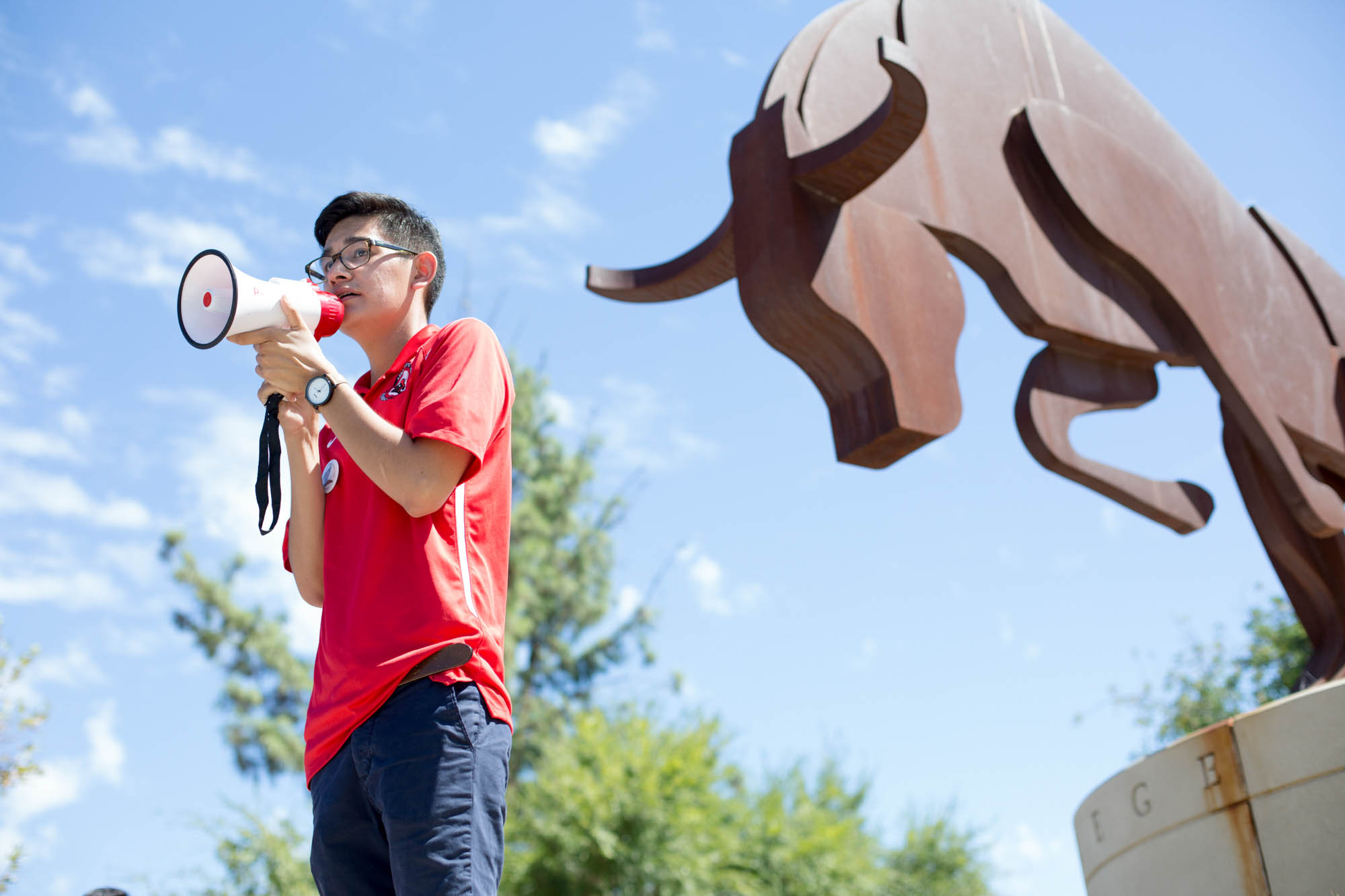 Back straight rising from his chair, Efren Lopez strides across the room during an Academic Senate meeting to report about a protest and advocate for programs that could help undocumented students, including himself.
Lopez is ASO president and a Deferred Action for Childhood Arrivals (DACA) recipient, which he announced to his fellow senators during a meeting last Tuesday.
"I've been a recipient of the program since it started in 2012 when Obama signed the executive order for DACA," Lopez said.  "I applied for it even though I was young back then, but I got it to protect myself from the chance of deportation. It was about the sense of security."
He said that he first heard that the Trump administration rescinded the program through a Twitter post by Politico as he headed home from work.
"On the same night, I sat down with my mom to talk about it and my sister, who is also a DACA recipient, were talking about plans after the six-month period that my DACA expires within two years," Lopez said. "We were figuring out what we would do."
Although Lopez is worried about his future and that of his family, he said he thinks about other program recipients, especially those on campus, because as ASO president, he represents the students along the spectrum.
Two decisions were made by Lopez to help ease the situation.
He plans on creating a hot seat committee alongside other existing clubs such as Movimiento Estudiantil Chicano de Aztlan (MEChA) to inform and meet with community leaders to find solutions.  He also said he wants to motivate students to organize and unite.
"Get up and fight for your right to be here, because we grew up in the same norms, same education system as any other citizen, in the same culture, and integrated into society," Lopez said. "We've been here our entire lives and have families."
According to Lopez, these decisions that happen at Washington D.C. will eventually affect everyone just as DACA has started to affect him.
"You have the six-month period until the end of the your DACA, but it's the concern, the anxiety, and the turmoil that affects a person and their family that is the most heart wrenching part," Lopez said.
At 3, his family migrated from Mexico to the United States. They had relatives living in the San Fernando Valley and moved in with them in 2001.
"I've lived in the community in Van Nuys for my entire life," Lopez said. "The San Fernando Valley is close to me. It's my home. I couldn't call Mexico home even though I have family there."
According to Lopez, even though he had anxious feelings about U.S. Immigration and Customs Enforcement (ICE) he wasn't aware that he was undocumented until he was in ninth grade when he started asking questions about his citizenship.
"I was confused because I didn't understand what that meant [being undocumented]. I asked my mom but she didn't want to explicitly explain to me what it meant."
He attended John F. Kennedy High School in the magnet program as a film student and participated in Skills USA. Lopez won regional in eleventh grade, and in twelve grade, participated in regional, took home a gold medal in the state competition and made it to nationals.
Right after high school he got a job working for a small pizzeria shop before finding another job at Office Depot in Burbank working there for a year.
While attending Pierce College, he took a political science course and joined the PoliSci Society.  He became interested in politics, so he decided to intern for Congressman Tony Cardenas.
During the five-month internship, Lopez aided Cardenas with his mobile office, which consisted of them going to different parts of the Cardenas' district.
"It's about seeing the people that you represent, and through them I learned the most about what I am doing right now," Lopez said.
Lopez applied and interviewed for the City of Malibu under the Parks and Recreation Department during the summer and got the job as recreational assistant.
The interpersonal skills needed in a professional environment ,such as setting up meetings and sitting in on them, dressing up in suits and making sure you are entirely professional, are key learning experiences, Lopez said.
College Club Council President Kosar Afsir, 20, works with Lopez as part of ASO.
Although Afsir and Lopez work in two different branches within student government, they have different visions to accomplish similar goals.
"He sets goals for himself and he takes action," Afsir said.
Dean of Student Engagement and co-advisor to the ASO Juan Carlos Astorga met Lopez last year when he was a senator. Astorga said that he had the privilege of traveling with him to the Student Senate California Community Campus, a statewide conference, where they participated.
"I was really impressed with his maturity and his ability to look at large scale issues that impact our community college students across the state," Astorga said.
According to Astorga, the ASO has initiatives focusing on solving student problems. He thinks they are starting out on a good foot by being able to address the food insecurity and the home insecurity of individuals on campus.
"He's really passionate about the initiatives, and he is going to keep it at the forefront for all of us to have these discussions as an ASO, as Pierce College community, and as leaders across the campus and district," Astorga said.
When you first meet Lopez he's serious, Astorga said. But he is a caring person and dedicated to ensuring all individuals at stake are included and a part of the discussion.
"I settled into politics," Lopez said. "That's my passion right there."
Watch Pierce students protest for DACA, and a larger march, by clicking here and here.
***This story has been updated to include links to two videos of marches and rallies in defense of DACA***