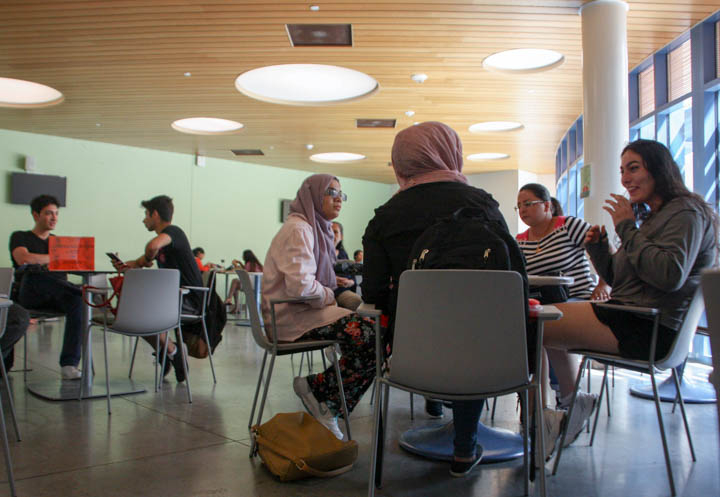 Students who are learning English as a Second Language (ESL) are given the opportunity to improve their conversation skills by teaming up with native speakers and tutors at the Communication Cafe.
The group meets Fridays, from noon to 2 p.m. Students can sign in at the Center for Academic Success (CAS) and meet at the cafe near the Library / Learning Crossroads (LLC).
Communication Cafe was implemented by Lori Travis, an adjunct faculty of speech. She taught in the MBA program at Cal Lutheran University and worked with international business students.
"I had the opportunity to volunteer at the Communication Cafe at Cal Lutheran. It gave me a chance to work with the international students, and it gave me a chance to see how things were administered," Travis said. "I saw how it improved English fluency for my students, so I decided to launch a satellite program here at Pierce College."
According to Sarah Naqvi, a biology student who has been a tutor for the group since last summer, students were shy and extremely apprehensive about joining the group because they thought that they would be judged by others. Naqvi said that she enjoys the satisfaction gained from watching students grow and become more confident.
"As time goes, they progress and become more comfortable. I love watching them attain their goals. At the beginning, they were extremely bashful, now they are discussing things like food,  politics and the exploration of different cultures," Naqvi said. "I get a sense of self-satisfaction knowing that some of the students did not know English. They amaze me because they come from different parts of the world. They are excelling at leaps and bounds. Because of that, they are more self-assured."
Parham Bakhti is a business major from Iran who frequently attends meetings at the Communication Cafe. Bakhti said that he has benefitted greatly from it, and that it provides a family atmosphere. He said that they learn from their mistakes and receive constructive criticism without being judged.    
"We are all on the same boat, so we don't feel intimated," Bakhti said. "We are here to learn from our inaccuracies. The staff at the Communication Cafe makes us feel at home. We gain valuable knowledge while exploring different cultures."
According to Bakhti, Americans converse and react to things differently than people do in his country. He said that there are many people in the group from different parts of the world, and they are learning about each other's ideas and perspectives.
"When I first came to America, I could not understand English," Bakhti said. "I enjoy being in the group. I feel I am among family. It is all about construction criticism.
Besides the diversity and the ability to learn English, Bakhti said he came to America for an opportunity to attain an education. He said that education in his country is extremely expensive.  
"America is like a melting pot with many people with different ideas, various backgrounds and cultures," Bakhti said. "In Iran, one class unit is $1,300. I started off by living with relatives to attend Pierce College. I have gained and learned so much. I am extremely grateful."
Travis said she attained a budget through Equity Funding, whose goals are to promote diversity and instill success for international students.
"I provided Equity Funding with a proposal to secure funding. Now, I am in a position to pay my tutors minimum wage and provide free food at the group meetings," Travis said.
Travis said that it is wonderful to see students excel, and the Communication Cafe is a place that puts them at ease. Most of the participants have more than one class, and she enjoys watching them progress and meet their goals.
"I am taken back from when they first started and to where they are now, especially the older students, because everything is so new to them," Travis said. "They have had their native language for so many years. Most of my students are Persian, some are Asian, Hispanic, and some are from Saudi Arabia."
Travis said she gets a sense of self-satisfaction knowing that she is helping others compete in the global market.  
"I think it is just unbelievable when I watch students reach and attain goals, knowing they will have something to contribute to society," Travis said. "It is a great way for the students to achieve English fluency. It gives students a chance to come out of their comfort zone."