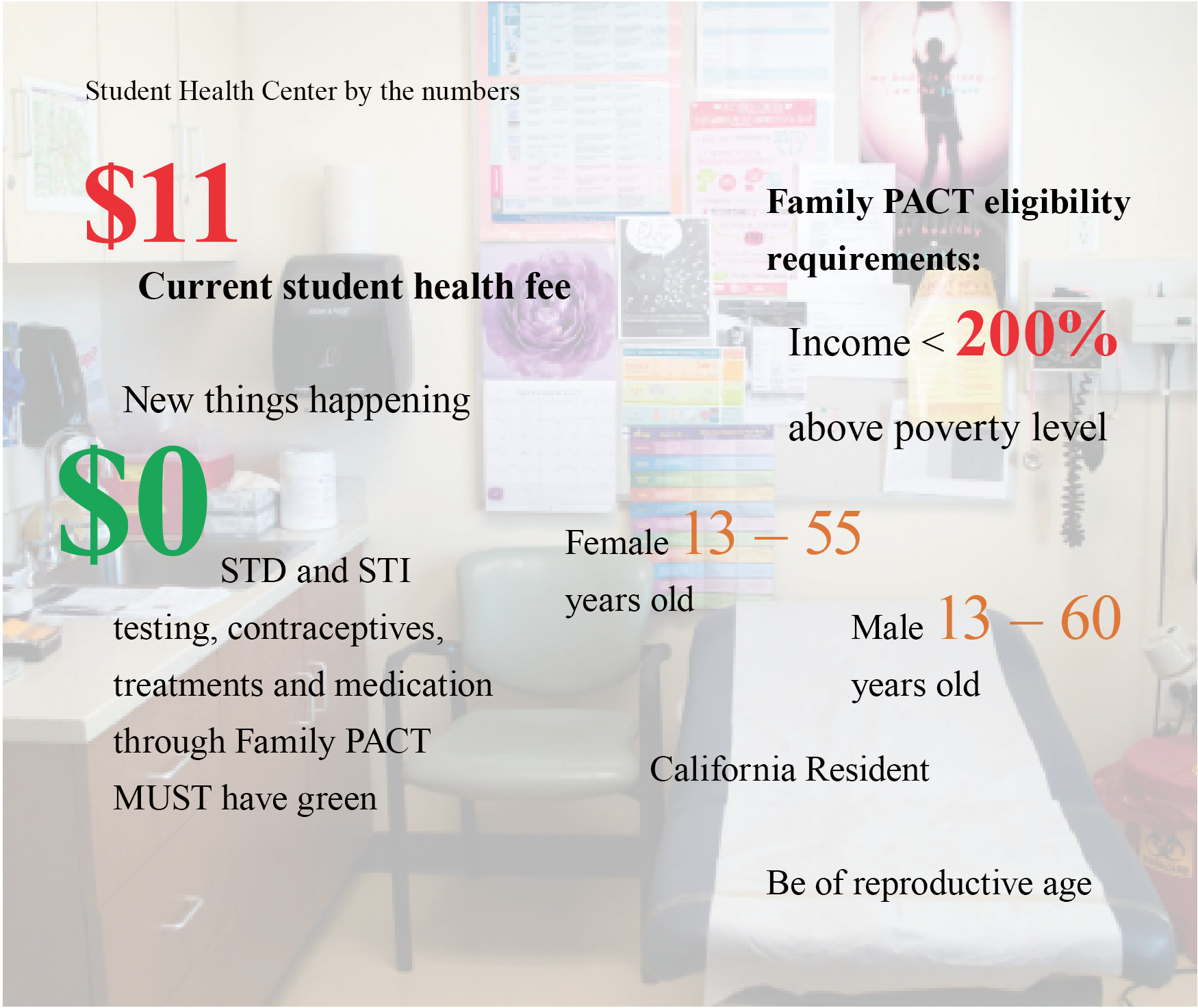 An $11 fee is paying more than a visit to check up on a runny nose or scratchy throat.
Starting this semester, the Student Health Center is providing extended services for sexual care to students.
Health Center Director Beth Benne led the effort to provide treatment for reproductive and preventative care to uninsured students through Family PACT. The program, Family Planning, Care, Access and Treatment, is funded by the California government, and is available to eligible recipients.
According Benne, to be eligible, a student must be a California resident registered this semester in LACCD, be uninsured and be within the 200 percentile of the national poverty level.
"Family PACT is MediCal for the south side of your body," Benne said. "If a student comes in, and if we can see them for a family planning issue, then we can see them for other things. And it's all at no cost if they qualify."
The program provides STD and STI testing, contraceptives, treatment, medication and sex education to students for free through the green eligibility cards made with an individual's information.
These cards can be used at other clinics that operate under Family PACT.
According to Benne, obtaining Family PACT services at the Student Health Center was a process that took 18 months of jumping through government hoops.
The Student Health Center made the Family PACT application accessible to students through its website on Friday, Sept. 22, and services will begin Oct. 1.
Benne said requirements to become eligible for the program may be waived to preserve the patient's confidentiality. Patients who sign up do not have to disclose personal information.
Kira Shtyeman, a nurse practitioner at Pierce, said that they have tested the program through soft openings, and because it was successful, they are fully incorporating the system.
"We give eligibility on the spot," Shtyeman said. "The term is for a full year, and then students can re-apply."
According to Shtyeman, all information gathered in the application is self-reported and confidential. Personal information may be omitted, however students must fill out the paperwork to become eligible to receive their PACT card.
"The Family PACT is new for the entire district, and it was Beth who pushed that through," Shtyeman said. "We want our students to be successful."
Debbie Sargent, a nurse practitioner at the Student Health Center, said many young students don't seek reproductive and preventative care due to fear of lost confidentiality.
However, through Family PACT, patient confidentiality is ensured.
"Anytime you have easier access to care is good, and if we can make it accessible for students to use, then that will make them more apt to use it," Sargent said. "Family PACT is such a benefit for students."