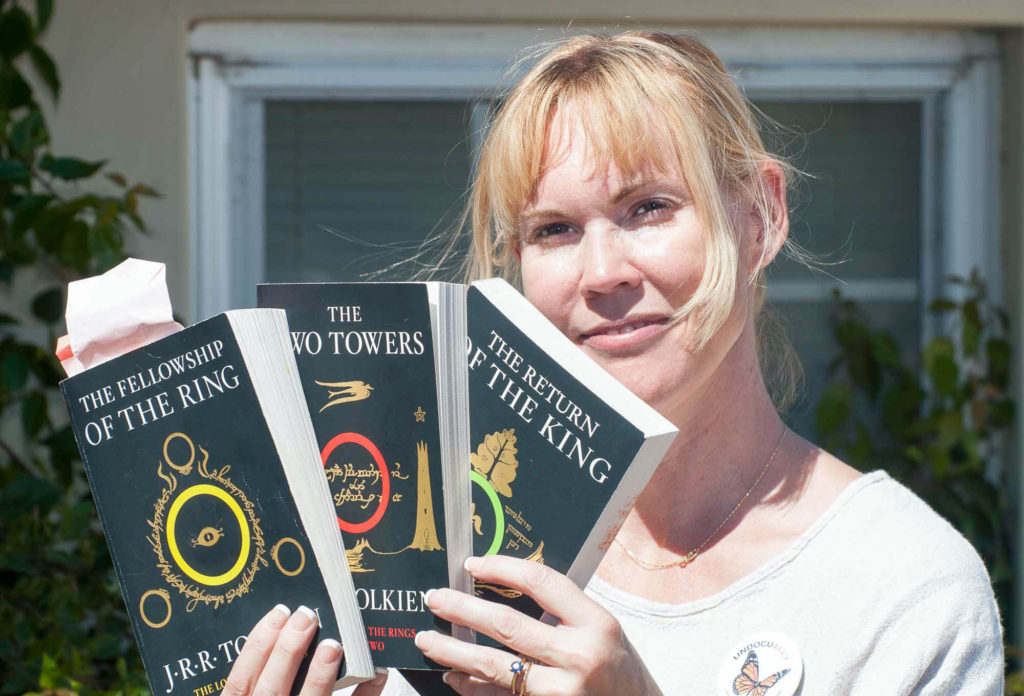 A new perspective on the fantasy and science fiction in "The Lord of the Rings" series comes to Pierce as Professor Marra Kraemer takes over English 270 in her first semester of its instruction.
The course's curriculum is based on J.R.R. Tolkien's "The Lord of the Rings" and focuses on literary analysis and argument. Kraemer has taken over the class in place of English instructor Larry Krikorian, who taught English 270 for several years.
Kraemer brings her passion for "The Lord of the Rings" to her students.
"I am a huge fan. And just to share that with students who are fans or students who are new to it, is really amazing," Kraemer said. "I'm learning just as much, if not more, than they are from their reactions. It's like being able to re-read it all over again, which is really cool."
Kraemer's goal is to teach students to understand and analyze literature, but she also hopes that they can see the literary elements in the stories that she has come to love.
Kraemer is passionate about her work and looks forward to sharing her perspective with her students, and she is excited to receive perspectives from her students as well.
Student and science fiction fan Connor Drescher is new to "The Lord of the Rings" literature, but is very happy to be in the class. According to Drescher, the enthusiasm Kraemer brings to her class creates an environment for readers, writers, and fans of fiction to feel challenged while still having fun with unusual subject matter.
"Oh my god, she's so happy. She's as happy as I am to be there," Drescher said. "If i'm in hogs heaven, she's in hogs heaven."
Student Maeve Kiely, a theater major with a concentration on costume design, said the class is an environment full of individuals who equally love science fiction and fantasy, student and instructor alike.
"It's a really great environment because you already know that you're in there with people who have the same passion for it as you," Kiely said. "Kraemer is an amazing professor who is so thrilled to be teaching what she loves and hearing what we think."
Kraemer loves the subject matter, but also understands that the goal is to teach her students and give them the tools that they need to be successful in the future. Student expectations are consistent with those of other 200-level classes, in which students must have an understanding of concepts in English 101 and English 102 and expect a heavier workload than lower-level classes.
Kraemer's class is expected to read 150 pages per week, prepare ideas for online and in-class discussions, and do in-class and at-home essays. The class is UC and CSU transferrable.
"I do feel that it is my duty that these students go to their transfer universities with their t's crossed and their i's dotted," Kraemer said.
While the work is enjoyable, Kiely states that the difficulty lies in the reading expectations.
"I'd say it's definitely more difficult than a 101 course based on how much reading there is, and that we're reading full-length novels, not just articles or pieces of literature," Kiely said. "There is a lot of page count to get through."
Drescher said that that getting lost in the work suits him best because he loses track of the difficulty due to the intrigue of the course.
"I wouldn't say it's difficult, but if it was difficult, I don't think that I'd notice," Drescher said. "This is what I am interested in. I live, eat, and breathe science fiction."
The faculty change brings about a new perspective and teaching style, English Department Chair Donna Accardo said. Pierce College takes pride in the diversity of its professors, she added.  
"As the chair, I can say that we are very proud of this amazing faculty," Accardo said.
The class meets Tuesdays and Thursdays, 9:35 a.m. to 11 a.m. in Juniper 0820.