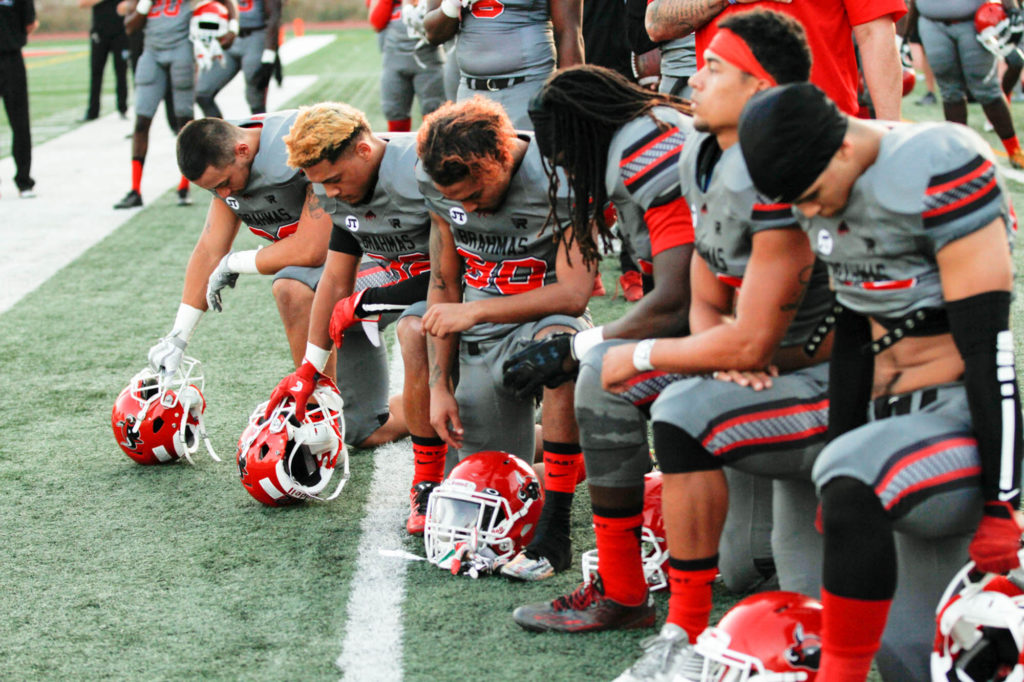 President Donald Trump's attack on NFL players who took the knee didn't stop them from protesting. Nor did it stop the Brahmas during their Sept. 30 home game against San Diego Costa Mesa College.
Trump said Friday that NFL owners who see players "disrespecting the flag" should say "get that SOB off the field right now, he's fired."
The president also took to twitter and said, "If a player wants the privilege of making millions of dollars in the NFL, or other leagues, he or she should not be allowed to disrespect our Great American Flag (or Country) and should stand for the National Anthem. If not, YOU'RE FIRED. Find something else to do!"         
Many NFL players have taken after Colin Kaepernick, former 49ers quarterback, who started the movement back in August 2016.
Since then, athletes from most of the NFL teams as well as high school athletes, college athletes and athletes of other professional sports have joined in on the protest by kneeling during the national anthem.
The movement has also made its way to Pierce. The football team had a group of players  kneel during the national anthem during their home game against San Diego Mesa College on Sept. 30.
Wide receiver Keith Marshall was one of the players who took a knee during Saturday's game.       
"I don't really like Trump's comments. If you want to take a knee during the national anthem, then you should be able to do that," Marshall said. "I took a knee today, not necessarily because of the tweet, but because I don't think the world is in the best place right now, and it shouldn't be a big deal if we want to show that it matters."       
This subject has been a touchy topic. Some have taken the stance that the protest is disrespectful to the men and women who have served and died for this country.
On the other hand, supporters of the cause say the protest is about more than just disrespecting the flag, it's about the thousands of innocent people murdered in America, with no change coming about.
Interim Head Coach James Sims said he is on both sides of the coin because he is a disabled veteran. He said that the president's comments are disrespectful.
"These are some terrible comments," Sims said. "I fought for our country, but I was defending the constitution, and that goes along with freedom of speech and protest. I'm personally not going to kneel, but I don't have a problem with people kneeling. It isn't about the song or the flag, it's about the constitution."
Many veterans have taken to social media to support the protest with pictures of them in uniforms and kneeling. Some family members of veterans who died in battled kneeled with their folded flags.
Dylan Flannery, the defensive coordinator, said that the comments were harsh, but realized that families were sending their loved ones to battle.
"At the same time, it's hard to support something like that when you know families are sending their sons and daughters overseas to die for our freedom. Our flag and national anthem represent that," Flannery said.
Flannery said that people should have freedom of speech, but they should be making a difference while they're expressing that right.
"On the other hand it is your right to have freedom of speech, but if you do that you should be out trying to make a difference or else it's just a lazy way out. I completely get what they are getting at though, that's what's beautiful about our country you have the right to that," Flannery said.
The NFL owners have made it clear to the public that they do not agree with Trump, and will not be listening to anything he has to say.
They said this might be backlash from before when the NFL wouldn't let Trump buy a team.